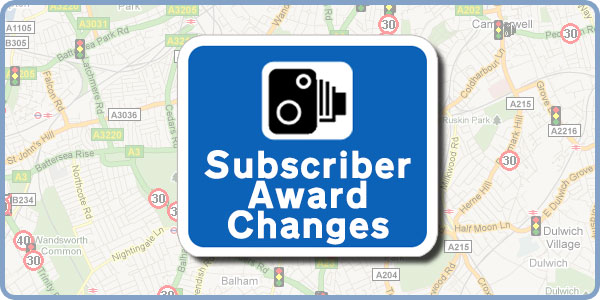 Updated 1st Nov 2012


As of today, the reward offer for camera location reports has changed. The Lifetime Award has been withdrawn (see here) and instead, qualifying reports will now receive a one year subscription extension.

Please note, that only subscriptions taken out direct through this site are eligible for our award offer. Apple In-App Subscriptions will not be eligible.

Qualifying reports:
The first subscriber to accurately report a new fixed site.

The first subscriber to accurately report a permanent removal of an existing fixed site.

The first subscriber to submit speed data where none previously existed for a fixed site.

The first subscriber to report a new Mobile site.


NOTE:

because mobile sites are very difficult to verify it should be noted that validation may take significantly longer than for other types of site. Reports that re-activate an existing Mobile Camera site that has been de-activated due to inactivity is classed as a 'Seen Again' report and so does NOT qualify. The Free Subscription will only be added after both verification (once it goes 'active' in the database) AND further independent reports have been received.
We verify all submissions and you will be notified yours qualifies - for more information regarding verification, please see this report by DennisN. If you are successful we'll let you know (there is no need to send us an email to check) and automatically extend your current membership. As before, you must be a current subscriber to benefit from this offer for UK cameras, new rules as above apply to all other cameras.



"I submitted a camera and I still haven't received my free subscription. Why? How long will it take to verify my camera?"



With our ever-increasing membership this question is becoming more frequent. The problem for us is that to investigate someone's submission and give an individual answer takes a surprisingly long time and this is time our Database Administrator could otherwise be spending on the vital work of administering and maintaining the database.

We have added the following information to this post. Please read it all. Hopefully this will show you that your submissions are important and every one of them is registered and logged.
A good example of the administration issues we face can be seen

here

, read and learn from it! Nothing is more guaranteed to get you that award quicker than quality reports.

Please read an explanation of the verification process

here

for a good description of how we verify the submissions.
We regret that we cannot reply to your post individually but if you still think it's a con look out for members with the Lifetime Subscriber rank in their forum names, they all succeeded and so can you!

This thread is locked.
_________________
Darren Griffin -

Editor