Review by Lutz Bendlin
We have reviewed quite a few devices from TrackingTheWorld.com over time. The guys from California keep coming up with smart ideas. Their latest one - the Letter Logger - has even been named "Invention of the month" by the Popular Science magazine. So let's have a look at this device.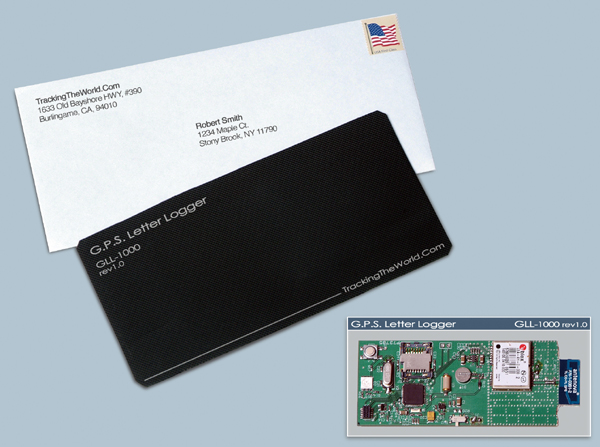 Snail mail as such isn't really exciting. But it can create a fair amount of suspense when it doesn't show up in time (or worse, doesn't show up at all). Tracking the mail's path was until now a very daunting task given the extreme amounts of mail that are transported around every day. But with GPS technology getting better by the day (higher sensitivity, lower energy consumption) it was only a question of time until someone would try to cram a GPS into a postal package.
Add a piece of memory in and you can record the whereabouts of your package. Once it has resurfaced you can then examine the GPS log to figure out what parts of the journey took longer than expected.
TrackingTheWorld.com are pitching their idea to the USPS (the postal service here in the US) but the device - if successful - can be used by any postal service worldwide to monitor and analyze the path a piece of mail has taken, and how long it has spent on each leg of the journey.
There are a few challenges to overcome though:
battery life needs to be adequate - it's no use if the battery dies long before the letter gets delivered.
the device needs to be robust enough to survive lots of sorting machinery - those contraptions are not known for being very gentle
GPS needs to be good enough to get a fix even if the letter is transported in a box at the bottom of a stack of boxes in a full truck.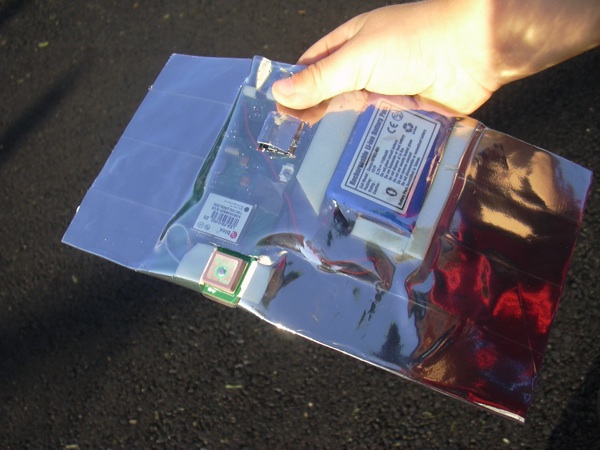 The LetterLogger addresses these challenges in some pretty cool ways.
Battery Life
The LetterLogger comes with a near-standard 1100 mAh Li-Ion battery (you can see that the battery contacts are home-made). The battery can be charged with the provided "FastCharge" wall charger in under an hour. The resale package comes with two batteries so you can always recharge one while the other is being used.
The LetterLogger has different logging modes, ranging from once every 2 minutes to once every 15 minutes and finally down to "tilt" mode. This is by far the most useful mode. The LetterLogger includes a 3D accelerometer that can sense position changes of the letter in any direction. So if the box with the letter gets moved around the LetterLogger wakes up to try and find a fix. However, if nothing's happening the LetterLogger goes to sleep, saving energy and hugely improving the battery runtime.
Having said that the battery life is still on the light side. On average I was able to get four to five days out of the tilt mode settings (admittedly while moving the letter around quite a bit). I would think that adding another battery (or a bigger capacity version) should be possible, even at the expense of a higher weight and postage.
And just to be clear - the present LetterLogger is a passive device. No data about the current location is transmitted back. (That would have needed a radio circuitry which in turn would have eaten up the battery even faster. ) For the philosophers amongst you - yes, this operational model means that you will NOT know if and when the letter has been lost.
Robustness
The sorting machines at the postal distribution centers are running at insane speeds, pushing and pulling the letters around rather un-gently. In order to survive that ordeal the LetterLogger has been modified with padding placed in strategic locations - pretty much like an aerodynamics package on a race car or plane. The thickest component of the device is the battery , and the thickness changes need to be smooth to protect the device from getting stuck or being ripped apart. You can see the padding in the above picture, both around the antenna and around the battery.
The PCB (printed circuit board) itself is very small, much smaller than a standard letter. To prevent it from sliding around in the envelope unnecessarily (and also to protect it from outside electrical interference) the PCB is fixed into place by a sticky electrostatic foil.
I have sent the LetterLogger on a few journeys, both in a plain envelope and in a padded version. It survived just fine. As you can see you can squeeze the LetterLogger into smaller packages too.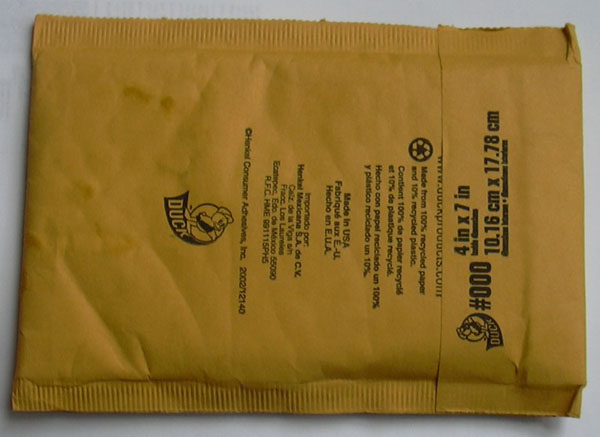 GPS performance
The GPS antenna is very small. Well, it probably has to be. Nevertheless this is a problem, especially since you cannot assume that the antenna will always face up to get the best possible view of the satellites. Quite on the contrary - most of the time the letter will travel upright, pointing the antenna to the side, rather than up.
The Letter Logger uses a uBlox chipset. For those who don't know - uBlox is the Transmeta of the GPS chipsets (For those who don't know Transmeta - skip to next paragraph) . This means that the majority of the functions are implemented in software rather than in hardware. This helps to reduce the power consumption of the chipset, and to adapt it to any future requirements (for example to receive the Galileo signals without the need for additional hardware)
The actual receiver performance is impressive, despite the physical limitations. The microSD card contains a special file STATUS.TXT which lists the cases where the receiver was woken up but failed to achieve a GPS fix. The list of these events is substantially shorter than the list of successful locks. Most of the time the receiver was at least able to get the date and time from the satellites, and only very rarely will you see an intergalactic date stamp (see further down).

Of course when the device acquires a fix successfully it will write the location stamp into the NMEALOG.TXT file on the microSD card. Even a 1GB card has much more room than you will ever be able to fill with the available logging modes.
The NMEA log can then be processed by sites like GPSVisualizer.net to produce the Google Earth KML file for your viewing pleasure (or any other program for that matter)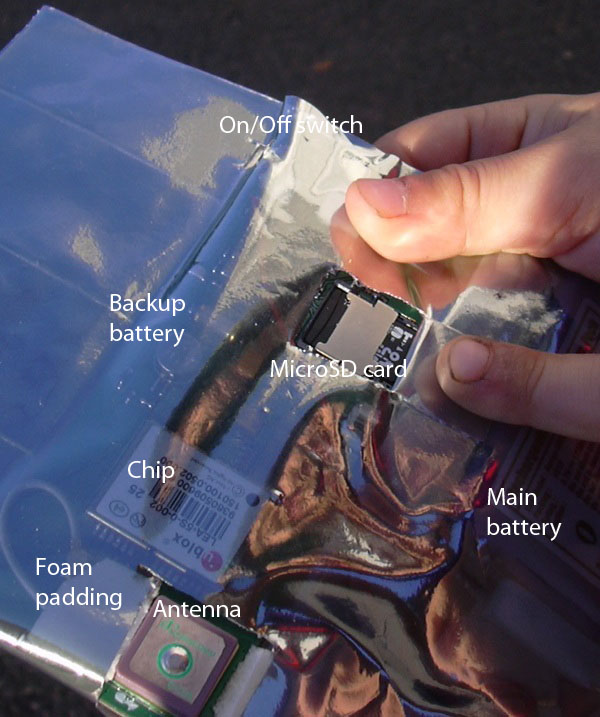 Detailed view of the components
Configuration
The logger is configured using a 'CONFIG.TXT' file in the root of the
microSD card. The configuration file needs to contain one MODE: and one
LOG: message in order to fully configure the unit. The messages are below.
MODE:02MIN;
2 minute mode
Wakes up every 2 minutes and attempts to log a fix.
Logger will timeout if no fix and will go to sleep.
MODE:05MIN;
5 minute mode
Wakes up every 5 minutes and attempts to log a fix.
Logger will timeout if no fix and will go to sleep.
MODE:10MIN;
10 minute mode
Wakes up every 10 minutes and attempts to log a fix.
Logger will timeout if no fix and will go to sleep.
MODE:15MIN;
15 minute mode
Wakes up every 15 minutes and attempts to log a fix.
Logger will timeout if no fix and will go to sleep.
MODE:TILT;
tilt mode
Logs only when movement is detected, then falls asleep.
LOG:NMEA;
Log NMEA mode
This mode logs the direct NMEA sentance strings.
Currently, the logger supports GGA and VTG messages only.
The log file name is 'NMEALOG.TXT'
Example of a log
$GPGGA,143308.00,4203.83895,N,07008.75570,W,1,05,1.82,24.9,M,-33.2,M,,*58
$GPRMC,143309.00,A,4203.84454,N,07008.76628,W,35.342,304.43,030808,,,A*4E
$GPVTG,304.43,T,,M,35.342,N,65.490,K,A*30
$GPGGA,143415.00,4203.95886,N,07009.62374,W,1,04,3.87,19.5,M,-33.2,M,,*57
$GPRMC,143416.00,A,4203.96003,N,07009.63962,W,36.998,271.51,030808,,,A*48
$GPVTG,271.51,T,,M,36.998,N,68.558,K,A*36
$GPGGA,143632.00,4203.63601,N,07011.17277,W,1,04,3.82,17.8,M,-33.2,M,,*57
$GPRMC,143633.00,A,4203.63322,N,07011.17605,W,14.227,233.91,030808,,,A*46
$GPVTG,233.91,T,,M,14.227,N,26.363,K,A*37
$GPGGA,143753.00,4203.43804,N,07011.51674,W,1,04,3.81,13.4,M,-33.2,M,,*56
$GPRMC,143755.00,A,4203.43732,N,07011.51988,W,2.167,235.04,030808,,,A*72
$GPVTG,235.04,T,,M,2.167,N,4.015,K,A*3F
$GPGGA,143851.00,4203.37168,N,07011.62026,W,1,04,3.80,11.5,M,-33.2,M,,*58
$GPRMC,143852.00,A,4203.36745,N,07011.63094,W,32.866,230.66,030808,,,A*47
$GPVTG,230.66,T,,M,32.866,N,60.901,K,A*3B
$GPGGA,143942.00,4203.07461,N,07012.16235,W,1,04,3.95,18.8,M,-33.2,M,,*54
$GPRMC,143944.00,A,4203.05449,N,07012.19209,W,40.414,233.69,030808,,,A*46
$GPVTG,233.69,T,,M,40.414,N,74.887,K,A*31
$GPGGA,144038.00,4202.76685,N,07012.84059,W,1,04,3.82,17.5,M,-33.2,M,,*5F
$GPRMC,144040.00,A,4202.75644,N,07012.85475,W,26.939,228.78,030808,,,A*45
$GPVTG,228.78,T,,M,26.939,N,49.919,K,A*31
Example of failed attempts (note the funny dates in the first three lines)
NOFIX@50:59:45;130/141/-10766
NOFIX@0:18:28;1/1/-10765
NOFIX@0:37:24;1/1/-10765
NOFIX@23:26:47;20/6/2008
NOFIX@0:5:46;21/6/2008
NOFIX@0:44:45;21/6/2008
NOFIX@1:23:44;21/6/2008
NOFIX@2:2:43;21/6/2008
NOFIX@2:41:42;21/6/2008
Example of a route taken by a letter (Boston to Nashua)
This is a route from my local post office (Waverley MA) to the distribution hub in Nashua (NH). Note the dilly-dallying in the Boston Center area... You can play with the .kmz file here (assuming you have Google Earth installed).