Reviewed By

Darren Griffin
Review Date

24th July 2011

Manufacturer
Infinit

RRP

£49.99 inc VAT

8
I'm forever running out of power. Gadgets are ever more power hungry and as they add ever more functionality, we become ever more reliant upon them and use them more and more.
Inevitably, when I am away from the office I will turn to my music player or smartphone for entertainment thus hastening the demise of their batteries and so any solution that seeks to provide extra juice to top up your devices is one I welcome with open arms.
Re-chargeable battery packs are a common solution and there are many different versions available. As always, there is a trade-off. The balance between capacity and portability is an important one. There is little point having a solution that can re-charge all your devices 50 times if it's the size and weight of a car battery and there is no point in having a solution that dies before re-charging even one device.
And so we have here the solution provided by the guys at Infinit whose product portfolio includes the rather good Solar Backpack that we reviewed back in May last year (see here). Infinit's answer is a small 5,000 mAh battery pack, a little wider than a pack of cards and weighing in at a svelte 145g. It's small enough to be pocketable yet has enough oomph to re-charge an iPhone from flat to full more than three times.
The power pack has a soft rubberised coating with a chrome bezel. It's a very simple design, there is a standard USB Type A socket for charging your devices, a 2-pole plug used for charging the device, an ON/OFF button and three LEDs which indicate the remaining capacity of the internal battery.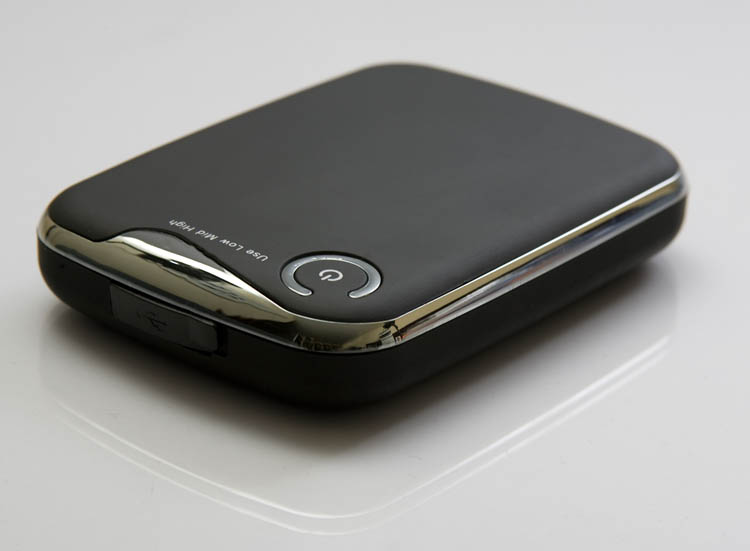 Infinit also supply a USB to 2-pole cable and a matching set of 5 charge tip adaptors which allow it to re-charge most common devices including those from from Apple, Blackberry, Motorola and Nokia but, because it uses a standard USB cable, you can use any existing cable that you may have.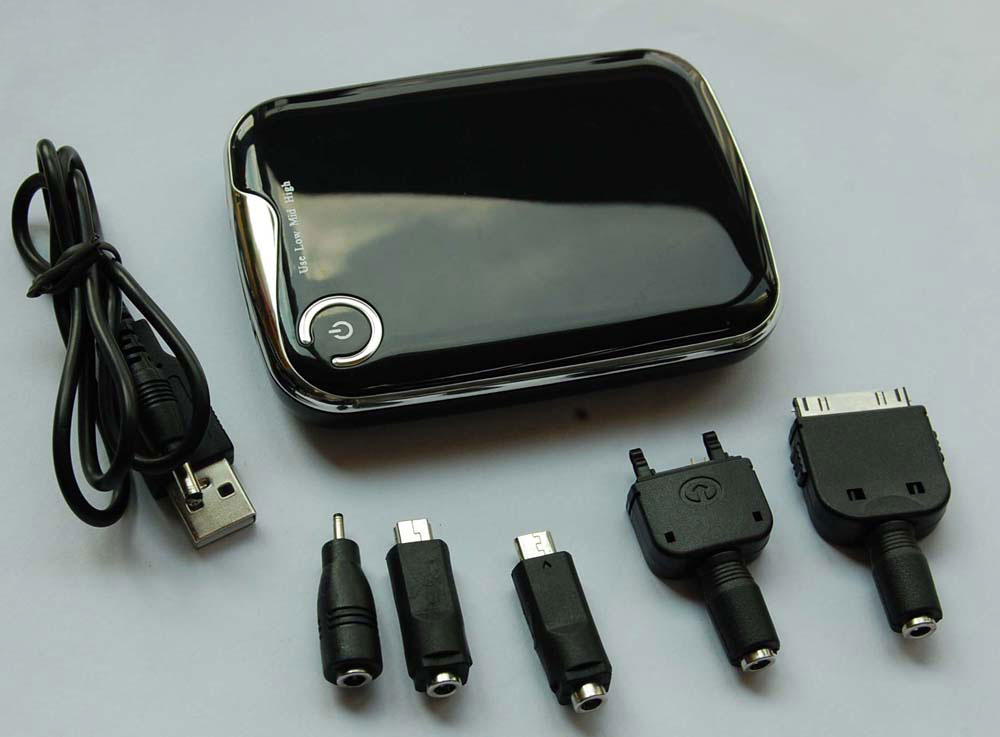 To re-charge the internal battery, use the 2-pole cable to hook it up to any USB outlet. The time it will take depends on what kind of USB outlet you are using, It takes rather slow 8-10 hours if you are using the USB socket on a computer, constrained as it is by the limited power available from those ports. Hook it up to a mains USB plug though (not included) and that drops to a respectable 3 hours. if your phone came with one of these USB mains adapters (and many nowadays do) then that will do perfectly.
It's a very simple device but one which does what it sets out to and does it well. A 5,000 mAh battery is a decent size to have as a back up. As an example, a Nintendo DSi has an 840 mAh battery, so Infinit's power pack could provide more than five full re-charges. At a whopping 6930 mAh, an iPad 2 has one of the largest batteries around yet this little wonder could still provide it with an 80% charge from flat, no mean feat.
At £49.99 it's not the cheapest solution around but Infinit have kindly extended a 30% discount to PocketGPSWorld readers bringing the total down to a very reasonable £35.00. At that price it would be a very useful backup power source for a myriad of purposes.
To take advantage of the offer, clcik here for the WHITE version and here for the BLACK version.
| | |
| --- | --- |
| Size | 99x71x18mm |
| Input | 5v 1000 mAh |
| Output | 5v 750 mAh |
| Capacity | 5000 mAh |

---