Review by Dave Burrows
Price £144.99 inc VAT
Introduction
Holux are no new comer to the GPS Market. Holux currently operate out of Taiwan, and also have a UK presence at Holux-UK.com. Holux have a complete range of GPS Receivers available for the consumer market ranging from GPS mouse, to Compact Flash, to the new XTrac CF Ultra and even dedicated handheld GPS Receivers.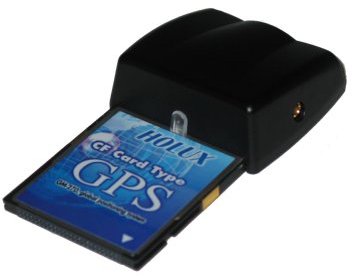 In this review we are going to look at the Holux GM-270. This is the original Holux Compact Flash GPS Receiver (not the new Ultra version).
The Holux GM-270 is a well known work horse in the GPS Compact Flash card category. The Holux GM-270 comes in at a smaller form factor than other Compact Flash GPS Receivers on the market.
Box Contents
One thing that not all Compact Flash GPS Receivers have is an antenna socket, but the Holux GM-270 not only has this already built in, but the Holux GM-270 comes complete with an external patch antenna making this a very attractive option. If you do have problems with signal in-car, then you don't have to look at purchasing a re-radiating antenna, or external patch antenna because you have it all in the box. The external antenna socket has an MCX Connector which is standard amongst nearly all GPS products, and can come in handy if you have tinted windscreens or AV coated windscreens.
One problem with most Compact Flash GPS Receivers is they never come with any type of PDA mount, so you always have to factor this into your purchase, and PDA mounts can range from as little as £10 up to £70 depending on the type and quality of the mount you decide to purchase in-car.
Another thing you'll notice is that just above the Holux logo on the card, you'll notice an LED. This will tell you whether the GPS Receiver is off, searching for a signal, or have a fix.
| | |
| --- | --- |
| LED OFF | GM-270 CF GPS Receiver Switch Off. |
| LED ON | GM-270 CF GPS Receiver Signal Searching. |
| LED Flashing | GM-270 CF GPS Receiver Signal Position Fixed. |
The Holux GM-270 utilises the SiRF IIe/LP chipset, which is one of SiRF's latest chipsets. The Receiver is capable of using both the NMEA and SiRF protocols and defaults out of the box to NMEA 4800 COM 7 on a HP iPAQ 2210. NMEA 4800 will be static across all GPS Receivers but this can be changed with the supplied GPS Viewer software, but the COM port is a variable that may change depending on the Pocket PC and also what you have installed that may be utilising other COM ports.
Testing the GPS Receiver is straight forward. Install the supplied GPS Viewer program to your PC. Then let ActiveSync install it to the Pocket PC. Now run GPS Viewer and you'll be greeted by the following screens.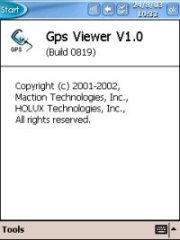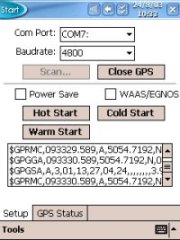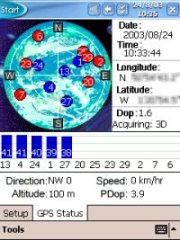 Once you have the GPS Viewer running, go to the SETUP tab and you'll find a button called SCAN. This will allow you to scan for the COM port the GPS is using if you are unsure. For me I knew that the iPAQ 2210 uses COM 7, so all I needed to do was set the COM Port to COM7, Baud Rate to the default NMEA prefers which is 4800 and where the Close GPS button is, this toggles between OPEN and CLOSE. Tap Open and it will start acquiring satellites as in the second screenshot above. If you switch to the GPS Status screen you'll see an image of the Earth, and where the satellites are located. Red satellites are usually closer to the horizon which means you won't usually get a fix on these (weaker signals), blue satellites mean it's acquired a 3D fix, so in the above screenshot you'll see a 5 Satellite fix. If you want to physically change the baud rates and switch between NMEA and SiRF then you will need to use SirfDemo.exe.

Included Antenna
As described above, the included antenna is a small patch antenna which has a magnetic base and a long flex of cable allowing you to position the receiver outside of the car, the patch antenna is waterproof so you have no worries about it getting wet!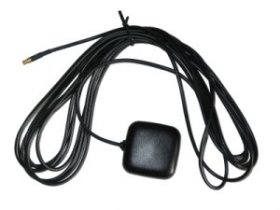 Technical Specifications
Acquisition time:
Warm start: < 38 seconds
Cold start: < 45 seconds
Hot start: < 8 seconds
Snap start: <3 seconds
re-acquisition: 100ms
Interface:
RS232 (NMEA protocol)
USB (NMEA protocol)
iPAQ® connector (NMEA protocol)
Update rate:
1 second continuous
Antenna:
Built-in, External MCX antenna connector
Accuracy:
Position: 5 - 25m (SPS).
Position: 2 - 5m (EGNOS)
Velocity: 0.1m/s
Time +- 1us
Power:
< 30mA @ 3.3VDC ± 10%
30% duty cycle trickle mode
Altitude:
Velocity: 515m/s
Acceleration: +- 4G
Temperature:
Operating: -10C ~ 70C
Storage: -40C ~ 85C
LED function:
Off: unit powered off
On: Unit searching for satellites
Blink: 3D fix obtained
Dimensions and weight:
91 x 50 x 20 @ <50g
NMEA output protocol (v2.2)
4800, N, 8, 1; GGA, GSA, GSV, RMC
Performance and Time To First Fix Tests
The Holux GM-270 performs very well. We didn't experience any major issues with the GPS Receiver, it was always fairly responsive in obtaining it's Time To First Fix, and re-acquisition time was more than acceptable. The Time To First Fixes with the Holux GM-270 were fairly respectable. The slowest times we experienced from cold was 1m 12 seconds, and the fastest cold time 50 seconds, making this a fairly good Compact Flash GPS Receiver. Usually anything from 50 seconds to 1m 10s is fairly average for most Compact Flash Receivers, although you will find some faster and slower. For a complete comparison of TTFF tests between all the GPS Receivers we have tested, check out our TTFF Comparisons table. The only thing the GM-270 lacks is the new SiRFXTac features, but Holux have brought out a newer Compact Flash GPS Receiver called the GM-270U (Ultra) which we will be reviewing shortly.

Summary
The Holux GM-270 is a good Compact Flash GPS Receiver, it's small in comparison to other competitor GPS Compact Flash Receivers, TTFF's are pretty respectable, and re-acquisition time was acceptable. If you're looking for a small form factor and lightweight Compact Flash GPS Receiver, then the Holux GM270 will be a good contender. If you're looking for a Compact Flash GPS Receiver that sports SiRFXTrac, then you may want to check out it's sister the GM-270U. Having an external antenna bundled with the GM-270 is good, and although there are cheaper Compact Flash GPS Receivers on the market, non of them include the antenna as part of the package, making this a much more desirable package.