Review by Mike Alder

HIRSCHMANN GPS9 18 V FLEX
Ok this is a little off topic, but bear with me and hopefully the rationale behind the article will become apparent. We don't normally test "Aerials" on PocketGPSWorld but having purchased this specific bit of kit I was compelled to write up my findings.
What is it?
A Multi-purpose roof mounted "Sting" aerial for the car that contains AM, FM, GPS and Mobile phone connectivity in one single device. It would be of particular benefit if your car has "Athermic" glass and the associated problems you find with poor signal strength for GPS, Mobile phone and TMC reception (let alone for the radio).
The Athermic coating on the windscreen does a very good job of attenuating any signal mentioned above, in certain cases rendering modern devices difficult to use. The Hirschmann GPS 9 18 V FLEX provides a simple (ish) answer.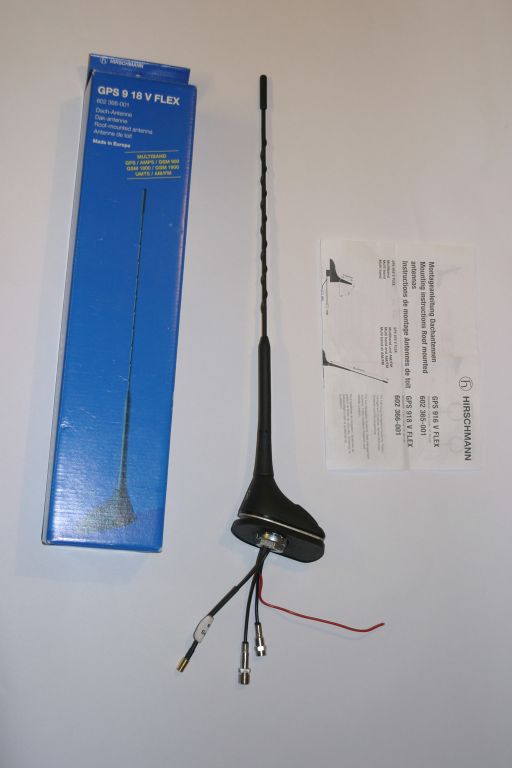 In the box:
You get the aerial, and that's it – the attached cables are very short (150MM or 4" for those that still understand proper measurements). These cables are of no use at all without extension cables. Being a high grade amplified aerial there is very little point using cheap cables to connect this device to the peripherals that will benefit from it.
This is where the first shock is encountered, the aerial unit alone costs £60 and the 5M cables I needed to use the device in my car were around £10 each. This puts the total cost up to £90 for an aerial, is it worth it? – read on.
What do I use it for?
The primary intended role for this aerial was to feed a high quality FM signal to the TMC receiver. Normal un-amplified aerials just couldn't achieve a reliable signal lock in the local area. The TMC data using the ITIS Holdings service is provided over the Classic FM frequency. The North West of England being particularly problematic, although this problem affects more than just my local area.
Parts of Cumbria, most of Lincolnshire and vast areas of Scotland prove equally troublesome in terms of reception. I don't claim this will be the solution to every area, but various previous attempts around the local area proved that no reliable reception was possible. Feed a TMC device with a decent grade signal and it will work; feed it with a lousy signal from a noisy aerial and it simply will not provide a reliable service.
Installation
Installation required the headliner to be lowered in the car, followed by either removal of an existing roof mounted aerial or drilling a new hole. I chose the former but still had to use a file to open the hole up to the required diameter. Fitment of the aerial takes about ten minutes, routing the cables and replacing the trim can take considerably longer (circa four hours).
The aerials amplifier also requires a +12V feed, I tapped into the rear tailgate door light to provide the power. Depending on the car if no such connection is available then more wiring would be required to get this working. Make sure the device is connected to a fused supply, on no account should it be connected directly to the vehicles battery.
To connect the aerial to the TMC unit requires the additionally purchased cable to have a connector on the peripheral end to be removed; it is replaced with a mono 2,5MM jack plug (Maplins code HF77J). Then you simply plug the new cable into the TMC unit, switch on and wait to achieve a signal lock. In practice using this aerial has never failed, whereas anything tried previously was, if nothing else, unreliable.
What else?
I should of course mention the GPS side of things, the aerial provides for an external feed, this is where you need to be careful with the cable selection. Hirschmann provide a variety of low loss cables in various lengths, a rough approximation of the cable length you will need for the vehicle helps, cables are supplied from 2M to 5M in 1M increments. With the correct end fitting to match the aerial, the other end can be any of the following:
SMA Male
SMB Female
SMC Male
FME Female
GT5 Female
MCX Male
MMCX Male
WICLIC Male
The GPS external feed was more of interest value than a necessity. I am not plagued by Athermic glass etc, but a noticeable signal improvement was achieved on both my Garmin i3 and Navman units when connected. There was little point connecting the TomTom Go-910 as it seldom drops below full reception strength!, although connection is possible if desired.
For the Mobile phone you are given a single choice of cable end fittings, although if not compatible with your phone holder you can always get an adaptor to the correct fitment, the supplied FME style is widely used anyway. Again it allows the phone to be used in those hard signal reception areas, seldom encountered these days but they do exist in parts of the Lake District and Yorkshire Dales. This device doesn't make reception possible everywhere, but a significant improvement when compared to a standard handset.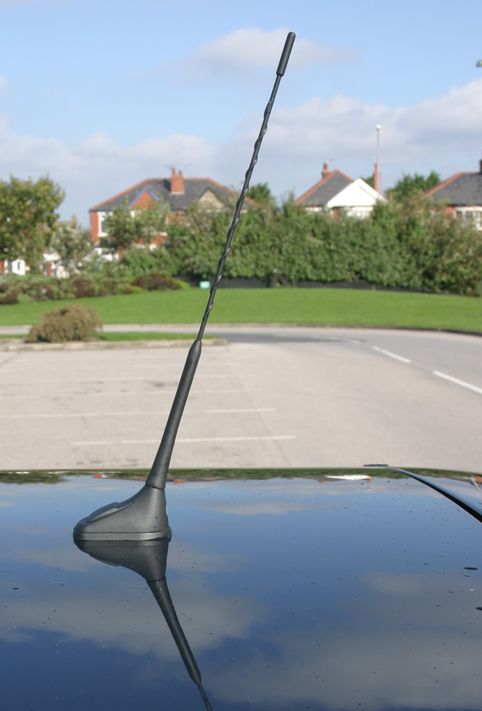 Technical specifications
Dimensions (without rod) 81 mm x 45 mm x 42 mm/3.19 x 1.77 x 1.65 In.
Weight ca. 150 g
Tightening torque max. 5 Nm
Temperature range -30 – +80°C / -22 – +176 °F
Protection class IP66 (acc. IEC 60529)
Cable type RG 174
GPS
Frequency range 1,57542 GHz ± 1,023 MHz, (L1-band)
Impedance 50 Ohm
Current consumption < 20 mA
Gain typ. 2 dBic
Amplification 23 dB ± 4 dB
Noise figure (50 Ohm) < 1,5 dB
Voltage supply 3 - 5 VDC ( remote fed)
Cable length 310 +30 mm / 12.2 +1.2 In.
Connector FAKRA female, Code C, blue
Cellular
Frequency range AMPS: 824 – 894 MHz
GSM 900: 880 – 960 MHz
GSM 1800: 1710 – 1880 MHz
GSM 1900: 1850 – 1990 MHz
UMTS: 1920 – 2170 MHz
Decoupling > 30 dB (GPS-Cellular)
Gain typ. 0 dB
Cable length 370 +30 mm / 14.6 +1.2 In.
Connector FAKRA female, Code D, bordeaux
AM / FM
Frequency range AM: 0,15 MHz - 10 MHz; FM: 78 MHz - 110 MHz
Impedance AM/FM: 75-150 Ohm
Current consumption < 40 mA
Amplification (50 Ohm) 14 dB (FM); 12 dB (AM)
Voltage supply 12–15 VDC ( remote fed) or via separate 12 V power supply
Power supply lead 400 +40 mm / 15.7 +1.6 In.; blade terminal
Cable length 270 +25 mm / 10.6 +1.0 In.
Connector FAKRA female, Code A, black