Reader Review by Nick Sardelianos
Foreword
They say that the first impression counts and this is one of the things Haicom scores. Just opening the box, the lucky buyer finds himself with details he/she would probably think of buying extra. Looking at the devices themselves we also find them having very good finishing, CLEARLY better than many plastic boxes out there, that someone "threw in" some circuitry (usually re-branded) that does something (in our case a GPS). Here we talk about a device clearly designed for what it does and implementing some interesting ideas!
In this review we see two (co-operating) products of the company, a company that its name may bring something to the mind the older among us and they are right, since the company used to make (as far as I can remember) modems. Today the company is involved purely with GPS, but seeing the quality I would "challenge" them broaden their repertoire.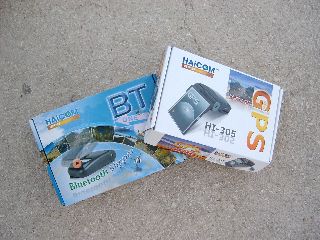 What's in the boxes
Starting from the GPS box, we find:
The GPS ( ah yes )
English manual
Mini CD with manuals, drivers and 1-2 utilities
Mini -1394 cable to miniDIN ( don't confuse with normal firewire , or normal PS /2 keyboard connector – it does not link to PC in either way , it's just connectors Haicom uses for the cables )
miniDIN to serial and PS /2 ( PS /2 is to use power from the laptop and serial for the data )
nylon pouch in the shape of the GPS that closes with Velcro and has a belt clip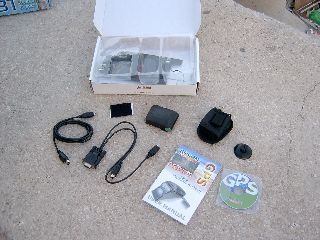 In the slipper box, we find :
The slipper ( interestingly enough it's inside )
English manual
Mini -1394 cable to USB ( only for charging )
Car charger ( to USB)
House charger 110-220 V ( to USB )
1600 mAh battery ( yes 1600, a surprise since the manual and the site talk about 1500)
Nylon pouch that closes , in the shape of the slipper , with belt clop and strap ( to hang it ) and openings where needed (for LEDs , ports etc .)
Velcro ( in case you want to attach the slipper somewhere)
Metal plate with sticker ( read on )
Car holder arm , adjustable , with strong magnet on the top side ( for the metal plate ) and rubber cupping on the bottom ( holds strong on the car screen but because of a valve can easily be removed )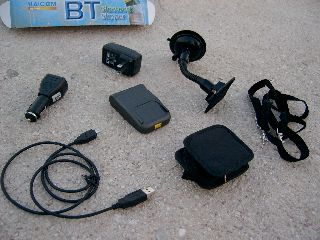 Note that Haicom offers HI-303 (in the variations, Evermore, the "special" SiRF X-Trak V2, the classic SiRF Star II/LP and recently SiRF Star III – note 303 not 305) along with HI-4001BT as a set, where also please note that this doesn't mean they give something less than the two packages, but fully what each package contains.
I think quite impressive contents.
Optional are some extras, like miniDIN to USB or CF to PCMCIA adaptor (I just mention the two since they were at my disposal, not meaning they are the only extras available).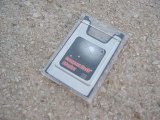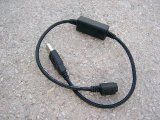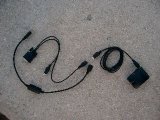 In more depth …
Presentation, build quality and package contents, we are close to excellent, but this in our age (where demands are higher) is not as rare as it was in the past. So what makes THOSE particular products make a difference?
Starting from the GPS itself, which boringly starts our review as a common Compa Flash GPS, we discover that it's not like that at all. Let us see why.
First of all, this particular GPS doesn't pop over the top of your PDA like a… head bump, but its top half (where the antenna is enclosed) rotates to the back and stays to the angle the user chooses (0-180 degrees) helping the reception or its handling (for example it can rotate all the way back touching the back of the PDA and just showing a small part of the card on top).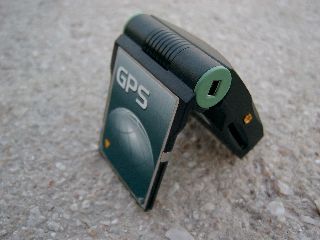 Second, this GPS bears except the plug for the active external antenna (if you think you need it) a plug (the mini-1394 we mentioned above) that can connect to the cable included and make it (depending on what is attached on the other end of the cable) a serial or USB GPS! We already talk about THREE connectivity options, and with a simple CF to PCMCIA adaptor we go to FOUR.
Things "go wild", when we talk about the other device of the team, HI-401BT slipper, that as people may have got from the name, is a small box that connects to the CF side of the GPS making it an independent… BLUETOOTH GPS! (so we happily reach five connectivity options – something unique)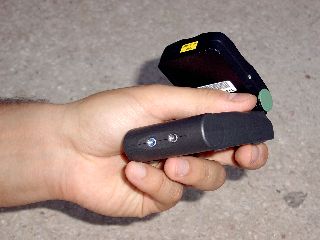 The slipper itself has its own battery (except the little li-ion battery all respectable GPS have –this included- so not to constantly make a cold-start), a huge 1600mAh one!!! (Li-Polymer) Adding to this that a iser reported that it's the same as some Nokia cell-phone batteries, somebody can easily understand the thought that has gone into its design! Even the little cover closes by itseld protecting the CF slot when not used.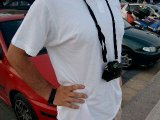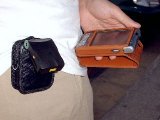 The slipper has its own mini-1394 port, that initially is only for charging the battery, but in the future Haicom promises more extras, like a GPS-data-logger or a solar panel (!).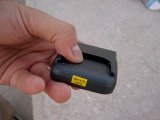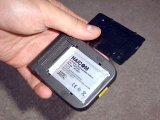 Is counting features over? Nope, I missed on purpose one more characteristic of HI-305N which also is the difference from HI-303 that was mentioned above to be given as a set with HI-401BT. This is an… SD slot. Yes the Compact Flash GPS included an SD slot on it! Now you can have the maps (or even the software) ON the GPS and not eat up your disk space (if we talk about a laptop) or your memory or main storage (if we talk about PDA). Now with cheap large SD, many of us are left with one (or more) extra SD cards and Haicom gives a nice solution, and PDA with CF and SD DO NOT loose one of their ports when using the GPS, but just become dual-SD! This SD slot works only when the GPS is used as CF or PCMCIA GPS and (of course – although I'd like to) not when working with USB, serial or Bluetooth.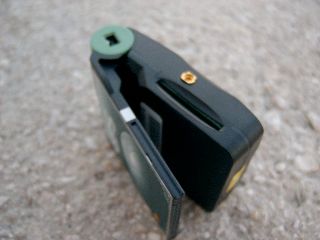 In everyday use
After all those unique characteristics, the use of the GPS as just that, is going to the background.
It's just what somebody would expect. Easy and reliable .
The (mini) CD that comes with the device, includes PDF manuals and drivers (where needed) for all the company models, plus utilities for testing the GPS either from the PocketPC or PC.
The specific model under review (HI-305) for the time being is only sold as an "N" variation (meaning using Nemerix chipset), but soon it will start selling with variation "III" (meaning SiRF Star III) that I will soon have in my hands and let you know my observations and differences. Let's note that HI-303 (i.e. non SD model) we already mentioned comes in many chipset variations, but not Nemerix.
Let say two words about the particular, not so well known chipset. This chipset, gives the ability to link with up to 16 satellites at the same time (in contrast with the majority of the competition that links to 12) and I can say (I have some experience with different chipsets) that goes rather well. It was great sensitivity compared to the (pre-SSIII) competition and with the last Nemerix firmware (that is what 305N uses) it doesn't seem to have the problems of the past.
When I first used it (cold start from the box just coming from Taiwan and opened in El. Veniselos Athens Int. Airport), it found quickly enough where we were and never lost fix up to outside my house. It had rather enough satellites connected all the time (7-8+), though I am not sure how normal GPS software that knows up to 12, says the truth.
The BIG bonus of Nemerix is other though. How it uses power. With 25mW we are talking about using about ONE TENTH of the competition (that the majority works at 220mW) so someone can understand that a PDA with this on, is almost like not having it on (!), while the slipper with the huge 1600mAh batter can keep it active indefinitely! (and more than any normal trip) The SD slot is probably what made the vendor make HI-305 use this chipset, as possibly using SD and GPS at the same time would have a strong effect on battery otherwise.
I cannot talk as an expert (although I have some experience), with measures, variations and statistics, what I can say is that in every day use it makes for a good partner, with quick and easy acquisition, without any problems. Since I didn't know Nemerix before, I expected much worse, but proves to be a rather good chipset.
Connected with the slipper, we have a classic Bluetooth GPS, that I easily paired with my PDA, a laptop, my PC with Bluetooth dongle, my cell phone… Also by not having an on-off switch, since it switches off when for some minutes there is no Bluetooth link (something that weirdly enough Haicom did NOT verify but I saw happening!) or just switches off by removing the CF GPS (and of course switches on when you insert it), we talk about something that doesn't need a PhD to handle.
As a USB GPS it was… the same (with common plug-n-play Prolific drivers), like as a PCMCIA and as a serial (plain COM). A GPS that just works as you expected it to work.
The SD works fine, with the added bonus that even a laptop gets a simple reader (for read the digital camera SD for example). Interesting also (and to be honest expected) was that even without drivers (drivers are needed because of the existence of the SD slot), even as an "unknown" card, it works fine as a GPS (just without ID string) making the expected virtual COM. Very good job.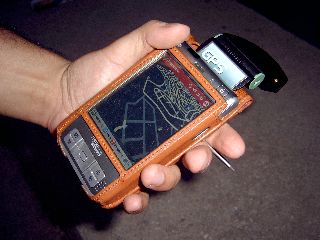 What would I change?
I'd like in the future (without this meaning that it's also a good business move) if the same CF GPS device embedded had that Bluetooth connectivity.
I' also like GPS and slipper a bit smaller (that are in no way large now).
I ' d like it if we could move to Bluetooth 1.2 (or newer), since the slipper is 1.1. 1.2 should be the minimum sooner or later for all devices.
I'd like better drivers for the SD slot. On the PDA I used, you cannot insert the GPS first and then the SD in it, you have to have SD already inserted. I'd also like (if possible) if some time in the future the SD could also be used through USB and why not, through Bluetooth too.
I'd like 305 (some future firmware) to have the PnP ID string even without the drivers, so that it doesn't register as unknown device, since it works anyway.
Small improvements and believe me if the above were already implemented, we would find something else to ask. This is what pushes us forward though.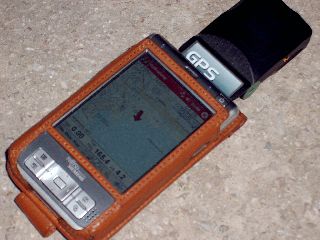 To conclude
We have in front of us an impressive package. Just impressive . After that I couldn't settle to anything less . Maybe I should say it flat out: the best out there for someone that wants the most features or flexibility. Is someone wants for example a mini Bluetooth-only GPS, maybe this is not the one I'd suggest (since we can find smaller), but is someone wants something with the geek factor hitting red, this is the one.
You will not regret it.