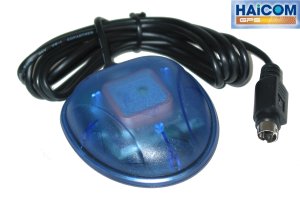 Review by Dave Burrows
Introduction
Haicom have released the new 204 series of Haicom GPS Mouse. The GPS we are reviewing here is the new Haicom 204S with cable support for a HP iPAQ 2210.
The Haicom 204S carries the SiRF IIe/LP chipset as denoted by 204S, supports 12 satellites all-in-view, supports NMEA 0183 v2.20 and is waterproof. Haicom say they have designed the 204S to withstand harsh operating environments, so having this on the outside of a vehicle whether travelling in the town or off road should perform well.
Box Contents
HI-204S GPS Receiver
PDA Cable / Auto-charger
Warranty Information Sheet
*buyGPSnow exclusive Destinator 3.0 North America 30-Day Trial
* When purchased through buyGPSnow.com.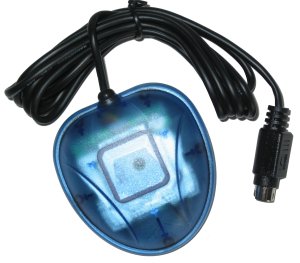 Design
Anyone that reads PocketGPSWorld.com regularly will know I am still a fan of the Leadtek GPS Mouse, and I do still carry two on the dashboard of my car partially for everyday use and also for backup when I'm using Bluetooth, but the Haicom 204S does appeal to me. Partly because it's waterproof, but also because of it's solid design. It's a completely sealed, no screws and it feels like it's properly built (unlike the earlier 203's).
Like previous Haicom's it has a translucent case so you can see the internals of the GPS, the square you see is the internal patch antenna. The Haicom 204S also comes in a variety of different cable sets.
Supported Cable Sets:-
USB Cable
RS232
Dell Axim X3
Dell Axim X5
iPAQ 36xx/37xx Series
iPAQ 38xx/39xx/54xx Series
HP Jornada 54x/56x
Palm V Series
Palm m100/m500 Series
Palm Tungsten T Series, C/W/Zire71
Casio E125/EM500
Casio E125
Sony CLIE T/NR/NX/NZ/SL/SJ Series
Sony Clie N Series
Handspring Treo 180/270/600
XDA/XDAII, AT&T, T-Mobile, Q-Tek, Siemens SX56
Toshiba e330/335/e355/740/750 Series
Toshiba e400/4800 Series
Siemens Pocket Loox
Mitac Mio 528/Viewsonic V37
Asus A620
Asus A600
Acer n20
GPS Base
The base of the Haicom 204S is magnetised so you can place this on top of a car and not have to worry about it letting in water due to it's waterproof design. It also has a rubbery base so it shouldn't slip too much when placed on a dashboard.
Technical Specification
| | |
| --- | --- |
| GPS Technology: | SiRF Star IIe chip set |
| Interface: | Mini-DIN PS/II to PDA plug |
| Output: | NMEA-0183 v2.20 protocol @ 4800/9600 baud rate, 8-None-1, and supports command: GGA,GSA,GSV,RMC,VTG,GLL |
| Hot Start: | Less than 8 sec. |
| Warm Start: | Less than 38 sec. average |
| Cold Start: | Less than 48 sec. average |
| Reacquisition: | < 100msec |
| Acceleration Limit: | Less than 18,000m |
| Altitude Limit: | 100ms |
| Accuracy: | Position: 25m CEP without SA, Velocity: 0.1/sec without SA |
| Dimension: | 69mm x 73mm x 20mm (W x L x H) |
| Power Consumption: | 80 mA @ 3.3V, Trickle power: 27mA |
| Storage Temperature: | -55°~90°C |
| Operation Temperature: | -20°~75°C |
| Humidity: | Up to 95% non-Condensing |
| Channels: | 12 channel |
| Sensitivity: | -165 dBW minimum |
| Update Rate | 1 Hz |
| Antenna | On-Board Patch Antenna |
Performance
Conclusion
The Haicom 204S is a good all-round GPS Mouse. It's fully waterproof, has the tried and trusted SiRF IIe/LP chipset that most people prefer, and uses the standard Haicom cables.