PocketGPSWorld.com reporting live from the WebmasterWorld conference in Las Vegas. Dominic Preuss a Strategic Technology Evangelist from Google gave us a demonstration of the new product Google Keyhole, a satellite imaging application including integrated overlays for roads and POIs.
Google recently acquired a company called Keyhole giving it the opportunity to release a product that has been branded as "Google Keyhole". Why is a Google product of interest to PocketgpsWorld.com? Because it provides World Wide geo-referenced satellite images, these are searchable in the same manner as products like Microsoft Mappoint, Mapblast.com etc.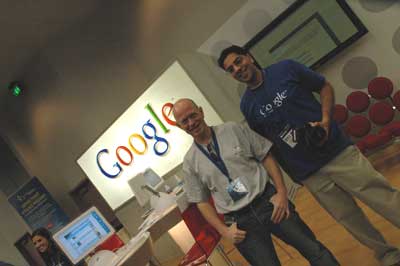 The picture above shows Mike and Akshay from Google.
For some strange reason Google have hidden this away on thier tools page with just the keyhole loge and name with no description of what it is. I sort of noticed it the other week when I downloaded the Google Toolbar on a new computer, but it had no significance. It wasn't until the "Google Evangelist" for Keyhole actually showed me a demo of the program did it alll come together.
Google Keyhole can be downloaded from the Google tools page as mentioned above. There is a seven day trail version of the program available for download. Which is what I did when I returned to my hotel room last night, as normal it was simple to download and install. It has to be licensed for the free trial, requiring you to provide an email address and password.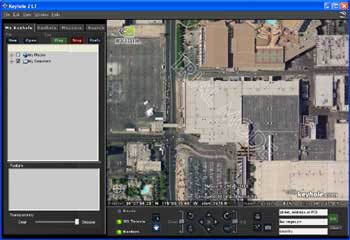 Once licensed you can start to have fun. I started by locating the Las Vegas Convention Center and took the screen shot above. This shows the detail that can be achieved. There are various resolutions available, which differ depending your location. This can be from 3 Meter (per pixel) down to 3 inch per pixel. The high resolution images are typically in the USA with the highest resolution being in the dense urban areas.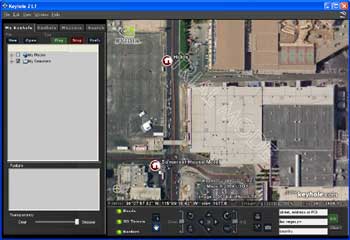 The image above shows the the same scene, but this time with some overlays shown. Hotel and Casino POIs can be seen as round icons. There is aslo a semi transparent red street map overlay. Click here for the full sized version of this image.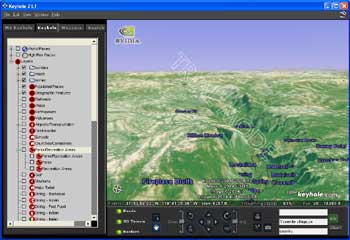 The functionality doesnt end there though. The database also has DEM (Digital Elevation Model) data and thus can render the image in 3D. The above image shows the Yosemite Valley in California in glorious 3D with POI details and the road map overlays.
So what is the relevance to PocketGPSWorld users? Apart from an interesting way of previewing locations in a similar manner to other online systems probably not a lot. However the data is a lot more current than a lot of data out there. Particularly if you compare it to the USGS DRG (Digital Raster Graphic) products. But with a database of 12 Terrabytes it will probably be a while before it is scalable to a PDA. But it does show the potential for the future. Digital mapping with overlays, the vector based overlays will allow routing to take place, resulting in a full navigation system. All that is needed is technology infrastructure to catch up and you will have the opportunity to have a fully downloadable navigation system in 3D.
Google are going to be releasing this in two forms: Personal and Professional. I am talking to to them now to get full review copies so we can present it as a proper review in the normal PocketGPSWorld.com style.
Click here to discuss this item.