Reviewed By

Darren Griffin
Review Date

25th October 2011

Manufacturer
GlobalSat

RRP

RRP $199.00 USD

9
GlobalSat's latest product, the GB-580P Cycling Computer, is entering the one area of the GPS market that continues to grow year on year, leisure and sports. With growing demand for products from runners and cyclists the market is more buoyant than ever.
Although the Global Sat brand may be a relatively unknown to many, they have a long history in producing innovative GPS devices and they've been at the forefront for many years. Some of you may recall they were the first to market with a SiRFStarIII Bluetooth GPS, a chipset that set the standard for speed of acquisition and sensitivity. In a time were previous GPS units often took minutes to get their first satellite fix and then frequently dropped it, SiRFStarIII, with its 20sec fix times and ability to achieve and maintain a fix in the most arduous of conditions was nothing short of a revelation
So we have high hopes for the GB-580P. Garmin have traditionally been the leader in the sports GPS market and their Edge range of dedicated bike devices have long set the standard. But GlobalSat's GB-580P comes in at a very attractive price in package with a wide range of feature. So let's take a look at what it has to offer.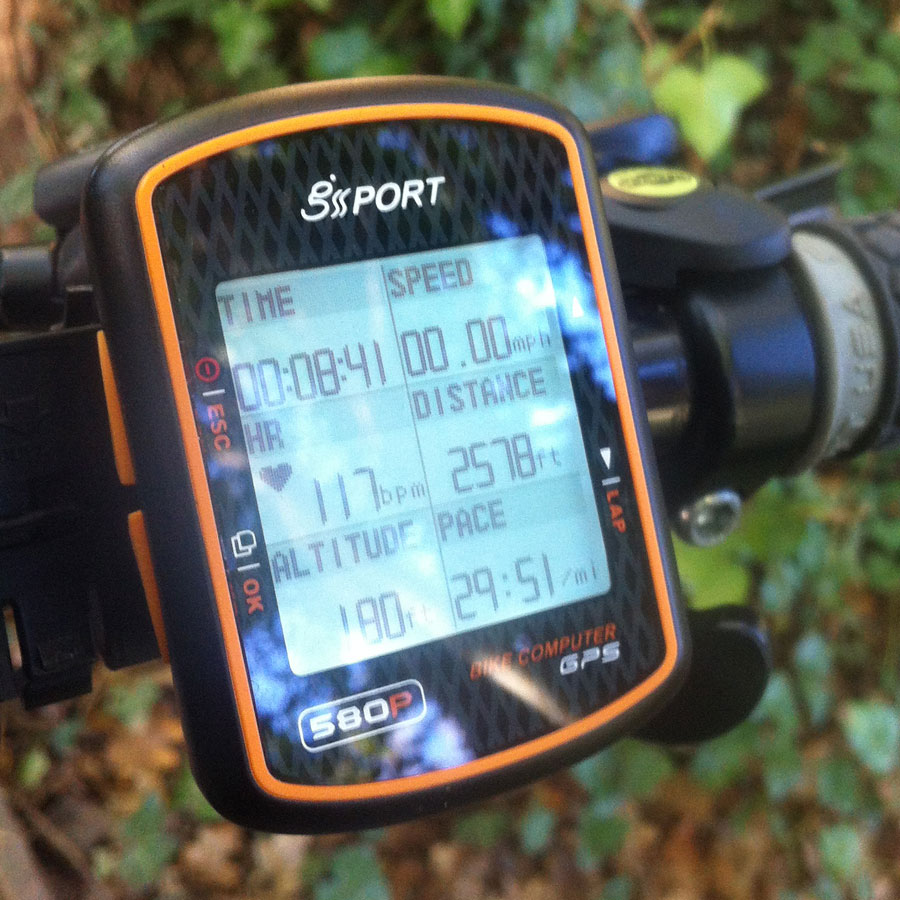 Design and Features
The unit itself is a small, oblong device approximately 70mm x 49mm x 18mm in size. Black in colour with an orange trim and buttons it is dominated by a large 35mm x 32mm 4 gray scale LCD display that is bright and easy to read. GlobalSat claim IPX7 Water Resistance for this device but, as we'll be giving it away as a competition prize we've opted not to put that to the test this time! IPX7 means it should survive the worts that our weather can throw at it but it's not designed for divers!
Along each of the longer sides are two buttons which allow you to switch it on/off and to access the menus and make selections. On the rear is a mini-USB socket, protected by a rubber cover, used for charging and data transfer. There are also the grooves that interface with the handlebar mount.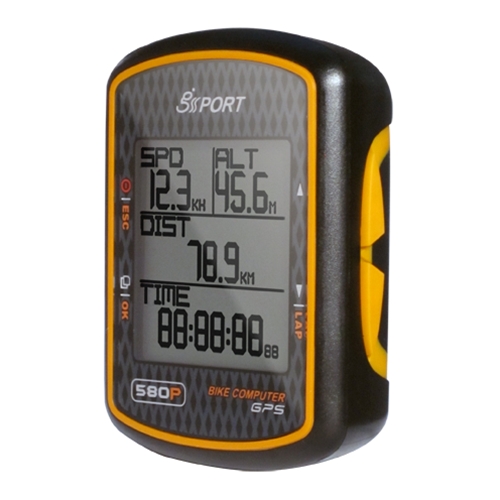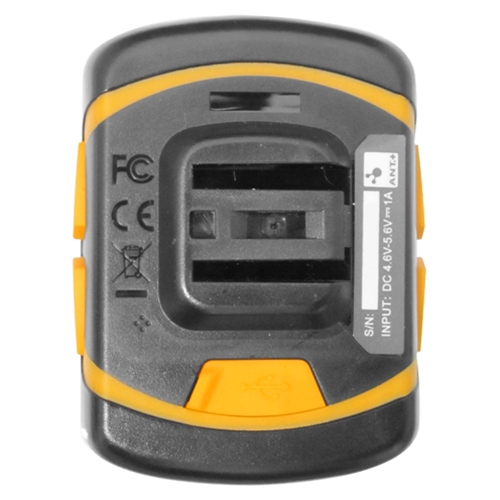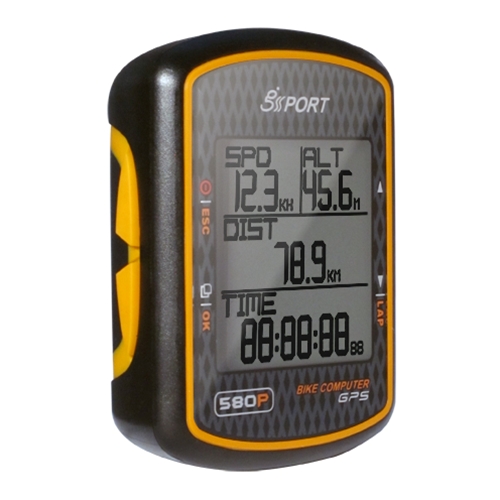 Side and Rear Views
The GB-580P feature list is a long one. Information from the SiRFStarIII LPx GPS chipset is supplemented by additional data from the wireless cadence, pedal and heart rate sensors. These use the ANT+ wireless technology that we've seen used by Garmin for their Forerunner Sports Watches. A 760 mAh Li-ion battery takes care of power.
Speed and Pedal Sensors In-Situ
Included in the box is a quick-release handlebar mount, the wireless speed and cadence sensors, a heart rate monitor, a mini-USB cable and quick-start guide.
The GB-580P mount can be affixed to the handlebars in landscape or portrait orientations and the display switched to suit as preferred, a nice touch.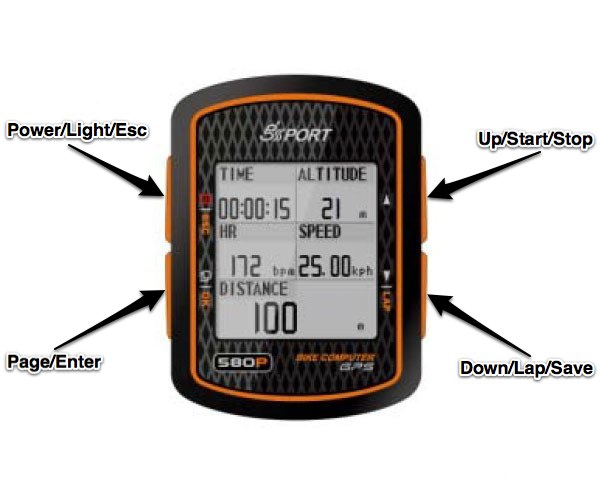 Simple four-button interface
For those of you familiar with sports GPS computers, the GB-580 supports up to four custom user data pages. User profiles can be stored on the device as can information on your bike's weight and wheel size. You can configure heart rate zones and a number of other variables dependent on your chosen activity.
The GB-580P has a built-in electronic barometer which can provide far more accurate altitude measurements than those available from the theoretical data in the GPS earth model although it does need calibrating before use. A digital compass is also featured.
For the keen sportsmen, a virtual trainer is available with options for Distance/Time, Distance/Speed, Speed/Time, Pace/Distance and a further option to race against a previous record you have set.
You can create and save waypoints to aid in your training and the GB-580P can be used to guide you towards it using the GPS and compass.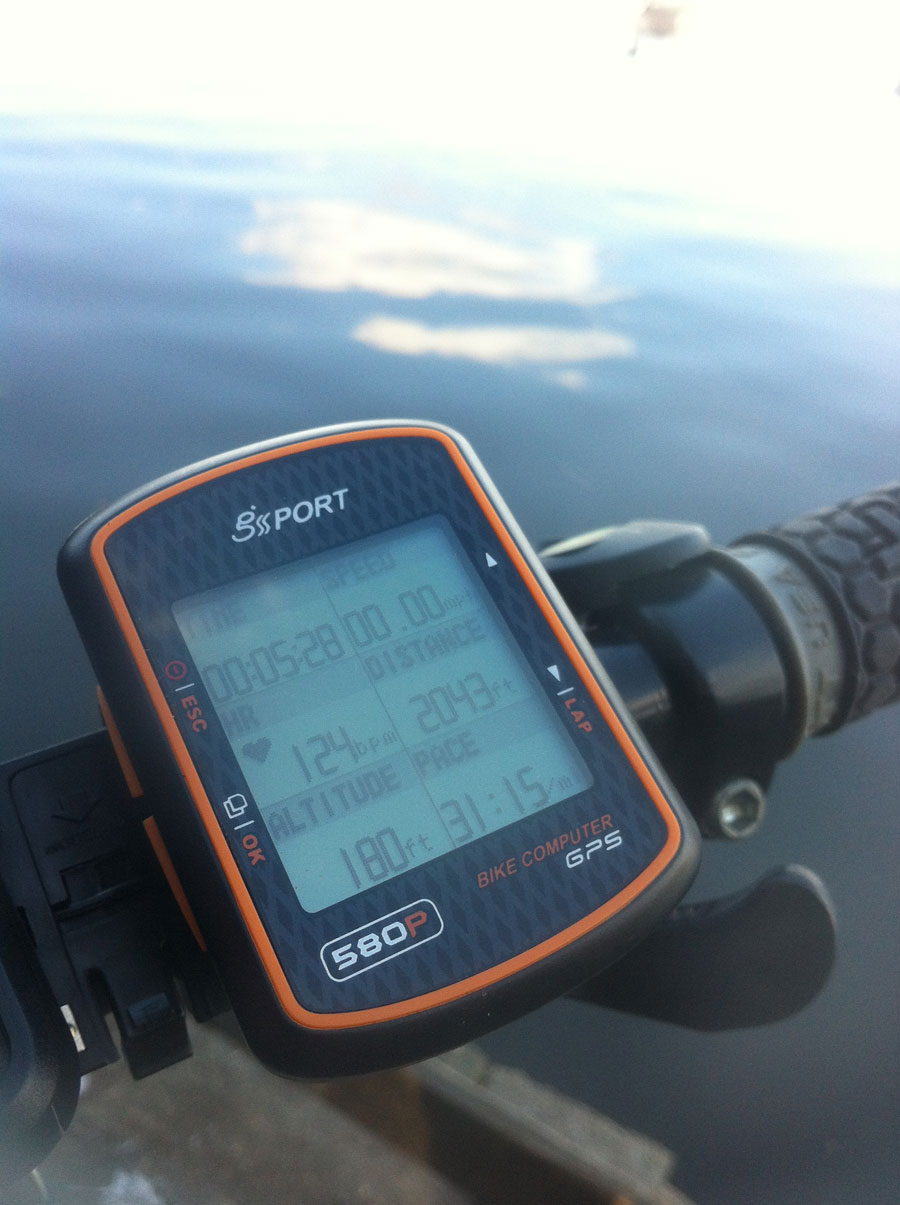 Conclusion
The GB-580P is a well considered and feature rich device that offers all the features you would want in a bike computer. The inclusion of wireless speed and pedal sensors plus the heart rate monitor makes it a very comprehensive package and all software is easy to use.
The side mounted buttons could be a little hard to press at times but once set up there isn't a need to interact with the device other than to trigger new laps and so it's a minor issue.
It isn't perfect but it's not far off and at an RRP of $199.00 it offers unbeatable value for such a well equipped GPS bike computer.
Sample Screens
---