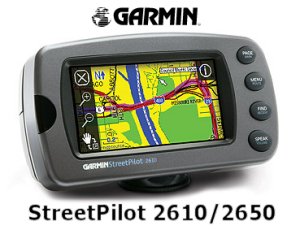 Review by Dave Burrows
Introduction
In May 2003 we reviewed the Garmin Street Pilot III deluxe. This is a great removable in-car Satellite Navigation product, but Garmin has recently improved upon this by not only bringing out one product, but two new products. These are notably the Garmin Street Pilot 2610 and Garmin Street Pilot 2650 and a third (Street Pilot 2620 which incorporates a pre-installed hard drive with maps!). This review covers the 2610, 2620 and 2650 and the main differences between these models.
This review although it caters for both the new user to the Garmin Street Pilot's and also to existing users who may want to think about upgrading from their GPS V or Street Pilot III/Deluxe.
In the box
When you open the box, you will find why Garmin are the leader in handheld and removable in-car Satellite technology. Garmin include everything you need, and I mean everything.
Street Pilot 2610 (or 2650)
USB PC Interface cable
Alphanumeric infrared remote control
12/24v Power cable with integrated adjustable speaker
Beanbag dashboard mount
MapSource City Navigator 6
Owners Manual
256mb Compact Flash card for map storage
Installation and MapSource CD's
Power Source
For anyone accustomed to the Street Pilot III, you may remember that the SPIII accepted AA batteries as a power source. This made the Street Pilot III pretty bulky and cumbersome, and Garmin have decided to remove the battery pack from the 2610, 2620 and 2650. Size hasn't been reduced much, but there is a lot of new extra technology the space saving has created allowing more ground breaking technology to be added to the newer Street Pilot's which is a welcome edition.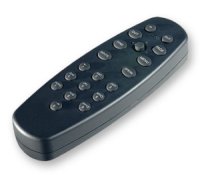 Remote Control
This is the single most item that really brings home the Street Pilot making it extremely easy to use. This InfraRed Remote Control comes with a full number pad, alphabet keys (like you would see on a mobile phone), and also a joy pad allowing you to quickly and effortlessly move the pointer around the screen moving the joystick, rubber or even nipple as some might call it around the remote control.
The only downside I would say about the remote control is that it prefers a more square on direction towards the Street Pilot. If you say have the Street Pilot on the dashboard and have the remote control down at seat level, then the remote control won't work. It's range is pretty wide and far, but some angles it doesn't like more than others.
Touch Screen
Both the Garmin Street Pilot 2610, 2620 and 2650 comes with a new touch screen. Where as before on the Street Pilot III Deluxe you had to press the buttons, buttons are still available on the main unit, and also on the remote control pad, but Garmin have supplied a very good touch sensitive screen which makes using the Street Pilot 2610, 2620 and 2650 an easy solution. It does mean that no matter how clean your fingers are, you will always have some kind of grease coming from them, so the screen will become greased and dirty quite quickly, so my preference is not to use the touch screen and use the remote instead.
Storage Card Technology
Garmin have decided to move away from their own memory-stick (SD type) technology and go with an industry standard which is Compact Flash. Not only that, like with the Street Pilot III Deluxe, Garmin gave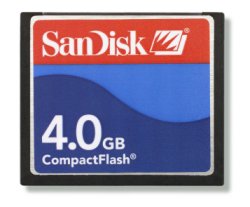 away a 128mb card. On the Street Pilot 2610 / 2650 they have increased the Compact Flash card size to 256mb and bundled this in free of charge which goes to show what the Garmin name really does mean, you get everything with these Street Pilot's. The reason why Garmin have given away a 256mb card is the newer MapSource City Navigator 6 CD's take up more space on the storage card, so to make sure you could store as much information as possible.
The other thing to bear in mind is that Garmin have also looked at the Compact Flash technology and decided to add a CF Type II slot. Why ? The reason for this is that MicroDrive's come in the same dimensions as Compact Flash cards but come in much larger sizes at a much reduced price in comparison to regular Compact Flash cards, so it's good to see that Garmin have added a CF Type II slot to the 2610/2650.
As a generic price comparison, a 1GB MicroDrive can be purchased for around £100 at the time of writing this review, which gives a superb storage solution for people wanting to have complete European maps say loaded to their Street Pilot's. Superb!
Now for the 2620, it comes pre-installed with a 2.2Gb MagiStor MicroDrive with complete Western European Maps installed onto the hard drive.
European Map Coverage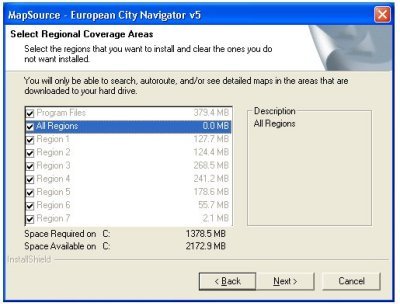 The Street Pilot we tested came with City Navigator v5 (v6 is now out and Garmin are offering free upgrades to v5 owners).
You can see from the screenshot on the right that for complete Western European Maps, you are looking at around 1.4 Gb worth of disk space on your hard drive.
Region 1 - Great Britain, Northern Ireland, Ireland
Region 2 - Sweden, Denmark, limited coverage of Norway and Finland
Region 3 - Germany
Region 4 - France and BeNeLux
Region 5 - Italy, Austria, Switzerland and Liechtenstein
Region 6 - Spain and Portugal
Region 7 - Czech Republic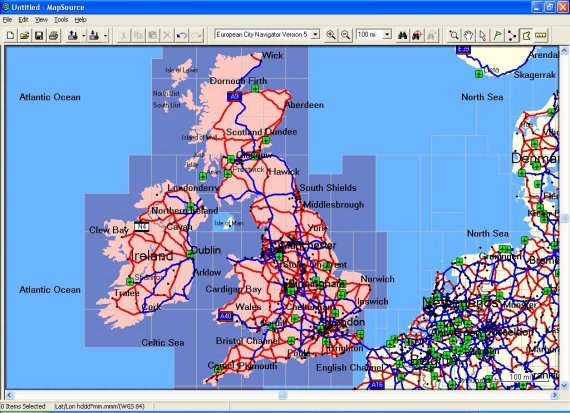 Mounting Solution

As with the previous Street Pilot III, the Garmin Street Pilot 2610, 2620 and 2650 comes with the original bean bag style mount and the second mount to be used in another car. The bean bag mount really is a well made mount and allows you to sit the Street Pilot on a dashboard of any vehicle and not have it move, it has a rubber texture base which helps it grip, plus with the added weight of the Street Pilot and the four feet which are filled to add further weight to the whole package, there's no way this will slide around the dashboard. Some people don't like this mount, but to be able to remove it from sight when you leave the car and to use the Street Pilot in any other vehicle, this really is a must and it's good to see that Garmin haven't removed any of these accessories from the overall package.
Other Hardware Changes
The Street Pilot 2610, 2620 and 2650 comes with an all new power on switch, rather than having the old power on switch, Garmin have substituted this for a new rocker switch on the right hand side of the Street Pilot which also makes it easier to power on and off. Garmin have also removed the stubby directional antenna for an integral antenna which also makes the Street Pilot look much more attractive, I have always thought that the antenna was probably the most single point of failure when removing the Street Pilot from the car as if it were dropped, having an antenna stick out could snap off quite quickly.
GPS Screens
In the screenshot's below, you'll see the version number and Unit ID we tested, the GPS status screen that gives you diagnostics on the overall performance including battery power, and the third screenshot's shows the GPS Status screen (this was taken in demo mode), but equally shows the satellites on the left.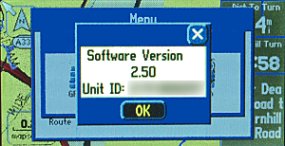 Street Pilot Menus
Lets take a look a detailed look at the Street Pilot menus. For anyone who has picked up a Garmin handheld receiver, the menus will look somewhat familiar with the tabs for each menu type at the top of the screen and data options that can be set below this (in a page format)

General Tab
The first menu you see is General. This is the main menu where you can toggle setting various settings like the Colour Scheme Brightness, Voice Guidance, the attention tone that is sounded before any information the Street Pilot gives you, the Units, enabling the Touch screen Tone and the Key press Tone.
The Voice option can be changed to give Guidance and Status, Route Guidance or SPEAK Key Only. Attention Tone is a feature that sounds like an aeroplane intercom chime to alert you that the Street Pilot is about to give you some information, this can be toggled on or off. The Units allow you select Statue or Metric.
Guidance Tab
The Guidance tab is nice and easy. It gives you the option to change how Off-Route Recalculation works, this can be set to Prompted, Automatic - Announced, Automatic - Silent and Off. The Next Turn Pop-up can be toggled between Off, SPEAK Key Only, Automatic Only and Both.
Routing Tab
The Routing Tab gives the Route Preference of Faster Time, Shorter Distance or Off Road. The Calculation Method gives Quickest Calculation, Quick Calculation, Better Route and Best Route. Better Route is defaulted. Ask Me My Preference will allow you to be asked what your preference will be, you can also calculate routes based on if you're driving a Car/Motorcycle, Truck, Bus, Emergency, Taxi, Delivery, Bicycle, and Pedestrian. You can also select to avoid taking U-Turns, Toll Roads, Highways and a new option in the Street Pilot 2610/2650 is the Unpaved Roads.
Time Tab
This tab brings you what you would expect and that's a 12 or 24 hour format clock, a Time Zone, Daylight Savings, Time, Date, and a Sunrise and Sunset calculation which I like the look of, and does seem to be fairly accurate for the location I was using the Street Pilot in.
Safety Tab
The Safety tab gives you the option of turning Safe Mode on or off. When turned on, you will not be able to go into any of the menus whilst driving.
Track Log Tab
The Track Log screen allows you to record a track of where you're driving, showing you the percentage of memory available, and the option of clearing the track.
Language Tab
This allows you to choose the language from English to Cestina, Dansk, Deutsch, Espanol, Francais, Italiano, Magyar, Nederlands, Norsk, Polski, Portugeues, Suomi and Svenska.
You can also change the Voice Language depending on which languages you have installed to the Street Pilot on install.
Interface Tab
This is something you would expect to see on a Garmin, it allows you to change the format from Garmin to NMEA Text Out and None. You can also set the Odometer Wave Type between Sine Wave and Square Wave and set the Reverse Light polarity. Note these are only available on the 2650.
Outside of these menus you can have other features like the volume control which can be set by pressing and holding the SPEAKER key, other menus can be accessed by pressing the menu key once. You can also set using the MENU key which type of screen display you would like, for example a full screen map or half screen map with directions.
Street Pilot Maps
The Street Pilot 2610, 2620 and 2650 comes with Garmin's MapSource City Navigator Version 6 maps, you'll receive rich maps at various zoom levels and for European users an unlock code to unlock all Western European Countries.
The Street Pilot is supplied with maps from NAVTEQ under the current agreement Garmin have with NAVTEQ The maps appear to be pretty accurate like we've seen in other NAVTEQ map solutions in the past. There will be errors, or some roads that won't appear, this is life, it's always difficult for the mapping/geodata companies to keep on top of this, and they do well, but sometimes this can lag behind somewhat.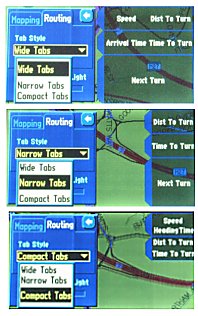 On-Screen Navigation Menus
The Street Pilot now has a number of new tabs which can be customised depending on whether you want to see more map, more turn information or just zoom boxes.
From top to bottom in the images to the right you will see:-
Wide tabs
Narrow tabs
Compact tabs
With the Wide tabs you not only see maps, but you also have a larger area of the screen for information and menus. This splits the screen 50/50 so 50% of the screen is taken up with maps and the other 50% with other information.
With Narrow tabs
Routing Categories
When selecting a destination you are given a number of ways to route to a destination. Amongst these are via a Recent Find, Cities, Exist, Addresses, Intersections, All Points of Interest, Food & Drink, Lodging, Services and Entertainment.
This gives you a number of ways to find the
Routing Categories
When selecting a destination you are given a number of ways to route to a destination. Amongst these are via a Recent Find, Cities, Exist, Addresses, Intersections, All Points of Interest, Food & Drink, Lodging, Services and Entertainment.

This gives you a number of ways to find the destination. If you know the address you can enter the address directly (although the Street Pilot still doesn't allow you to search via post codes), navigating via POI's is also a good feature.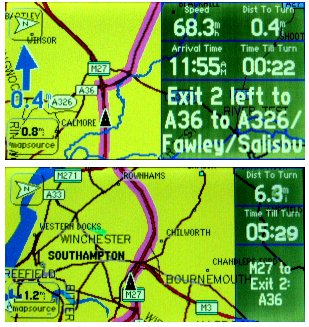 Routing Quality
Comparing the Routing Quality on the Street Pilot, it's very similar to Navman SmartST Pro routing. One thing you've got to remember, which most people completely forget after day one of using a GPS Street Routing system is, you purchased the system to get you from A to B successfully. It really doesn't matter if it takes a longer route, or a shorter route, or it doesn't take the route that you would have preferred, or you would normally drive. If you didn't have your trusty map book with you, you would be following road signs, and how many times have you driven in a complete circle thinking that the road signs were correct ? Providing a GPS Street Routing system does get you from A to B, then it's done it's job. You can tweak them for faster or quicker routes, but they may still not take the route you would have plotted. For most people this theory completely flies out the window, and they expect to be taken what they believe to be the correct route. The Street Pilot routing is pretty good. If you do go off track it will re-route you and you have the option of letting it tell you to take a U-Turn, or it will redirect you down several other roads before it gets you back on track.
Routing With Multiple Stops
The Street Pilot 2610/2650 also allows for routing via multiple stops. Garmin call these Via Points and allow you to set the starting point, adding multiple stop points (via points) and then navigate to each one in a long list of routes. Ideal if you need to go to multiple destinations, or visit multiple destinations along the same route day in day out.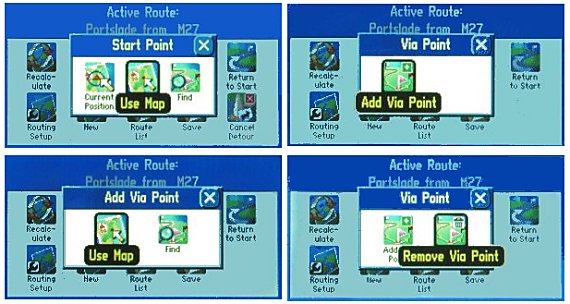 Street Pilot 2610, 2620 and 2650 Specification
| | |
| --- | --- |
| Routes | Automatically calculated with turn by turn instructions and up to 50 stored |
| Voice | Navigation instructions and warnings |
| Waypoints | 500 with name and graphic symbol |
| Track Log | 2000 track log points |
| Trip Computer | Resettable odometer, timers, average and maximum speeds |
| Cold TTFF | 45 secs |
| Warm TTFF | 15 secs |
| Update Rate | 1 sec |
| Accuracy | 15 meters |
| Accuracy (WAAS/EGNOS) | 3-5 meters |
| Interface | USB 1.1 |
| Physical Size | 5.6"W x 3.2"H x 2.0"D (14.3 x 8.0 x 5.0 cm) |
| Weight | 0.93 pounds (420 g) |
| Display | 3.4"W x 1.8"H |
| Data Storage | Infinite, no memory battery required |
| Map Storage | Compact Flash Type I/II |
| Power Source | 6xAA batteries or 12v car charger |
Problems Encountered
The Street Pilot performs extremely well, so there is very little to complain about. The mounting systems provided are perfect for the job required, and that's to keep the Street Pilot where it should be, on the dashboard. The really are no problems. Seeing how Navigation Systems are maturing, most now have at least 5 digit postcode search facilities.
The maps also haven't changed much between v5 and v6 where as other companies are adding more attractive maps, 3D views etc. If you like the look of the Garmin Street Pilot's and don't mind a more basic looking map, then the 2610, 2620 and 2650 are a very good buy.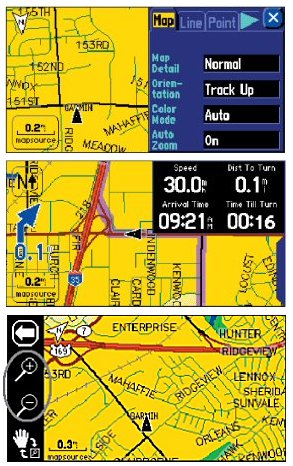 Route Re-Calculation
Route Re-Calculation on the Street Pilot 2610, 2620 and 2650 does seem to be quite fast. We did have initial concerns with the Street Pilot III Deluxe when we reviewed this back in 2003, but the 2610, 2620 and 2650 does seem to be faster in the time it takes to calculate a new journey.
Keyboard
The 2610, 2620 and 2650 still has an on-screen keyboard like it's predecessor (Street Pilot III Deluxe), but the 2610, 2620 and 2650 now has an InfraRed Remote Control. This has the main key features but also numbers 0 to 9. Each number can be operated as a letter (just like a mobile phone) by tapping the same number key 2 or 3 times to go to the next letter in the alphabet. This makes using the 2610, 2620 and 2650 a much better experience and entering of addresses quicker!
Speaker
The speaker is loud and crisp and has a customisable volume control by holding down the speaker key will allow you to then increase or decrease the speaker. Mark my words, you won't have any problems hearing the Street Pilot 2610, 2620 and 2650 in a loud vehicle!
Screen Updating
Back when we reviewed the Street Pilot III Deluxe, we did have a few issues with speed, and so did a lot of people in the time that it would take to refresh the screen to re-draw the map, sometimes this could take 2-4 seconds which sometimes meant you missing a turn. The Street Pilot 2610, 2620 and 2650 doesn't have this problem, it has a faster processor, better technology and better maps, and redraw of screen takes less than a second which is a welcome edition!
Differences between Street Pilot 2610 and 2650
The 2650 is identical in every way to the Street Pilot 2610, the only real differences are that it's kited out as a permanent in-car satellite navigation system and requires installation by an authorised Garmin Installer. The reason for this is the 2650 adds several extra features, mainly that the 2650 will be plummed into the car's electrical system with the addition of the following extras:-
Internal Angular Rate Sensor
Speed Sensor Input
Reverse Light Input
This gives added reliability to supplement the GPS data the 2650 will be receiving because it can tell much better if you are reversing from the reverse light input, it can check your speed via the speed sensor input (or speed pulse) and can tell the direction you are traveling in better than just relying on GPS data. This makes the 2650 effectively a dedicated in-car satellite navigation system.
Differences between Street Pilot 2610 and 2620
The only difference is that the 2620 comes with a pre-installed 2.2gb MagiStor hard drive. Garmin suggest due to vibration that it's not suitable for motorbikes, but some people are using it on a motorbike without problems. Unlike the 2610/2650 you will not receive a Garmin Cartography CD as it is pre-installed, so if you did wipe the maps by accident then you cannot re-install easily.
Comparing the Garmin Street Pilot Size
We have compared the size of the Garmin Street Pilot 2610, 2620 and 2650 to it's nearest competitor (Navman iCN630) and you can see that Garmin really have reduced the size of the Street Pilot where as in 2003 the Street Pilot III Deluxe was quite a bit larger than the iCN630, Garmin have now turned the tables to make the Street Pilot 2610, 2620 and 2650 smaller than it's counterpart.
Street Pilot Advantages over a PDA system
Single, integrated system
No crashes or having to soft reset it like Pocket PC's
Loud Speaker
Multiple destination routes
Remote control
Bright screen
Everything included, nothing more to pay!
Street Pilot Disadvantages over a PDA system
Can't be used as a PDA
A little bulky to keep taking out of the car compared with a PDA which can be slipped into the shirt pocket
Limited to Garmin's MapSource maps
As you can see, the advantages seem to outweigh the disadvantages. The only real difference is the price, weighing in at just under £900 for the 2610, £1049 for the 2620 and just under £1100 for the 2650 makes this an expensive system, but you have to ask yourself, if you haven't used a Pocket PC, do you really want to have to start as there is a steep learning curve when you start looking at PDA systems and GPS Receivers. If you find the Street Pilot 2610 or 2650 a little out of your price range, then you might want to look at it's predecessor the Street Pilot III Deluxe. It comes with slightly outdated maps as it has been out for a couple of years, it doesn't have a touch screen but it's a good system at just under £700.
Summary
The first thing I know I'm going to receive is a flood of emails on whether this is better or worse than a PDA GPS system. It really depends on what you want out of a system. If you have absolutely no experience in GPS Street Navigation, or PDA's like Pocket PC's or Palm devices, and all you want is Street Routing, then the Street Pilot III I believe is the product for you. It caters nicely for the novice, someone who doesn't want to get bogged down into having to tweak memory, install drivers, constantly check the GPS Status screen to see if you have a 2D or 3D fix. In short, great for people who need to rely on a system in anger like taxi drivers or couriers.
However, if you have used PDA's like Pocket PC's or Palm's and you might want to look at Topographical maps for hiking or walking, perhaps even for marine use, or you're not shy in wanting to right the steep learning curve of GPS products and you would like to gain a huge knowledge of behind the GPS scenes, then a Pocket PC or Palm GPS system would be better for you.
The Street Pilot III is also waterproof which means it's an ideal either in-car or even on a motorbike. One of the other benefits with MapSource is you can manually define the route to take, drive from A to D via B and C.
One of the best points about the Street Pilot 2610, 2620 and 2650 is it has an anti-reflective coating on the screen. Coupled with it's superb brightness and contrast, this really is one of the better screens I have seen in a PDA type system. Even in the brightest of sunlight where a Pocket PC (even a HP!) starts to white out, the Street Pilot 2610, 2620 and 2650 seemed to be unaffected, and I was really amazed at the quality of the screen!