Reviewed By

Matthew (MaFt) Morley
Review Date

6th November 2013

Manufacturer
Garmin

RRP

£129.99 inc VAT
($149.99US)

8
When Garmin announced the HUD earlier in the year it was the first time in a long time that I've actually thought "wow, finally something to get excited about". But then the cynic in me was saying things like "it's only your speed and directions, it doesn't even show a map" and my optimism dwindled. Once I saw the HUD was available on the Garmin UK website my interest perked up again and I wanted to see if it was just a gimmick or if it was actually a useful peripheral. I finally managed to get my hands on one recently and put my cynicism and optimism to the test.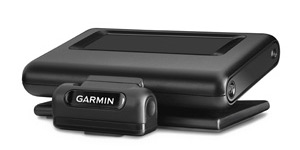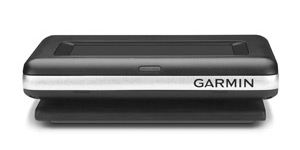 The Garmin HUD is just a little larger than a pack of cards and weighs in at a relatively hefty 277g. It has no internal battery but comes with a 5V power supply with a USB port for charging your phone at the same time. It needs to be highlighted that the HUD is an add-on to either the Garmin StreetPilot app (iOS) or the Navigon App (iOS, Android, Windows Phone 8) - without the smart phone app the HUD has no use other than an expensive door stop. The best way to describe the Garmin HUD is as a 2nd screen/projector. Or, being totally biased to PocketGPSWorld.com, a way to see your turn-by-turn directions while still having speed camera warnings from CamerAlert in the foreground (on iOS and Android at least). It is also useful when someone phones you just as you need directions - the phone switches to the call so the map is no longer visible, but you still see the instructions in front of you.
There are two ways you can view the Garmin HUD's display - either by sticking the transparent film on your windscreen or by attaching the included plastic screen to the HUD itself. I tested both methods and both worked equally well with the display being clear in both bright daylight and at night. My personal preference is the film - although it is not transferable to other vehicles (an extra film will set you back £8.99). You should also bear in mind that the film on the windscreen could (will) annoy other people (the wife) who drive your car. Using the plastic screen obviously means you can use the HUD in any vehicle but it clips onto the HUD itself and doesn't have any hinges. This means that when you need to remove the HUD it won't fit in your jacket pocket without first removing the screen, which then doesn't really have anywhere to go. It would be nice for the next iteration of the HUD to have a slot where the screen could slide into when not in use. For this reason I chose to use the film on my windscreen - note that in some countries / states this may be illegal!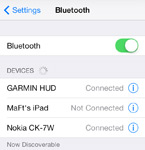 The HUD itself simply sits on your dashboard - it has a malleable, tacky base that means it can sit comfortably on a curved (and dusty!) dashboard without moving; even on sharp and sudden turns in an empty Morrisons car park with the kids in the back wondering what on earth was going on as their Chicken McNuggets went flying across the back seat! The HUD needs to be connected to a power supply, which can be a little unsightly depending on your dashboard but if there are any crevices you could at least hide the lead. An internal, rechargeable battery would be nice but I assume that available space and the overall size of the device was the main reason against this. To be honest, it's not a major issue and the lead is long enough that I have about 12 inches spare when the HUD is on my relatively large Ford Focus dashboard.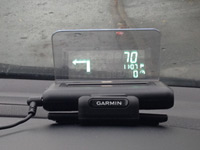 Once powered up you need to pair the HUD with your smartphone. The latest versions of Garmin StreetPilot and Navigon are compatible; sadly this means that Windows Phone 7 users are left out - Microsoft want developers to focus on Windows Phone 8 so Navigon have basically stopped updating the WP7 app. The Bluetooth link is easy - there is no PIN to enter and the connection doesn't interfere with any Bluetooth hands free or A2DP you may have - it uses a different Bluetooth protocol (presumably either PAN or HID). I don't have access to a WP8 phone but the pairing was straightforward on iOS (iPhone 5) and Android (HTC One).
The HUD uses a greenish-blue LED for most of it's display with traffic delays, speed cameras and overspeed warnings being showing in red. The red icons are not as sharp and are a bit harder to see what they are with just a quick glance. The HUD display shows you:

Next-turn arrow
Distance to next turn (shows direction [S, NW etc] when not navigating)

Speed camera

Traffic alerts

ETA

Lane guidance

Current speed / speed limit

Overspeed warning
In use the HUD is surprisingly effective. Yes, it does only show your next turn and speed etc but when coupled with the audio from your navigation app there is little more that you need. As mentioned earlier this leaves your device screen free to show CamerAlert for speed camera warnings, or your music player or simply turn the screen off to save power. My phone mount is just to the left of my stereo so to see the screen I need to move my attention from the road ahead. So, for my particular usage case, having the directions and speed info in front of me was a much better alternative to having to keep looking at my phone. Couple that with the fact that the prominent part of the HUD display is the direction arrow and you can probably start to see the advantages already. The current road speed being in easy view is also helpful as a reminder.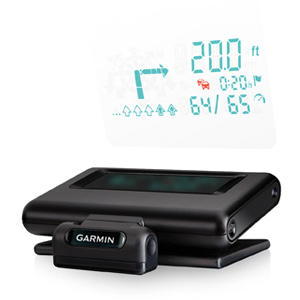 The display is nice and bright in daylight but also automatically dims at night so you don't get blinded. If, however, you'd rather burn your retinas, you can disable the auto-dim from within the HUD settings in the navigation app.
The only time I struggled with the HUD was at a more complex junction and when two side roads were close to each other. In these instances it would have been better to have the full map but, in general, the HUD alone was enough to get me to the destination.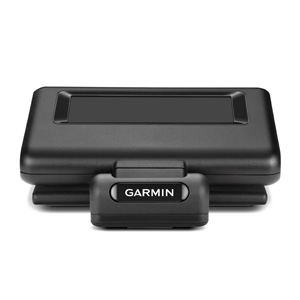 So has my cynicism been quashed? This is the first version of the Garmin HUD and, while it works well and is an effective aid, I think there is still some room for improvement. I have no doubt that we will see updated hardware in the future if the HUD becomes popular - perhaps with some method to show the following turn, or even allowing 3rd party apps to use some of the features (either the navigation arrows or the speed camera alerts). Priced at £129 in the UK ($149 in the USA) it's not a cheap addition, but neither is it ridiculously high-priced.
Garmin have created a useful addition to their StreetPilot and Navigon smart phone apps; it is simple to set up, easy to use and just does what it needs to do - it is more than a gimmick, it is the first useful piece of innovation in the navigation world for quite some time. How did the old telecomm's advert go? "The future's bright, the future's greenish-blue (and hovering in front of your face)" - something like that anyway...!
---