Reviewed By

Darren Griffin
Review Date

17th September 2011

Manufacturer
Garmin

Guide Price

£179.95 inc VAT

9
Our family dog is a Lakeland Terrier. She's a dearly loved family pet and we'd all be heartbroken if she ever went missing. So Garmin's GTU-10 GPS Tracker is perfect for dog owners who worry that they may lose their dog whilst out walking.
But pet owners are far from the only target audience. Anyone who has something they want to track could make use of the GTU-10. Keep an eye on your children, attach it to your rucksack or leave it in your car or on your boat. It could also be useful if you wished to allow your family or friends to locate you. Perhaps you're a long distance runner or cyclist and want your family to be able to check your location for peace of mind or maybe you're running a marathon and want your friends to track you in real time.
So let's take a look at the device itself and how it is operated.
Design
First impressions are good, for those familiar with the Bluetooth GPS receivers of old it will look very familiar, if a little smaller. Housed in a compact, two-tone, black and silver case it measures 34mm x 78mm 20mm and weighs in at 48g. On the top is a set of status LEDs, a power switch and a mini-USB socket hidden under a cover.
GTU-10 GPS Tracker
Supplied in the box is a form fitting carry case with a carabiner clip attachment, a USB cable, adhesive pad and user-guides. The carry case has a Velcro fixing and is designed so that it can be attached to your dog's collar. A rubber cushion is curved to ensure a safe and secure fit on your dog's collar and the zip stows under elastic to stop it jangling.
Small and discrete, attaches to your pets collar
If you want to attach it to another item such as a rucksack or bag, the carabiner clip can be attached and the whole device clipped onto a strap and if you want to use the GTU-10 in a vehicle, the 2-part adhesive Velcro strip can be attached to the dash and the base of the device..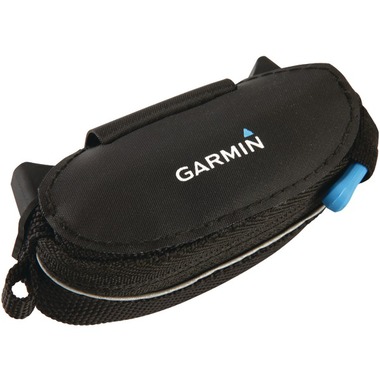 Now, being a tracking device, receiving a GPS signal and plotting a location is only half of the equation. To be able to remotely track the device you need to be able to contact it. So the GTU-10 has a built-in data service and comes complete with 12 months Standard Tracking bundled. Once activated and configured you can log-in to my.garmin.com and view the location of the GTU-10 at any time you wish.
Helpfully, Garmin also offer a 'Tracker' app, available for both Android and iOS platforms, that allows you to locate your GTU-10 at any time.
Setup
Setting up the GTU-10 is simplicity itself. If you don't already have a 'My Garmin' account you will need to create one after which you can register your GTU-10 and activate it.
Once that's done you will be able to locate your device on the map, allocate a nickname to your unit (useful if tracking more than one) and configure other settings including how often the device announces its location. This is an important setting as, depending on your preferred setting, the re-chargeable lithium-ion battery can last between 24hours (with 30 second reporting intervals) and an entire month if you select the 'On demand' setting where it only checks its position when you request it.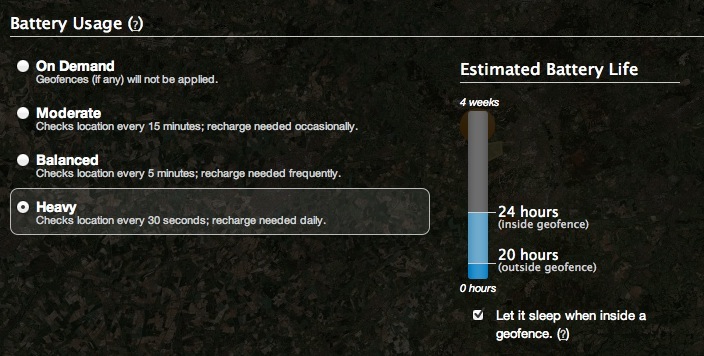 Configuring tracking intervals
You will also need to configure your contacts. The GTU-10 can send alerts for a number of situations which we'll cover in detail below. These alerts can be sent via SMS and or email. For text messages, there is a limit of 25 notifications per month.
The GTU-10 supports 'Geofences', which are virtual boundaries that you define on a map. You can configure the device to send an alert to one or more of your contacts when it enters and, or leaves a geofenced area that you have defined and you can configure up to 10 geofences.
Geofences
Creating a geofence is very easy. From the map you define the area you want to surround with your geofence using a number of points. and give it a name and colour. Garmin limit the boundary to a maximum of 10 points so the geofence can't be too complex but it's perfect for setting a boundary around your home or workplace etc.
Finally you can configure the exit/entry alerts and choose which contacts will receive them.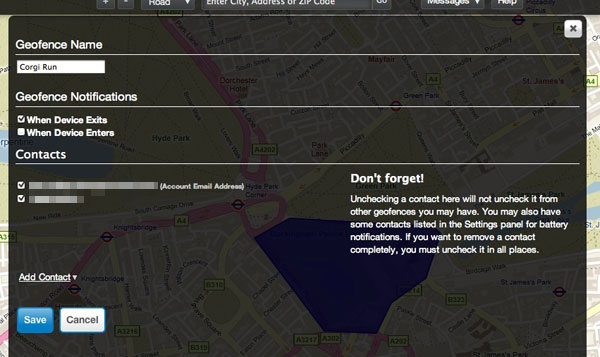 Contacts
In Use
Once a geofence has been defined you will then receive alerts via SMS or email (if configured) whenever it exits (or enters) a geofenced area. You can call up the map at my.garmin.com whenever you wish to check the current location of your GTU-10 or use the Tracker app on your Android or iOS device.
SMS and email alerts
Garmin don't actually state what sort of mobile data standards the GTU-10 uses for its data connection. I'm not sure if this uses GPRS, EDGE or 3 but I'd expect it to use the simplest and most common, GPRS. That would ensure the widest possible coverage.
Where there is no signal or patchy coverage it will not be possible to obtain a live position from the device. But in those cases, the GTU-10 will continue to track and will report its position as soon as coverage is available.
Smartphone Apps
Owners of both Android and iOS devices can take advantage of Garmin's free 'Tracker' app that is available for use with the GTU-10. This offers a streamlined interface that actually works better than the my.garmin.com web site.
From within the app you have access to all the settings that are offered form the main site including location on a map, device configuration, creating and editing geofenced areas and configuring alarms etc.
Android and iOS Apps
Another nice feature is the ability to follow your GTU-10. Once selected, the Tracker app will provide basic guidance allowing you to be guided towards your GTU-10 device, ideal if your dog has wandered off perhaps.
Service Plans
The GTU-10 as purchased comes with 12 months Standard Tracking service bundled with the device. Standard Tracking provides 10 points of history per day. When the initial 12 months expires, service can be renewed at a cost of £45.00 per year.
You can also upgrade to the Deluxe Tracking Service (which requires a Standard Plan is active) for an extra £4.00 per month. Deluxe tracking gives you much more comprehensive recording with up to 20,000 points from the previous 7 days.
There are no contracts and no termination fees so you can add Deluxe Tracking for a short period if needed and then cease it as desired.
It is worth noting that the GTU-10 , if purchased in Europe, supports roaming in the following countries; Austria / Belgium / Czech Republic / Denmark / Finland / France / Germany / Greece / Ireland / Italy / Luxemburg / Netherlands / Norway / Poland / Portugal / Spain / Sweden / Switzerland and UK.
Conclusion
Garmin's GTU-10 is a nice, simple tracking device that is simple to configure, easy to use and works very well. This is not intended as a solution for covert tracking of people without their permission so wannabe secret agents should look elsewhere. But, if you have anything or anyone that you do want to track (with their permission), be that a family pet, a family member of an item of property, then the GTU-10 offers a cheap solution.
The availability of dedicated smartphone apps makes the experience even better and allows instant access to the location data and device configuration even when away from home. Even though service is extra after the first 12 months, the charges are reasonable when you consider that they are capped with no extra costs over and above the subscription fee itself and the its nice to see the deluxe plan separated as, for many it's not an essential feature.
I've struggled to find any minus points with the GTU-10. It drops one point for not having a more detailed track history available as part of the basic data service but that's nit picking and serves to demonstrate just how good a job Garmin have done here.
---