Reviewed By

Darren Griffin
Review Date

16th September 2011

Manufacturer
Garmin

RRP

Guide Price

£360.00

£323.49

8
Keen runners, cyclists and sports enthusiasts of other ilks will need little introduction to Garmin's Forerunner range of GPS watches. They've long been the number one choice and if you watch any marathon race you'd be forgiven for thinking that they were issued to every runner.
Garmin's latest flagship model, the Forerunner 610, supercedes the Forerunner 410 which attracted much criticism for its touch bezel. It was a finnicky control method and was almost impossible to operate. Overlooking this failing, the 410 was a capable GPS watch with some well designed and considered features so the news that Garmin have moved to a resistive touch screen on the 610 brings promise that the bezel issues will be a thing of the past.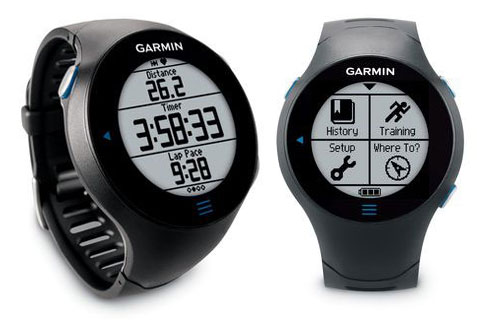 Although similar in design to the 410, the newer model is a much more svelte design that could easily pass for a normal watch and can be worn everyday. It has a large, clea,r 128 x 128 pixel LCD display with a bright backlight and weighs in at 72g. with our delightful weather in mind, Garmin rate the 610 as waterproof to IPX which, translated, means it will survive immersion in 1m of water for up to 30 minutes
In practice you'd be advised to err on the side of caution and treat it as rain and shower proof only. We recently found out the hard way that IPX ratings aren't a cast iron guarantee when we didas submerge test on a handheld GPS, also rated to IPX7. After a few minutes underwater in a kitchen sink it was dead so Triathletes and other extreme sports enthusiasts are be advised to look at other solutions.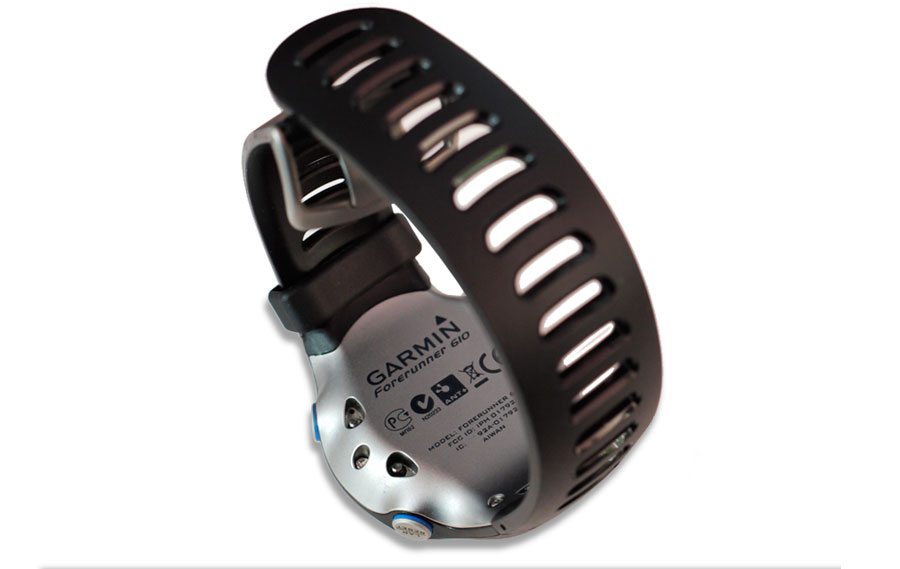 The integrated strap has a wide range of adjustment and aside from the touchscreen, there are also three buttons around the face at 10, 2 and 4 'o'clock. The rear of the watch case is made of metal and has recessed contacts for the charger which is a small cradle that magnetically attaches to the 610 and charges via USB either from a PC or via the supplied mains charger.
The new cradle is much simpler than the previous 410's clip type design and with the addition of the magnets it is simpler to attach and locate the charging contacts.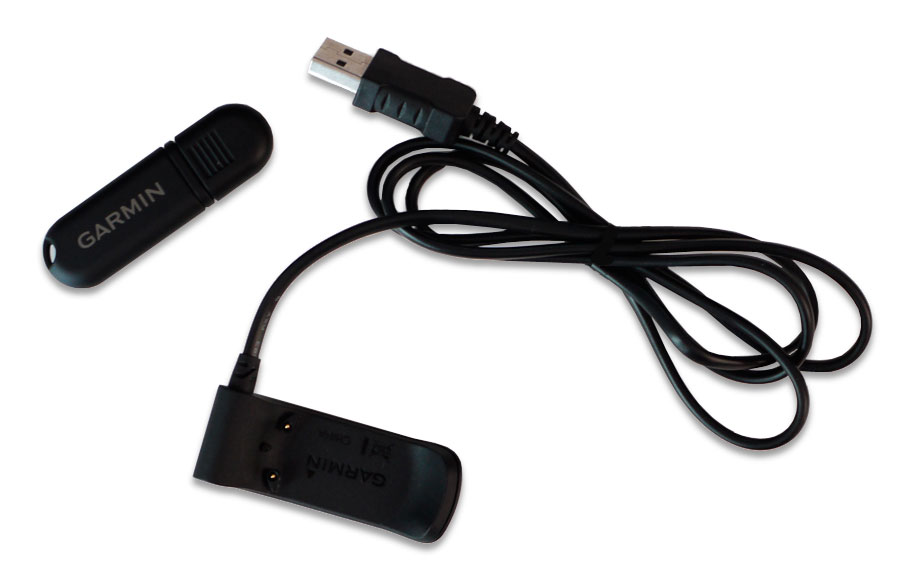 Battery life is also much improved. Equipped with a rechargeable lithium-ion cell, Garmin claim 4 weeks in power save mode or 8 hours in training mode and our testing suggests those figures are accurate and achievable. You'll find yourself charging the 610 much less often then previous models.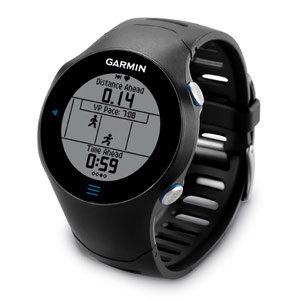 To unlock the screen you have to run your finger across the display from right to left which unveils the main menu. From here you can access History, Training, Where To and Setup sub-menus.
It's very simple to access these menus and requires nothing more than a few taps on the screen. A huge improvement on the horrible bezel control of yore. The touch screen allows you to cycle forwards and backwards through the menus by tapping to the left and right of the screen whilst a single tap acts as select and a tap at the bottom exits the menu, nice and simple and, with winter approaching, it all works fine even when wearing gloves.
To start a new run, tap the 'Training' menu entry and the 610 immediately begins searching for satellites. I found the 610 a little slow to acquire a fix but once it has one it holds onto it and doesn't seem to be affected by tree cover and other such problems. Once you're under way you can easily access any of the four screens of data available to you. Data is customisable and there is also an option for auto-scroll if you so desire.
Other features present include 'Virtual Partner' which allows you to compete against targets or other runners with challenges downloaded from Garmin Connect. Alarms can be set for a target pace or speed and there is support for custom routines such as fartleg or other programs where you walk/run etc.
At the end of your activity you can uploads your data to Garmin's Connect service. This on-line portal stores all your training data and provides you with graphs and map overlays of all your training. Uploads are performed using Garmin's ANT+, a wireless USB dongle that is paired to your watch. When connected to a computer, ANT+ will retrieve new data from your watch and upload it to Garmin Connect without any intervention from you. It's a nice feature and works well.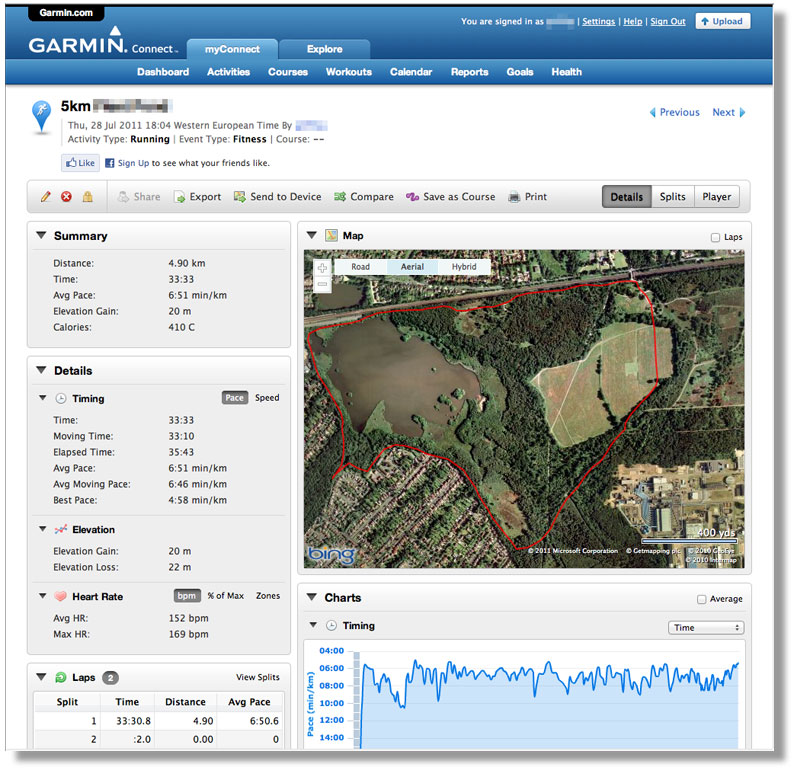 Being a GPS from Garmin, the 610 also support some basic GPS like functionality with the facility to save up to 100 way points and have the watch give you an as the crow files bearing back to any one of them.
A heart rate monitor is available either as a bundle with the 610 or as an extra and accessories including a foot pod and speed/cadence sensor for cyclists are also available. Both the HRM and cadence sensor connect to the 610 wirelessly. I found the HRM less comfortable than that which came with the 410 but it worked equally well and was detected by the 610 without fail.
Sample screens
Conclusion
The Forerunner 610 is a huge improvement in terms of operability over the 410. The touch screen makes interacting with the menus, cycling through pages and accessing the data much much easier. But there are still the occasional problemsd with selecting options on screen, scrolling is one operation that, for me at leats, still proved fiddly and cumbersome but on a run, which is where it really counts, it works well. A single tap to select and change pages is easily performed and the data can be scanned quickly.
Garmin's Connect service, and the ANT+ technology employed to upload the data works well and offers all the data you could want when analsysing your performance. Battery life is much improved and the watch is comfortable to wear, for most users it will tick all the boxes.
It's marked down only for it's price although this can be reduced considerably by shopping around. But if you're in the market for a GPS watch and you are serious about your running then a Garmin Forerunner 610 should be high on your shortlist.
---