Review by Mike Barrett
Overview
Fortuna is an established (30 years) electronics company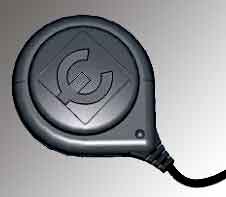 based in Taiwan specialising in computer and communications products. They have an impressive range of GPS and tracking products of which the Fortuna U2 USB GPS mouse is the one being reviewed here.
The equipment used during this review was the Fortuna U2 USB GPS and a Toshiba Tecra 8000 portable PC. The Fortuna U2 GPS receiver is available in a number of configurations: USB, RS232 and PS/2. The PS/2 is a modular format allowing a number of different connection configurations for PDAs.
As with a lot of modern GPS devices it uses the SiRF star II chipset, which boasts high sensitivity and better fixes in "Urban Canyons".
The receiver also comes with SBAS (WAAS/EGNOS) for additional positional accuracy.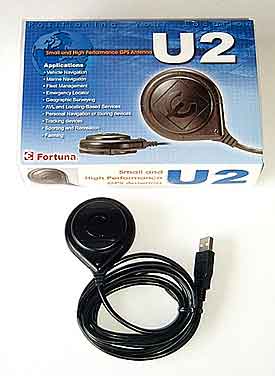 What is in the box?
The review package contained:
The GPS Receiver
A manual
A driver disk
The manual is not really a manual, but a specification sheet. There are no installation guidelines or instructions, although they do give the pinouts for the RS232 and PS/2 cables, no mention of the USB product. In fact the closest to instructions are:
"Simply connect serial port to your notebook PC or PDA and PS/2 connector to the pc, or PDA PS/2 port."
The floppy disk contains USB drivers for Windows 98/ME and Windows 2000. There are no install instructions, or drivers for Windows XP.
The GPS Receiver
The GPS receiver is about 2 1/4 inches in circumference (59mm) with a height of 3/4 inch (20mm).
The base of the receiver is magnetic, to stop the mouse escaping when taking sharp corners. This was not too effective when placed on the marine ply of the boat's deck.
The cable extends for just over 6 feet (2 metres) and terminates in a USB connector. The receiver is also claimed to be waterproof. Needless to say I didn't test this out, but it was certainly splash proof.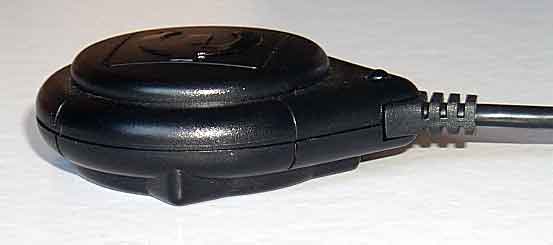 The receiver can track up to 12 Satellites. There is an onboard battery which is charged whilst powered which maintains the receivers internal GPS clock and memory.
There are three cable configurations you can select from: USB, RS232, and a PS/2 connector. This allows you to easily connect the Fortuna U2 GPS to most host systems.
The PS/2 Cable Configuration
The PS/2 cable configuration contains a cigar lighter power supply with two connecting cables: one for the GPS and one for the PDA.
There are a number of configurations available to connect the most popular PDAs : iPAQ's 36/38/39/54/55/22; Dell Axim; Toshiba; Loox; XDA; HP Jornada; Casio; Sony; Palm; etc. Check with your supplier before buying, these may be included in the cost or they may be extra.
The USB Cable Configuration
The USB configuration provided allowed me to connect the GPS to my laptop. This I wanted to use with some marine navigation software with my laptop down in the cabin. I suspect that the salt air would not be very healthy for the computer.
The cable is just over 6 feet in length, which was just about right for my requirements. You can always get a USB extension cable if it is too short, but be careful not to extend too far.
Installation of the GPS is not straight forward. The floppy provided has drivers for Win98, ME, and 2000, but nothing for WinXP. The driver can be found on the Fortuna web site at http://www.fortuna.com.tw/download.htm

One thing to watch out for when you connect the GPS is that the computer may recognise it as a serial ballpoint mouse. This is not a big issue. All you have to do is to open up the control panel, select the system icon, click on the Device Manager button in the hardware tab, then find the Microsoft Serial Ballpoint entry under the Mice and pointing devices section and then disable it.

One other item of importance is that you will need to install what is known as the "Prolific USB-to-Serial Com port driver. This provides the functionality to convert the USB data into normal serial data which allows the GPS to be used as a standard serial device. In my case I had to juggle around a bit as I had a bluetooth adapter installed which gave me lots of serial ports. I had to make sure that the serial devices started at Com4 so that the USB port would be assigned port 2. Some GPS applications will not work with comm ports higher than 6.
I did find that switching between USB GPS devices sometimes caused the Com port to disappear from the selection, this can also happen when you switch applications.
Manufacturer's Specifications
| | |
| --- | --- |
| Features | |
| Power Consumption | 160mA (3V or 5V) |
| Key Technology | SiRF Star ll |
| Performance | |
| Receiver | |
| GPS Signal | L1 1575.42MHz , C/A code 1.023MHz |
| Channel | 12 Channel. |
| Tracking Sensitivity | -170dBw |
| WAAS | Yes |
| DGPS | Yes |
| Acquisition Time | |
| Hot Start | 8 Sec |
| Warm Start | 38 Sec |
| Cold Start | 45 Sec |
| Update | |
| Reacquisition | 0.1 Sec |
| Update | 1 Sec |
| Accuracy | |
| Position (Horizontal) | 25 M (95%) |
| Velocity | 0.2 m/sec |
| Acceleration | 4G |
| Dynamic Conditions | |
| Altitude | <60,000 feet |
| Velocity | <1000 knots |
| Acceleration | 4G, Max |
| Physical | |
| Dimension(W x D x H) mm | 59 x 59 x 20 |
| Environmental Characteristics | |
| Operating Temperature | -40 ~ 85C |
| Storage Temperature | -55 ~ 100C |
| Optional Cable Configurations | |
| RS-232 Cable | Yes |
| USB Cable | Yes |
| PDA Cable | Yes |
The GPS Receiver in Use
I have used the receiver for over six weeks now and during that time it has performed adequately. My main concern is using it where there is reduced GPS signal as it does not appear to be as sensitive as some of it's competition.
I often have trouble getting a fix on my office windowsill whilst doing some random tests of the GPS devices I have. Having said that once a fix has been obtained it did seem to be held over a long period.
In optimum conditions the receiver performed well, there are not too many obstructions in a boat on open water.
TTFF Timings
This unit appeared to be very slow to get a fix when first firing up when close to buildings or in canyon environments. Which was borne out by the timings we made.
| | |
| --- | --- |
| Fix Type | Timing |
| Cold 1 | 1m50s |
| Cold 2 | 3m04s |
| Cold 3 | 2m38s |
| Cold 4 | No fix achieved |
| Cold 5 | 2m42s |
| Warm | 29s |
| Hot | 0* |
The length of these fixes made me concerned about unfair timings due to atmospheric conditions or other factors affecting GPS signals as a whole. To ensure the accuracy of these figures a separate USB GPS receiver was tested and returned much faster TTFF figures within the expected range.
Dave also has a Fortuna U2 and when out in open spaces away from any devices like buildings or foliage which can create multi path errors, the U2 seemed to perform much better, but still not quite as adequate as other GPS Receivers we have reviewed. TTFF figures when no multi path errors were received were as follows:-
| | |
| --- | --- |
| Fix Type | Timing |
| Cold 1 | 1m02s |
| Cold 2 | 56s |
| Cold 3 | 51s |
| Cold 4 | 59s |
| Cold 5 | 1m12s |
| Warm | 41s |
| Hot | 0* |
Conclusion
The sensitivity of the Fortuna U2 is disappointing it is generally lower than that of other GPS receivers I have tested. This unit seems to struggle to acquire signals and fixes when other units have no problems under difficult conditions.
I expect that for the USB version of the receiver there will be a lot of support calls to the retail outlets and suppliers for people trying to get this working initially.
The main thing in favor of the Fortuna U2 GPS is the price, with a street price of less than £100 it is very competitively positioned in the marketplace.
Product Supplied by