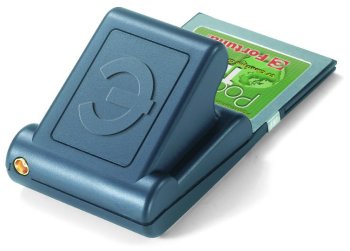 Review by Dave Burrows
Price £119.99

Fortuna is a company that has recently released a whole host of different GPS Receivers ranging from mouse, Bluetooth and Compact Flash (both Standard and XTrac), the receiver we are reviewing here is the standard Pocket Track receiver.
The Pocket Track is a Compact Flash Type I GPS Receiver which means it will fit in all Compact Flash slots including slots in older devices like Windows CE 2.11 and 3.0 devices like the Casio E125.
The reciever uses the latest SiRF IIe/LP chipset to give support for both SiRF Binary and NMEA, as well as support for WAAS (Wide Area Augmentation System).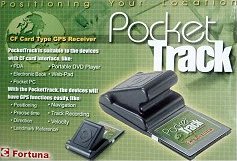 The Pocket Track has advanced power management for power savings and stand by modes, improved multi-path rejection (for rebounded signals that are being received off of buildings etc), and a 12 sat all-in-view.
In the box
The Pocket Track GPS Receiver comes with a manual and floppy disk with a PC driver installed.
The Pocket Track comes with support for an external antenna (MCX type) to give added ability to receive stronger signals in vehicles which have a bad view of the sky, or a heat reflective windscreen.
Technical Specification
Receiver

Frequency
L1, 1575.42MHz
C/A code
1.023MHz chip rate
Channels
12
Sensitivity
-170dBW
DGPS protocol
WAAS
Accuracy
Position Horizontal
25m 95% (SA off), 3m with WAAS working territories
Position Vertical
40m 95% (SA off), 5m with WAAS working territories
Velocity
0.2m/sec 95% (SA off)
Time
340 nsec. 95% C/A code
Acquisition Rate
Reacqusition
0.1 sec., average (recovery time for being interrupted)
Hot start
8 sec., average (with ephemeris and almanac valid)
Warm start
38 sec., average (with almanac but not ephemeris)
Cold start
45 sec., average (neither almanac nor ephemeris)
SnapStart
< 3 sec, for up to less than 25 minutes off period
Dynamic Condition
Altitude
< 60,000 feet
Velocity
< 1000 knots
Acceleration
4g, max
Jerk
20 meters/ sec***3, max
Power
Voltage supply
3.3Vdc
Current consumption
160mA typical for Continuous mode 70mA average for 20% duty cycle Trickle-Power mode 13mA average for Push-to-Fix mode
Antenna
Connector
Right angle MCX connector
Local antenna
Direct mounting without cable
Remote antenna
Active antenna with several meters cable
CF Interface
Ports
One CF COM port, for GPS data transfer
Electrical level
CF+ card specification
Communication
Full duplex asynchronous
Bit Pattern
8 bits, 1 stop bit, no parity
Code type
ASCII for NMEA/ Binary for SiRF
Position Datum
WGS-84
GPS Protocol
SiRF binary/NMEA 0183 changeable
GPS Function

SiRF binary >> position, velocity, altitude, status and control

NMEA 0183 (v2.2) >> GGA, GSA, GSV, RMC, VTG, and GLL

GPS transfer rate
NMEA ASCII 4800bps
SiRF Binary Software command setting: default 19200 bps
Environmental Characteristics
Temperature
Operating -25 deg. C to +85 deg. C
Humidity
Operating 5% to 95% R.H.
Physical Characteristics
Dimensions

Length 93.3mm

Width 42.8mm

Height 33mm
Performance
The Pocket Track CF GPS Receiver performed fairly well in light and moderate foliage, not quite as good as most CF cards which did surprise me especially seeing it has an angled patch antenna.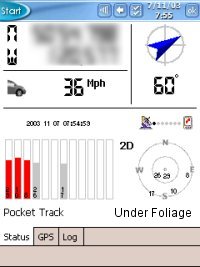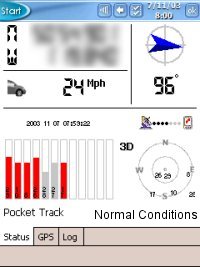 Signal wise, the receiver brought in around 3-6 sats with an average I saw of 5 sats in-car. It lost a fix a few times, but was extremely quick (less than a second) to re-acquire a fix, this was mostly under moderate foliage, overall it performed pretty well. The fastest Time To First Fix (TTFF) was 44 seconds in our tests with the slowest at 52 seconds which makes this a good all round performer. For full TTFF Tests, check our TTFF Comparison table.
Summary
Fortuna has made a good well rounded GPS Receiver in the Pocket Track. The only thing that does kind of put you off a little is the size of the GPS Receiver, the antenna has been angled to give optimum view of the sky when the PDA is in a vertical upright position in a mount in-car, which again is good, but it means they have had to add bulk to the receiver. Personally I would have preferred a slimmer setup and use of an external antenna for in-car use. Overall the Pocket Track is a good receiver, and seeing that it's retailed at £119.99 makes this a good package. You don't get all the extra's like you would with other CF GPS Receivers like pouch, external patch antenna, but do you need them ? Ultimately they do add to the price of the package.
Purchase from