Review by Darren Griffin



The PocketPC Phone Edition market has been dominated for a long time by O2's XDA range which are available from many providers in various guises such as Orange's m1000 and m2000 as well as Qtek, MDA and many more and the recently released O2 XDA Mini.
Well the XDA range now has a serious competitor in the form of Eten's M500 handset. It's a PocketPC Phone Edition running Windows Mobile 2003 Second Edition with all the standard features of that platform plus a few more that Eten have supplied in a remarkably small form factor. The display although smaller than we are used to is superbly crisp and a model of clarity.
What's In The Box?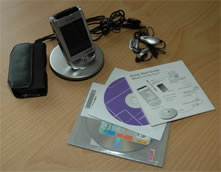 Open the box and you will find everything you need:
The M500
Docking cradle
Mains power adapter
Handsfree headset (stereo)
USB cable
Case
CD-Rom
Quickstart guide
Look and Feel
It is difficult to convey in photographs just how nice this unit 'feels' in the hand. It is the perfect size with just enough depth to ensure you can hold it securely without fear of letting go. I use an XDAII extensively because it has all the functions I need but have always found it a little too big and too shallow to hold comfortably. The Eten M500 is small enough to be pocketable and has a little more depth which makes holding it more comfortable and allows your hand to grip it securely.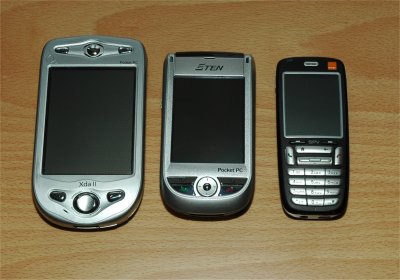 XDAII, Eten M500 and C500 Comparison
In the image above you can see how much smaller it is than the XDAII. It is only a few millimetre's taller than the C500 Smartphone. The M500 has physical dimensions of 112mm x 61mm x 22mm and weighs roughly 172 grams. The screen itself has a diagonal of 2.8inches or 72mm in real money.
The GSM Radio is quad band and the camera has a 1.3 Megapixel sensor with an LED flash. The processor is from Samsung and runs at 400 MHz and the battery gives it a running time of approximately 20hrs. As it runs WM2003SE you can rotate the screen to view applications in Landscape mode. Storage is provided courtesy of an SD Slot located at the top adjacent to the iR Port and On/OFF Switch.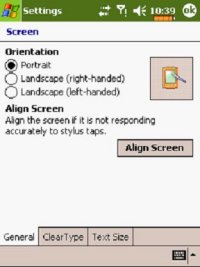 On the front is the 4-way cursor and select button flanked by contacts, home and call and hang up buttons. On the left side is the volume up/down button, camera and reset.
It lacks Wireless LAN which is disappointing but unsurprising given its small size.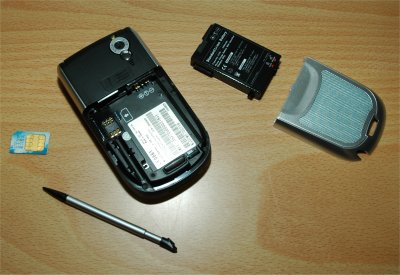 In Use
When you switch on the phone for the first time you are presented with Eten's Configuration Wizard which allows you to customise the handset. Because the M500 is supplied SIM Free it also usefully has a wizard to set all the Modem and GPRS settings to match that of your provider. There are four sections to the wizard shown below: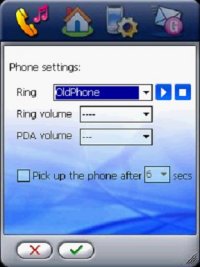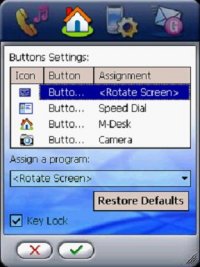 In the first screen you have options to configure your ring tone, although there is a vast selection , in common with other devices most are pretty poor! You can also configure the ring volume and PDA Sound volume independently.
In the second screen you can configure the hardware buttons, here you can choose to change the default assignments if you wish.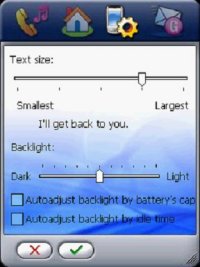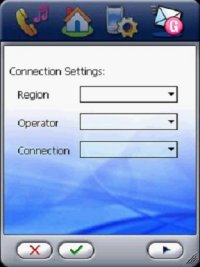 In the third screen you can change the default size of text on the Today Screen and choose how bright the default back light settings are. Finally on screen 4 you can see the network configuration wizard. This allows you to choose your region and service provider together with call plan i.e. O2 Europe, PAYG and the phone will automatically configure the correct connection settings.
Eten have bundled some useful additional applications with this handset, unusually they are almost all useful and add or improve on the functionality of a standard PocketPC Phone Edition device. I'll cover them as best I can here.
MDesk
Mdesk is a an application manager plug-in that gives you quick access to commonly used applications, games and settings. All are user configurable and you can easily add or remove entries.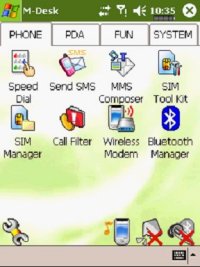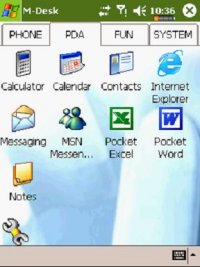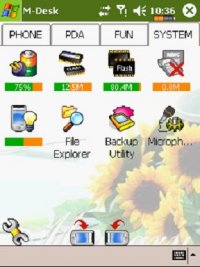 Speed Dial & Call Filter
Speed Dial is a really superb application. Using your contacts list it allows you to quickly select a number to call. You start by tapping the first letter of the contact name and with each subsequent letter it reduces the list of available contact entries that matches your selection. It is much faster and quicker than scrolling through a long list of contacts.
Call Filter is a simple application that allows you to add contacts to an 'Allow' or 'Block' list. Contacts in the block list will be diverted automatically to voicemail without your phone ever ringing.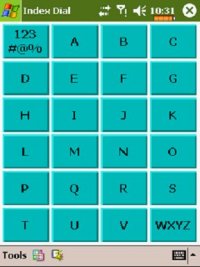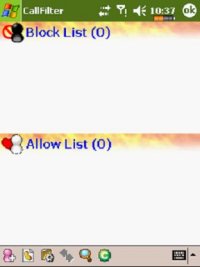 Scenarios
Mobile phone users may be more familiar with term 'Profiles' which allows you to quickly switch your phone to a silent mode or vibrate only mode for meetings etc. Surprisingly PocketPC Phone edition does not provide such support as standard in the OS but once again Eten have seen fit to correct this by adding this utility. Scenarios enables you to switch your phone profile with just a few clicks.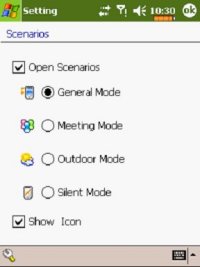 Supplied Accessories
The supplied docking cradle allows you to sync and charge the E500 using the supplied USB cable. In addition you can charge a spare battery (not supplied as standard).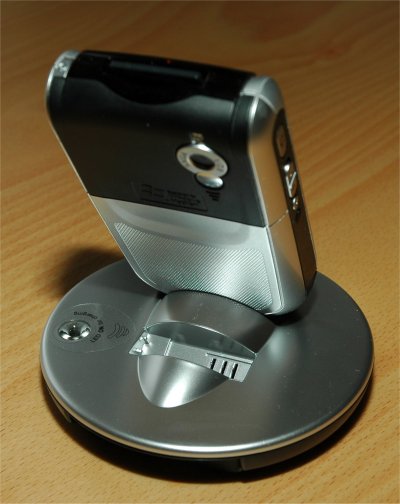 M500 Cradle showing additional battery charge slot and stylus holder.
On the rear of the cradle is the connector for the supplied USB cable, to the right of this you will notice a standard USB connector. This is supposedly to allow connection of standard USB peripherals.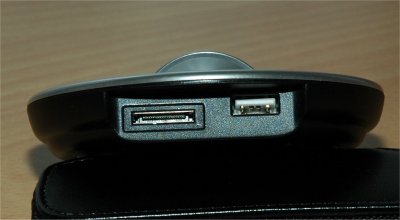 Bluetooth
Bluetooth implementation on the M500 is another area where Eten have seen fit to improve the options and control available.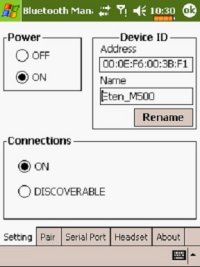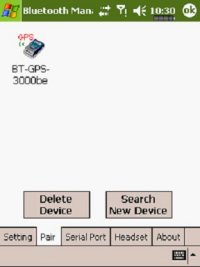 For GPS Use in particular, the ability to create virtual COM Ports as you wish is a useful feature.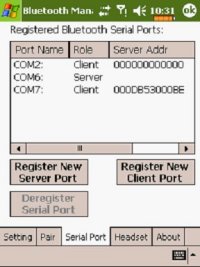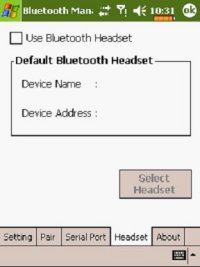 General Screen shots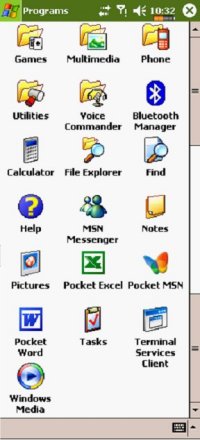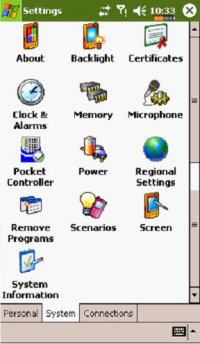 The above are two photshop'ed images showing the complete list of apps available