Article by David Eales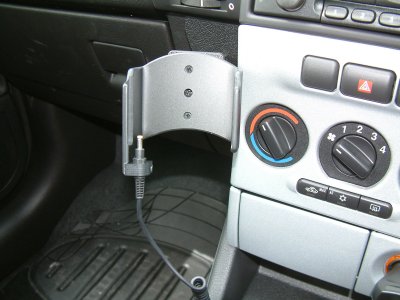 David has sent us some photos of his customised in-car mount. David says...
The criteria for my mount setup was as follows:
Big enough for an iPAQ with a large expansion jacket

Swivel mount

Not vent mounted

Not requiring modification to the vehicle

Not suction mounted
After many searches through many forums I went for the Brodit mount supplied by HandNav.
The unit comes in two sections, the proclip that attaches to the car and is purpose made for each make and model.
The second part is the holder itself that comes in several forms suitable for many types of Pocket PCs, and with many options including fixed or swivel and powered or un-powered.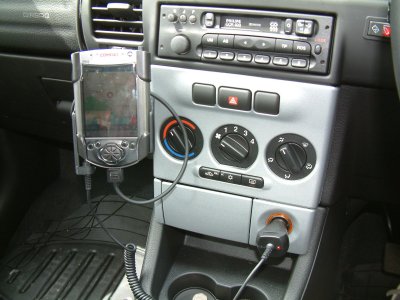 The unit was a treat to fit, the photographs show a centre mounting which is not ideal if your GPS is part of the Pocket PC but I have a Garmin unit on the dashboard.
Having it outside your immediate field of view means you avoid driving via the unit and driving by listening to the voice navigation.
The unit is a simple push fit and is very secure, though if you find it's not as sturdy then you could glue it to the car if need be.
The clip takes the iPAQ very securely and being a powered unit the charger provides even more stability.
On the down side, the screen protector cover on the iPAQ can not be opened if the unit is inserted with it closed, and if the cover is left open it tends to moved around whilst driving.
It is also not very cheap, the set-up shown cost around £50, but does include car a charger.