Reviewed By

Darren Griffin
Review Date

31st August 2012

Manufacturer
Crosskase

RRP

£139.99 inc VAT

8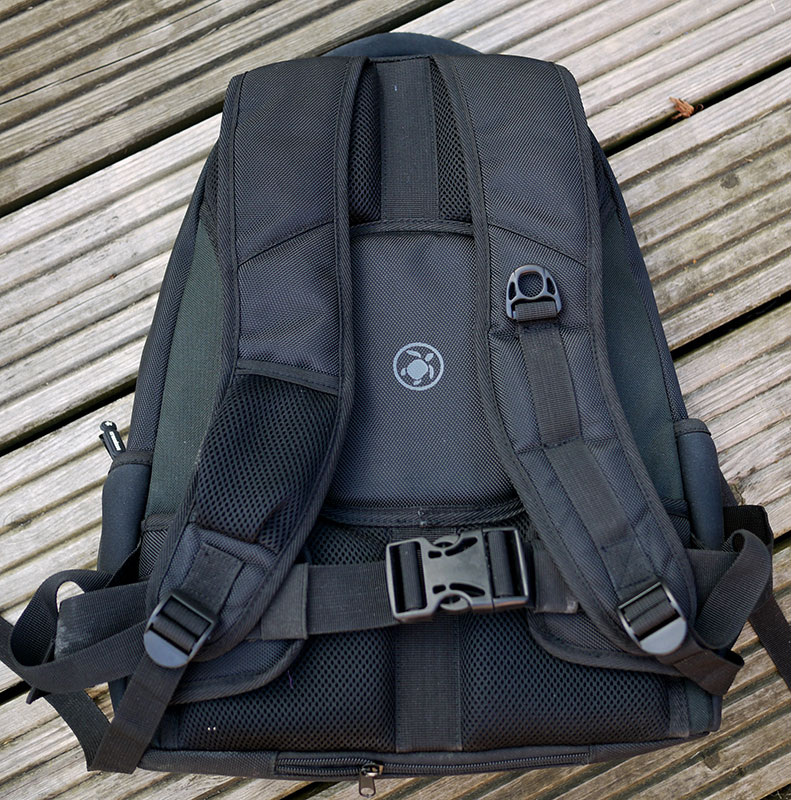 Although Summer is officially now behind us, and many of you will be wondering if it happened at all, modern efficient solar panels don't need full on sunshine. And with more and more of us toting battery hungry gadgets, the need to re-charge them away from home occurs more frequently.
Rucksacks and day-sacks equipped with solar panels and re-chargeable batteries have cropped up a number of times here and with each iteration they become more useful. Two years ago we reviewed a backpack that seemed a perfect fit for use by commuters, day trippers and the more adventurous outdoor walking types. Now, the brains behind that product have come out with an updated version, the Crosskase Solar Laptop Backpack.
They've taken all the best features of the original and improved on them. It's now much bigger, able to comfortably accommodate a 15.6" laptop and a tablet device/e-Reader (in their own soft-lined and padded pockets), has a larger, more efficient 3-watt solar panel, a higher capacity 2200mAh battery pack and uses higher quality materials.
Design
The pack itself has been thoughtfully designed. The backplate is padded and has channels built-in which are designed to allow air to flow and stop your back sweating. The shoulder straps are padded, one has an attachment point to which you can clip a karabiner and the other has a slot for a phone, MP3 player, radio etc. There is also a belt with padding in the kidney areas and a large plastic tri-lock quick-release buckle. On top is a nicely padded carrying handle and to either side is a bottle holder.
Moving to the pack itself, there are three main compartments and, of course, the large solar panel on the front. A small front zipped pocket above the solar panel, ideal for change, tickets etc. A second larger compartment is divided into two. The front of the compartment contains the rechargeable battery, in it's own zipped compartments and has pockets for the supplied charger tip adapters and the retractable charge lead. Crosskase supply adapters for mini and microUSB, Nokia, Samsung, Sony Ericsson and Motorola but, as the output from the battery pack is USB, you can use the cable supplied with your device.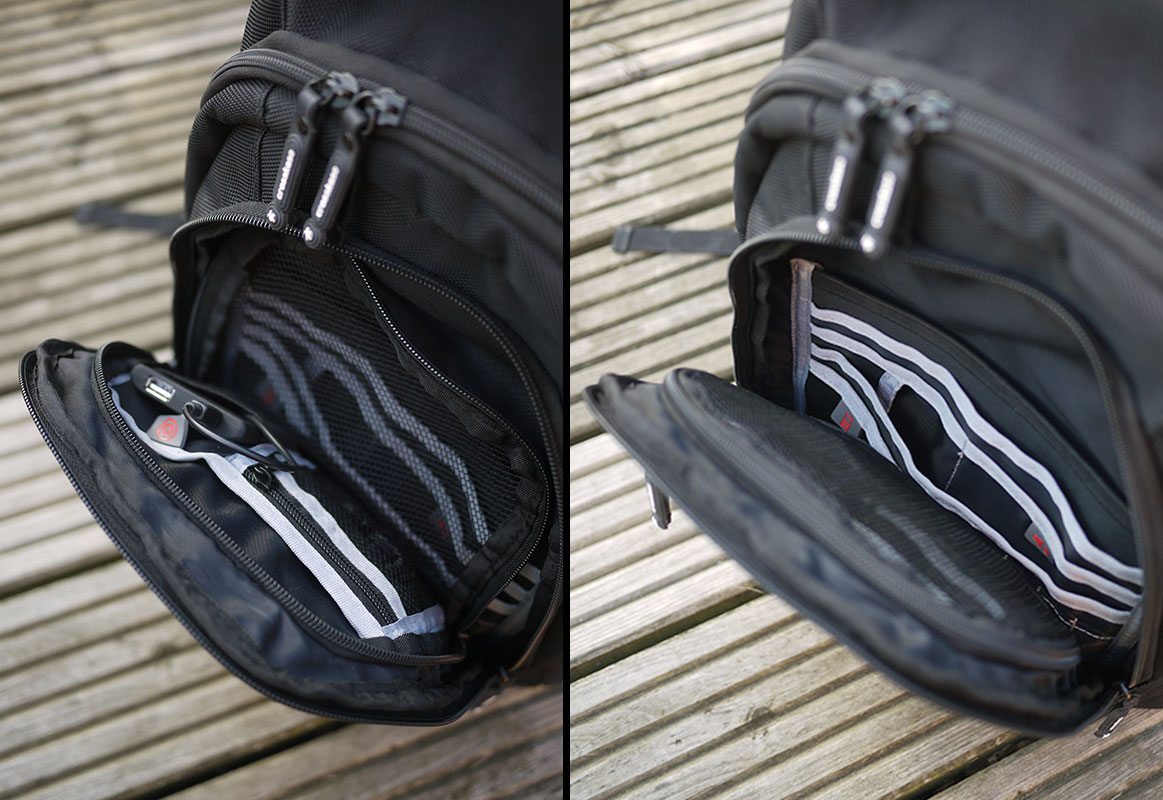 Second compartment containing battery and numerous slots
The rear has a number of slotted pockets, useful for MP3 players, smartphones, pens, business cards etc and a clip to which you can attach your keys.
And finally, the main compartment itself. This has a large elasticated slot intended for a laptop and a smaller padded slot for your tablet device. The main compartment is large enough to accommodate devices in both slots and still retain a useful carrying capacity.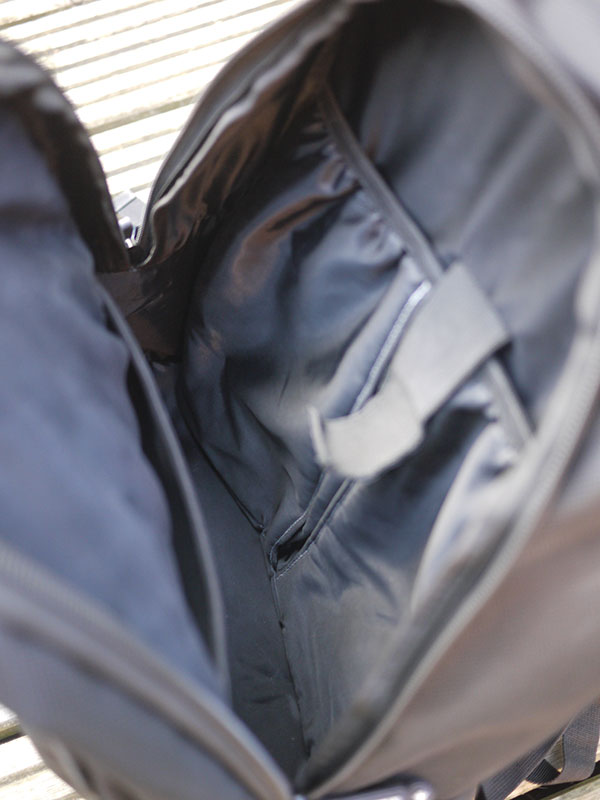 Main compartment with tablet slot to front (L) and laptop pocket to rear (R)
The backpack is constructed from 1680D Ballistic Nylon which is water-repellent. For when it gets very wet Crosskase have provided an integrated rain cover which is stored in its own zipped slot at the base and can be quickly deployed if needed.
In-Use
The backpack arrived just before I headed off to Turkey so, whilst strong sunshine isn't a requirement, it proved the ideal time to test the bag. So I used it as my carry on bag and managed to load it with my laptop, a Kindle, my DSLR, headphones, a tangled web of cables and even a bottle of duty free.
Spending our days by the beach meant we had access to a power source and better still, that power source was constantly being topped up by the sun, for free
The supplied 2200mAh battery is sufficient to re-charge most smartphones from flat. e.g. a Samsung Galaxy SII has a 1650mAh battery, an iPhone 4S battery is 1420mAh. So the battery is more than capable of topping up a couple of phones that are half empty.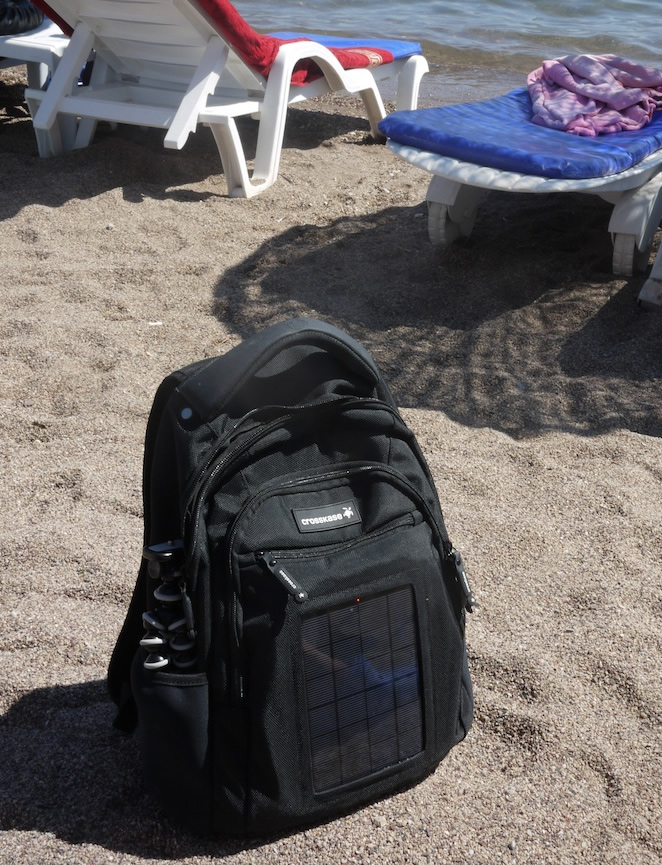 As a test I discharged the backpack battery then took it down to the beach and placed it at the end of my sun-bed. It took a little over 6hrs to fully charge. Another bonus is that this battery can charge a connected device whilst being recharged itself. That makes it an ideal solution for day trekking, camping etc as you can leave your phone, GPS etc connected whilst you walk. Others battery packs that we have tested can charge or be recharged, but not both.
The only drawback is the battery pack can only supply 500mA. That means larger devices such as tablets won't be able to use the battery. It's easy to understand why as they'd require a battery 4x the size of this one to be of any use and that would add cost, weight and require more power to charge than a solar panel this size can produce.
Conclusion
Once again Crosskase have come up with the goods. It's the perfect size for frequent use, be that the commute, day trips, walking, hiking or holidays. It's well constructed with the high quality materials obvious to the eye and the touch. The compartments have been well thought out.
My only complaints are minor. The tablet pouch is suede lined. That's perfect for protection from scratches etc but makes it a devil to slide your device into if it is in a sleeve, cover or anything else that's not glass and shiny plastic. I'd also like to have a higher capacity battery. Not so that I can top up my tablet but to give me more scope for recharging my devices. A 5000mAh battery would be perfect.
The backpack is available in black or silver and, at £139.99 inc VAT it's not cheap. But you get what you pay for and this pack will last many years. And once again it's met Apple's rigorous standards and is available from their on-line shops.
Reader Offer
Crosskase have generously extended an offer to PocketGPSWorld readers. Use code 'GPS20' at checkout on the Crosskase web-site to benefit from a 20% discount, a FREE headphones valued at £24.99 and FREE UK delivery.
---