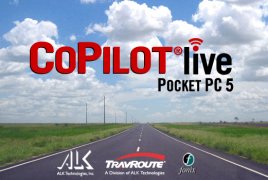 Article by Robert Morton (Privateer) and Bo Peep
Introduction
Bo Peep and I (Privateer) have just returned from a holiday in Jersey (Channel Islands) where we used ALK's CoPilot v5 as the primary navigation aid. Here are a few words of our findings of using CoPilot v5 in Jersey.

Unfortunately we only had CoPilot a few weeks before going to Jersey. We normally use TomTom Navigator 3 for the PDA, therefore we are biased towards TomTom. Unfortunately TomTom maps (Tele Atlas data) don't cover the Channel Islands so we decided to go for another SatNav package which did, hence we got CoPilot V5 (NAVTEQ data).
Jersey is the largest and most southerly of the Channel Islands. Although it is only 9 x 5 miles (14.5 x 8 kilometres), it has over 500 miles (805 km) of roadway, so there are plenty of opportunities to get lost! ;-) Roads and tourist attractions in Jersey are often sign posted after the turn, so any advance warning of where you are supposed to turn is very soon appreciated!

Please note that all references in this article to TomTom are for TomTom Navigator 3 for the Pocket PC, and all references to CoPilot are for CoPilot v5.0.1.3 for the Pocket PC.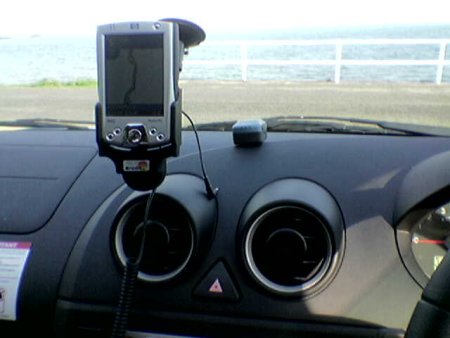 Using CoPilot v5 and NAVTEQ data
As existing users of TomTom, it took us a couple of hours of driving to get used to CoPilot as we'd always run the two packages at the same time on two different PDA's. We find TomTom to be more intuitive to use than CoPilot.

I'll talk about the NAVTEQ data first. It is quite detailed and accurate of Jersey. It doesn't show waterways (unlike TomTom), although this is not strictly necessary it does help to give a sense of confidence in that you have further visual reference and can check that when you go over a bridge crossing a river, the system shows you crossing water at the same time. We suspect that the map data may be a little old as some of the priorities at road junctions were incorrect and the one-way systems in St. Helier were quite wrong, so wrong in fact that the system had to be ignored until we got out of St. Helier. However the built in POI's, especially the visitor attraction POIs were mainly up-to-date as "Jersey Gold" had moved this year, although "Jersey Pearl" wasn't included in the POI. One drawback was that a significant number of hotels were not included in the POI's. This was the case for the hotel that we were staying at, so we had to have the hotel as one of our "favourites" in CoPilot.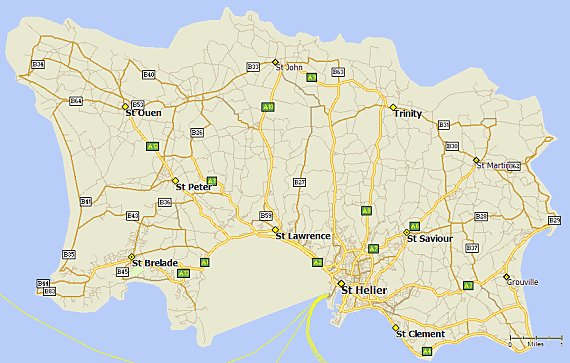 Onto the CoPilot software itself. The Safety Screen is really annoying and, ironically, quite dangerous. It seemed to know the most inappropriate and unsafe time to pop-up and prevent us from seeing the route. Coupled with the incorrect priorities of some of the roads, the safety screen was very unwelcome at times. This (the Safety Screen) really does need an option to deactivate it. The 3D screen looked nice, however with roads being so close together you were often past the road as the definition on the 3D screen was not that good. We mainly used the Next Turn screen which provided the route until the next turn but it didn't always show heading-up.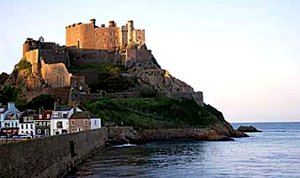 Another difficulty was getting used to distances in CoPilot. TomTom is very clear and easy to understand as it uses yards rather than .0 of a mile. CoPilot would say, 'In 0.3 of a mile ... ', and at first we found hard to work out where 0.3 of a mile actually was. This, however, was something that we gradually got used to estimating towards the end of the holiday. Another difference is that TomTom makes things easier by saying 'In 800 yards, turn left' or 'In 800 yards, take the next left.'

CoPilot is slightly more ambiguous than TomTom and sometimes preferred to use the terms 'North', 'South', 'East' and 'West' rather than 'left' and 'right.' E.g. It might say, 'In 0.3 of a mile, go west on the A3.' Basically, if you don't know which direction West is from where you are at that precise moment, you are pretty stuck. CoPilot does have a compass that can be enabled that does help with this on the Safety screen. CoPilot also does not determine whether the turn you need to take is the next, second or third turning, so you can quite easily miss the turn if you under estimate the distance left to travel before the turn. However, CoPilot seems to have 99.9% of the road names correct for Jersey and this is extremely helpful. When driving in a built-up area (or as built-up as you can get on Jersey!), this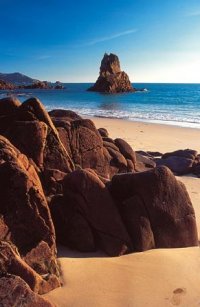 feature is essential as CoPilot will often say, 'Turn left on to School Road' and if you are not sure of the distance markers used by CoPilot (as we weren't), you can check if the road you are about to turn onto is the correct one by looking at the name of it.

CoPilot has an interesting approach to re-routing after a wrong turn. Where as TomTom recalculates from your current position and tries to get you to your destination via a new route, CoPilot tries to get you to turn around and go back to the original wrong turn (back onto the original track) and try the original route again. If you ignore the attempts to go back to the point of the original wrong turn then CoPilot will eventually get the message. You can also tell CoPilot to manually take a detour which will force a re-route by tapping the Re-Route icon on the Safety Screen. However CoPilot had a nasty trick of often freezing when you drive a different route to the one that it has calculated. The freezing has to be resolved by a soft reset! This is a current known bug and believe this has been fixed in the latest build.

On the last day, the list of favourites that we had accumulated over the holiday, just vanished. Fortunately it was the last day, but I would prefer the option to create user POI's on the storage card (like TomTom) which are far more resilient to little problems.

You may feel that we are being very negative towards CoPilot. Well to be fair, once we got used to it, it was very easy to use. The built-in tourist attractions were very useful, and those that it didn't have weren't a problem as we could just tap on the map in the approximate place and ask CoPilot to get us there. I normally take a Land Rover Discovery to Jersey and Bo Peep has no trouble navigating via a paper map (or three) in the vehicle. However the hire car (a Ford Fiesta) was such a smooth ride that neither Bo Peep nor I could look a map for more than a few seconds (whilst the other was driving) without feeling car sick when we were on the move. Therefore the paper maps were consigned to the back and CoPilot was used as the primary navigation aid. A life-saver on this particular trip!

I've left the best until last, the TTS (Text to Speech) is simply fantastic! The pronunciation of the road names, especially the French ones, is very good and was how I, i.e. an Englishman who unfortunately can't speak French, would pronounce them.

Equipment used
- ALK's CoPilot v5.0.1.3 running on an iPAQ H2210.
- Fortuna Clip-On,
- Brodit (992574) powered mount, with a speaker, for a 2210
- Brodit Move Clip (213005)
- Windscreen suction mount.

Conclusion
Would we recommend CoPilot for use in Jersey? Yes, we most certainly would. It does take the strain out of navigating around Jersey albeit with the problems we encountered.
For more information on Jersey and where to stay, check out Jersey.com.