Review by Dave Burrows
Where to get CheckPOInt ?
We have a copy of CheckPOInt v2.0.2 available on our downloads page. There is a newer version available which is kept up to date, but it utilise's a different sync source and many regular Pocket GPS Readers have found this to cause problems and have subsequently uninstalled version 3 or above and re-installed v2.0.2.
Version Reviewed 2.0.2
Configuring CheckPOInt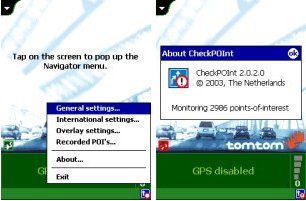 When you run CheckPOInt for the first time it will appear as an icon at the bottom right of the Today screen.
If you select this a popup menu will appear with the following features... General settings, International settings, overlay settings, Recorded POI's. You will also have an About option and an Exit option. On subsequent times on loading CheckPOInt, if you have selected the option Automatically start TomTom Navigator when CheckPOInt is started then it will automatically start TomTom Navigator for you and you will find it appear at the bottom right of the Navigator screen.
General Settings
If you go into the General Settings screen you will be able to customise CheckPOInt to check POI's in OV2 files (TomTom's Overlay Files for TomTom Navigator) every X Seconds. Usually it is best to set this to 1 second. You can also set the button for recording POI's, so if you set it to Button 3 - Calendar, and you press this button it will launch you to the Record POI screen (a bit about this later). Here you will also find a checkbox to automatically start TomTom Navigator when CheckPOInt is started (which most people prefer to do), and also a checkbox to stop CheckPOInt when TomTom Navigator is stopped (again most people prefer this).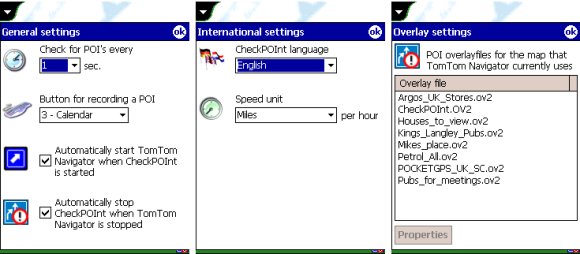 International Settings
The International Settings menu will allow you to change the language type and the speed units.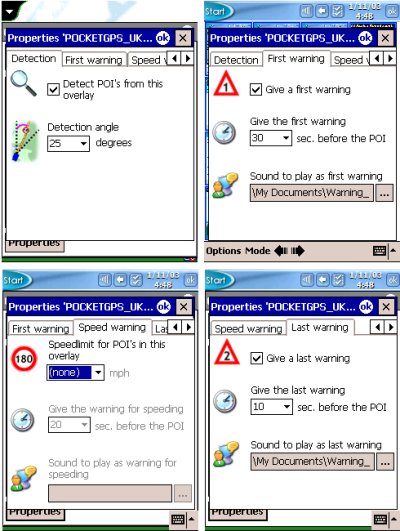 Overlay Settings
The Overlay Settings menu will show all of the current TomTom Navigator Overlay files (OV2) that you have placed in your country directory of TomTom Navigator (seen above in third screenshot). If you highlight one of these POI files and click PROPERTIES, you will see the following screens appear.
Detection Tab
This tab allows you to select Detect POI's from this Overlay and also the angle in which you would like to detect POI's. This allows you to narrow the field of POI's so you do not pick up warnings for close by roads.
First Warning Tab
This tab allows you to select to be alerted verbally and visually and the time before the POI and which audio file (WAV) to be played.
Speed Warning Tab
This tab allows you to set a default speed limit, and you can then be alerted via an audio WAV file if you exceed this speed limit. You can also set the distance before the POI you are approaching, so if for instance the POI was 30mph speed cameras, you could set a 30mph speed limit and a corresponding audio file to be played to alert you to this fact.
Last Warning Tab
This tab allows you to set the last warning, good for instance for SPECS cameras becoming more frequent on British roads and across Europe, you can also set the Give the last warning X seconds before the POI and assign an audio file.
Recording POI's
Recording of POI's is very simple. Once you press the assigned hardware button that was configured earlier in the General Settings screen, you will then be presented by the first screenshot below.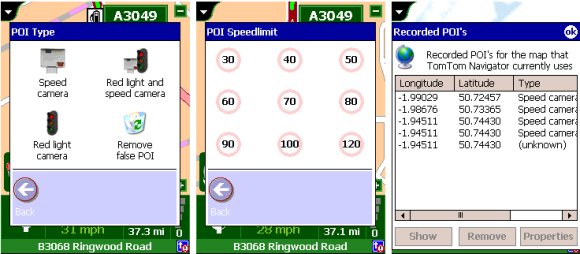 This will ask you what type of POI you want to select. CheckPOInt is mainly geared towards speed cameras, so you will see a list of different speed cameras appear. Once you select the relevant speed camera, e.g. Speed Camera, you will be greeted by the second screenshot. This screenshot allows you to select a speed by pressing one of the designated speeds on screen (these are actually buttons). Once you have done this, the speed camera/POI will have been saved to the CheckPOInt.ov2 file. To take a look at this, go into the main CheckPOInt screen (bottom right on Navigator Safety screen), then select Recorded POI's, and you will see the third screenshot below which allows you to show, remove or check the properties of a camera/POi added.
Version Reviewed 3
So what has changed in 3.2 compared with 2.0.2 ? The main changes are:-
Synchronisation features added to POIPlace
Extended features for recording your own POI's
Language translation supported
CheckPOInt will now detect when you change maps in TomTom Navigator 2
Distance between you and next camera added in a small window with type of camera approaching
Many minor and major bugs fixed
If you need to use the new POIPlace synchronisation feature (not Pocket GPS POI-Sync) then you will need to register at the CheckPOInt website first. This will take you through a registration screen like the one below. Once completed and you have received your security code, you can enter this a little later.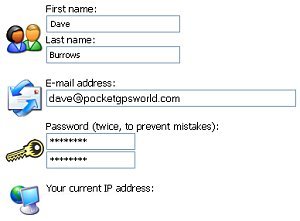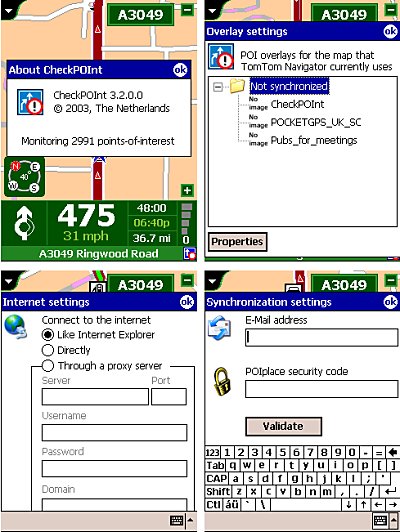 Back to CheckPOInt. If you go into the Overlay Settings screen you will now notice an expanding folder with Not Synchronised and a list of your POI's listed. This is one of the new synchronisation features.
The author of CheckPOInt has created a sub-site called POIPlace. This allows people to synchronise their POI files (OV2) with this site via the internet and retrieve new OV2's.
Once you have registered and received your security code, and validated it like the email requests, enter the your email address and security code (shown in the fourth screenshot) and tap OK and this will validate the connection on the Pocket PC.
It is best to have the Pocket PC connected to the internet either via GPRS or via a cradle connection to a PC that is connected to the internet.
If you want to use POIPlace then it's best to have GPRS connection, but it can be used through the cradle.
Once you have configured CheckPOInt correctly, you can then use the Synchronise option. Logging on and downloading a list of POI's available for the UK and Ireland took about 4 minutes on a 512k DSL connection (I would hate to think how long this would take and at what cost over a mobile GPRS connection!).
Once you have downloaded a list of POI's by category, you can select the POI's to download and then configure these under the Overlay Settings screen and highlight each POI and select Properties to configure them for alerting.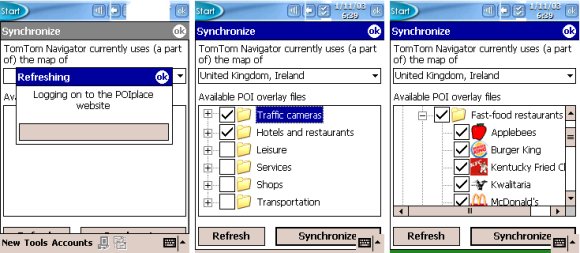 One of the new features of CheckPOInt v3.2 is the visual distance between yourself and the POI in question. You can see from the two screenshots below in 2D and 3D mode how these can help locate a camera/POI.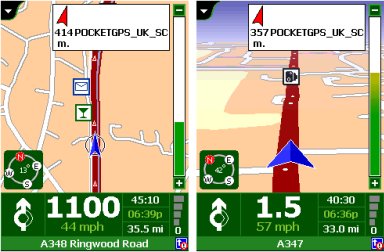 Summary
CheckPOInt is a very useful Speed Camera Warning system, especially when used in conjunction with the Pocket GPS Safety Camera Database, but many Pocket GPS World regulars have had issues downloading, alerting and re-uploading of POI's under the POIPlace service with early releases of version 3. Another thing must be remembered is if you do configure POIPlace, it will upload your OV2's you create!
Download CheckPOInt v3.2 or above