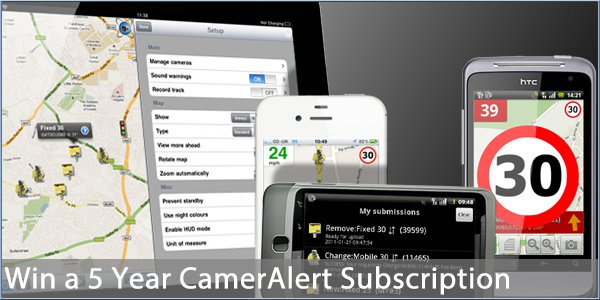 It's time to put your thinking caps on. We want you to come up with some marketing slogans we can use throughout 2016 to promote CamerAlert. We know it's the very best speed camera data available and the many thousands of you who subscribe know too. But we need to convey that message to the mass of drivers who use a satnav or smartphone app and have yet to sample our service.
We'll be judging all the entries, the best, as judged by our panel, will win cameralert subscriptions. We're giving away 12 consisiting of 11 x One -Year
subscriptions and 1 overall winner who will receive a FIVE Year subscription.
Main prize:
The overall winner will receive a Five Year subscription to our CamerAlert speed camera service.
11 runners up will receive a one year CamerAlert subscription.
About CamerAlert
CamerAlert is the renowned GPS based speed camera warning system from PocketGPSWorld.com. The data now covers more than 70 countries world-wide from Albania to Zambia. Databases are available for most popular satnavs and a dedicated CamerAlert smartphone app is available on Android and iOS.
---
Entries must be made via email and received by midnight by Midnight on 31st December 2015 to qualify. Entries received after that time may still be used for marketing purposes but will not be eligible for a prize.
Tell us in 25 words or less why you use CamerAlert?
I use CamerAlert because ......
Send an email with your answer to [email protected] (click the link to open a new email with the address pre-filled).
If you use web mail or cannot otherwise use the link above to launch your mail application, please ensure you use the subject line: "CamerAlert Competition". Emails that do not contain this subject line will not be accepted.
---
Terms and Conditions
Entry open to anyone aged aged 18 years of age or older. No purchase is necessary to enter, one entry per person, multiple entries will be disqualified. This is a skill based competition. Your entry confirms your acceptance of our Terms and Conditions. No cash alternative is offered.
This competition runs until midnight 31st December 2015. The best submissions will be chosen by a PocketGPSWorld judging panel and those winners will be published on our website 7th January 2016. By entering you agree that any personal details supplied may be published.
Employees, directors or moderators of PocketGPSWorld and their direct families (parents, siblings, spouse, partner, children) or agents and/or anyone associated with the running of the Draw are not eligible to enter this Draw.