Review by Darren Griffin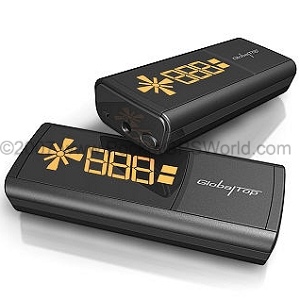 Globaltop HG-100 Bluetooth HUD GPS Speedometer
It has been a while since a bluetooth GPS truly brought a new feature to the table. So when I first saw Globaltop's HG-100 at CeBIT in Hannover back in March it immediately caught my eye.
Although unremarkable as a GPS it offers one new function never before seen, a Head Up Display (HUD) speedometer and the demonstration model, set up in a small briefcase with an angled pane of glass representing the windscreen gave a good example of how this would be seen by the driver. It is also a standard bluetooth GPS of course and as it contains a rechargeable battery it can be used away from the vehicle to provide GPS location information to a laptop, Pocket or Smart phone.
Now my car is an Australian Spec vehicle and as such the speedometer is in KMH (no inner MPH Scale like we get here) so the opportunity to have a nice clear speedometer readout in MPH was one not to be missed and I must confess that being a gadget obsessive had some bearing on it too so I requested a review sample as soon as production units were available.
What's In The Box?
Open the box and you'll find everything you need and a few extras that you may not immediately recognise.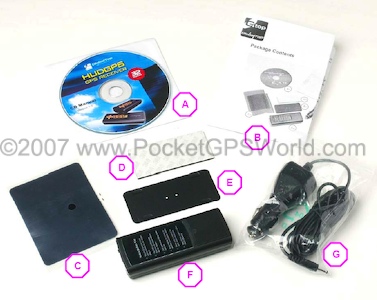 A. User Manual on CD
B. Hardware Quick Installation Guide
C. Two pieces of window film
D. Double side sticker
E. Mounting Plate
F. HG-100 GPS HUD
G. Car Charger
To enable the HUD display to focus on the windscreen and to improve contrast a sheet of tinted window film needs to be applied to the inside of the screen at the location that you choose to mount the HUD GPS. Globaltop helpfully supply two pieces because if you're like me you'll rush the first installation and bodge the application of the film! If you follow the very thorough installation guide you'll get a great result, I did the second time around!
Globaltop also supply a mounting plate and adhesive pad. The base of the HG-100 contains a magnet and once the mounting plate has been stuck to the dash it can be installed and removed very quickly and more importantly will not slide across the dash.
Also supplied is a comprehensive printed installation guide, it's nice to see a printed guide here, whilst I can just about accept an electronic manual, for this device with the added complexity of the installation a printed guide is very welcome, just take my advice and read it first!
MediaTek Chipset
The SiRFStarIII Chipset has been discussed in depth many times but Mediatek (MTK) are fast becoming a viable competitor with their latest chipset's being equally capable and more importantly cheaper for the manufacturers to implement.
In use it was difficult to tell this MTK chipset apart from a SiRFStarIII unit I was testing. It did occasionally take a few seconds more to acquire on a cold or warm start but hot starts were immediate. I'm told that the MTK chipset is also less prone to multi path errors than SiRFIII but have not had the opportunity to test and verify this.
Specification

Protocol

NMEA 0183 v3.01 (Default?GGA,GSA,GSV,RMC,VTG)
MTK NMEA Command
Baud Rate

38400,N,8,1 (Default)
Update Rate
5 Hz
Datum
WGS84
Channel
32-channel satellites all-in-view tracking

Frequency

L1, 1575.42MHz
Hot Start
1 second (Average)

Warm Start

34 seconds (Average)

Cold Start
36 seconds (Average)
Reacquisition Time
Less than 1 sec (Typical)
Position Accuracy
< 3m CEP (50%) without SA (Horizontal)
Sensitivity
Tracking?-158 dBm
Power Supply

DC 5V

Power Consumption
100mA(Average)
Battery Life
7~9 hrs with rechargeable Li-Ion Battery
Antenna Type
Built-in low noise patch antenna
Bluetooth
Class 2, distance up to 10 meters
Dimensions
104.08(W)x20(L)x41.06(H) mm
LED Indicator

Red LED?GPS is fixed or not fixed / Power On

Green LED?Battery Indicator

Blue LED?Bluetooth is connected or not connected

Operating Temperature
-10°C to + 65°C
Storage Temperature
-40°C to + 85°C
Operation Humidity
5%~95%, Non-Condensing
HUD Function
Vehicle Speed, Heading, Speed Warning
Availability of HUD
DC 5V Plug-in Car charger
HUD Technology
For those of you who don't know, it might be worth a short explanation of what a Head Up display (HUD) actually does. Previously only seen in jet fighters and a few top end BMW's, a HUD allows you to keep your eyes pointed where they should be, through the windscreen, whilst still supplying essential information.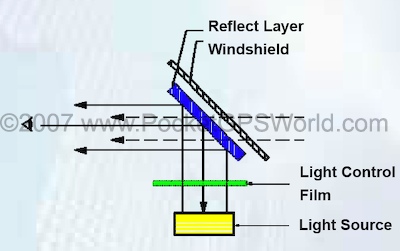 The technology that enables this in a jet fighter is naturally vastly more complicated involving a complicated arrangement of optics and projectors that presents the data such that to the pilot it appears to 'float' in mid air focused at infinity so that hid eyes don't need to re-adjust to read the data.
Such technology is expensive and of course impossible to implement in a portable after market solution such as that reviewed here but Globaltop have done a great job of ensuring the fundamentals work. The LED display on the top of the unit is reversed and when placed on top of the dash at the base of the windscreen you can see the speed display in the windscreen. It also appears to float but the distance it appears to be outside the screen is dependent on the distance the unit is from the glass itself and so the effect will vary from car to car.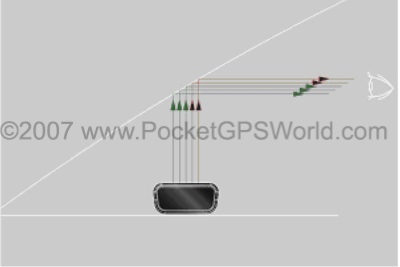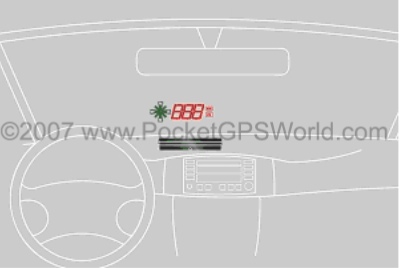 Design
The HUD functionality has had a large bearing on the design here with a large LED display on the top and the internal GPS antenna to the right.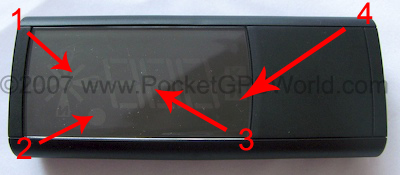 1. Compass
2. Light Sensor
3. Speed Display
4. KPH/MPH Indicator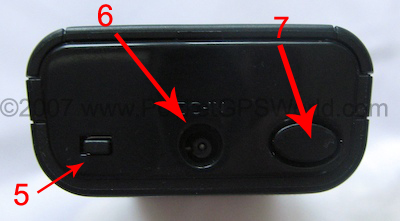 5. Function Switch (used to set speed units and speed alert)
6. Power socket
7. Power ON/OFF Switch


Status LEDs
Red LED GPS Status
Green LED Power Status
Blue LED Bluetooth Status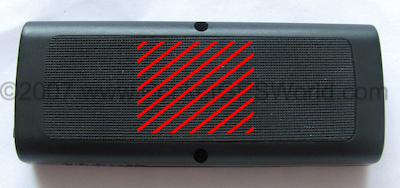 Magnet Location
The HG-100 has two distinct modes, in-car HUD/Bluetooth GPS and Bluetooth GPS only. The HUD/Bluetooth mode requires external power to function and so can only practically be used in-car when connected to 12v using the supplied power adapter. The HG-100 has an internal non-user replaceable battery and this will power the unit when in Bluetooth GPS mode.
To the left of the speed readout the HG-100 also has a rudimentary compass display which indicates N, E, S & W as well as intermediate points. To the right is a small M or K to indicate MPH or KMH.
A nice feature is the speed alert function. You can easily configure a maximum speed and when this is exceeded the speed readout flashes to alert you.
Installation
The first thing you need to do is experiment with the positioning of the unit, ideally it should be directly ahead of the driver and low enough that the display is 'on the bonnet' rather than higher up where it might obstruct your view of the road.
The most crucial part of the installation process here is the application of the tinted window film itself. The simplest and best method of installation is that explained in the installation guide and one which professionals have always used to apply decals. You simply apply a very week solution of water and washing up liquid to the sticky side of the file and the window using an atomiser or spray. Then slide the film into place and when happy with them location use a squeegee or the back of a credit card to remove the water and bubbles. Once done the film will be stuck fast and most importantly air bubble free.
In Use
Press the power button for two seconds to switch the HG-100 on. If external power is available the HUD will illuminate, otherwise just the Bluetooth GPS will operate. Setting the speedometer units to MPH is s simple process using the function button. a 0.5 second press switched between KPH and MPH, a 1 second press shoes the current speed alert setting and a two second press allows you to set the speed at which you wish to be alerted by cycling through with an option to disable this if wished. It would have been nice to also have the option of an audible alert but this is not available.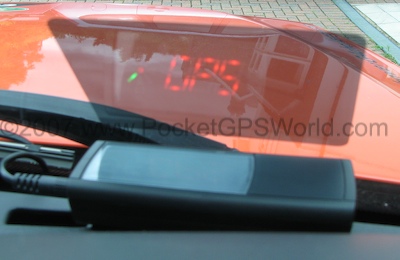 Startup Display
The display is bright enough for any situation and has a light sensor which automatically reduces brightness in darker conditions at night etc. Even on the sunniest day I had no problem clearly reading the display and found it very much quicker to glance at the HUD than to look down at the instrument console.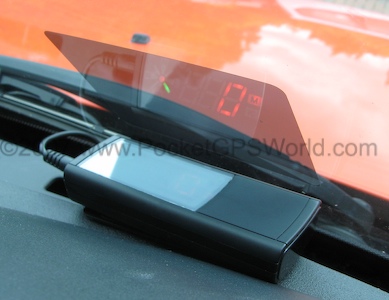 GPS Fix
The only thing that I really missed was the ability to have the unit power ON automatically with the ignition when external power is used. In reality what happens is you switch it on, drive and then when you stop and turn off the ignition the HUD switches off but the Bluetooth GPS continues to operate. If you return to the vehicle before the battery in the unit has completely discharged the HUD will automatically switch back on when ignition power is re-applied. If however, the internal battery has depleted then you have to manually switch it on.
It could I suppose be argued that in the current climate such a device should not be left in the car but i would still prefer the option to have ignition power auto activate the unit.
I also used the HG-100 to drive Memory-Map on my laptop and this worked perfectly.

Short demonstration video
Manual
To download and review the quick installation guide click this link (6mb).
To download and review the user manual click this link (1Mb).
NOTE: Adobe Reader Required