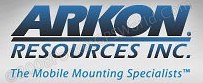 Reviewed by Darren Griffin

Introduction
ARKON is a US based OEM (Original Equipment Manufacturer) of GPS, Cell Phone, MP3, Satellite Radio, and PDA mounts and cradles.
Although their primary market is OEM where manufacturers of devices bundle ARKON manufactured mounting solutions with their own products, ARKON also sell direct to the end-user via a network of retailers, online resellers and of course via their own web store at ARKON.com .
ARKON's huge product portfolio includes mounts for (takes a deep breath) Garmin, Magellan, TomTom, Sirius and XM Satellite Radio, Powered PDA Mounts, Universal PDA Mounts, Universal Cell Phone Mounts, Mounts for Sony PSP, Bluetooth GPS Receivers, and OEM / ODM custom solutions for use with portable navigation navigation devices <phew!>.
We shall be concentrating here on some of their more popular mounts, in particular, their new Non-Skid Friction Style Weighted Dash Mount which is a superb option should you not wish (or be permitted by local legislation) to use a suction style windscreen mount. All ARKON's mounts share the same two prong mounting system and all that is needed to convert any mount to suit a particular device is the custom adapter plate.
Each device supported by ARKON has it's own unique adapter plate that attaches to the mount and provides compatibility. For this review we are using a TomTom 720 and reviewing mounts suitable for TomTom x20 and x30 devices but ARKON have many other adapters and many of the mounts here are available to suit other devices.
The Mount Adapter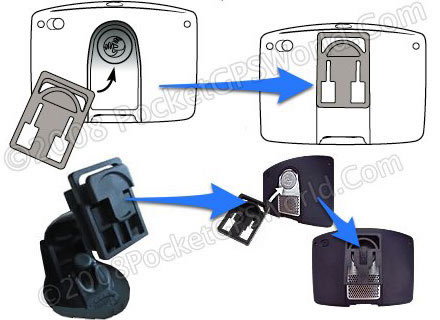 Each supported device has a unique custom mounting plate which affixes to each of ARKON's mounts
ARKON has solutions for most possible scenarios and below are the mounts we will be looking at here. The part numbers given are for the mounts packages that come WITH x20/x30 compatible adapter. For packages suitable for other devices please refer to the retailer or ARKON's web site catalogue.
From left to right we have:
To jump directly to the bookmark for any of the mounts reviewed click the relevant hyperlink above or click directly on the images below:

Friction Base TTGO112 (Consists of CM012 Base & Screen Mount CM014)
This is the mount I was particularly keen to review. We're often asked for solutions that do not require the use of the windscreen and that can be installed and removed quickly and this is one option.
The friction base mount is simple in design and well executed. The Friction base itself contains a heavy weight filling, a rubberised non-slip base and a circular mounting disc in the middle. As supplied in this example it comes bundled with a CM014-2 Mini Windscreen Suction Mount which attaches directly to the disc.
Also provided with the base is an adhesive safety hook. This can be affixed to the dash and then hooked on to a small fabric eyelet at the rear of the base itself. This gives added security preventing the base from sliding off the dash under rapid acceleration or sliding left or right when turning.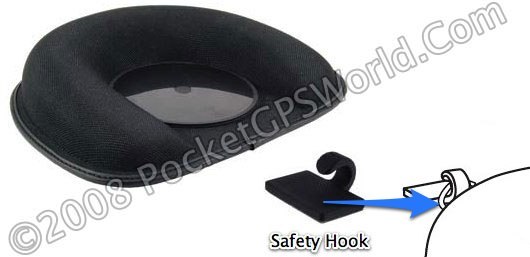 In use the mount works very well. In our test car (my wife's Mercedes) there is only a single small, narrow and sloping part of the dash where this mount could be used but it held on well with no movement at all. The rubberised and weighted base held on well and did not move at all in use.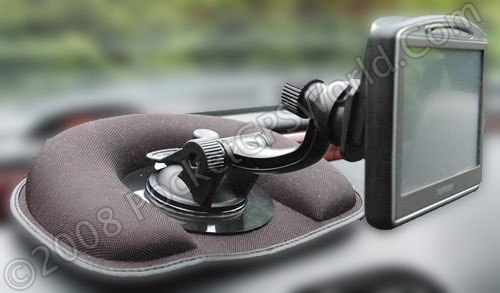 N.B. Suction mount shown is TTGO115, this is NOT supplied with the base
ARKON's solution is simple but works very well and will be a boon for anyone who wants a non permanent mount that can be quickly moved from car to car. It is ideal for a hire car or for anyone who drives in those regions where windscreen mounts are forbidden by legislation such as California.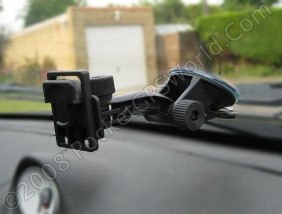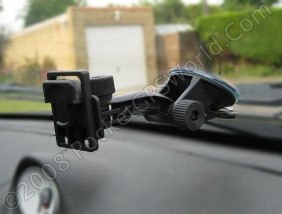 CM014 Mount (this is supplied with friction base)
Although the friction base was supplied here bundled with a mount, it can be bought without and the design means any windscreen suction mount could be used with it. Below you can see the latest TomTom ONE attached to the friction base using the ONE's own unique suction mount.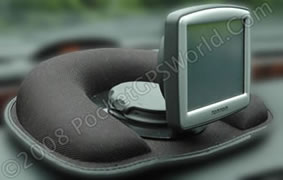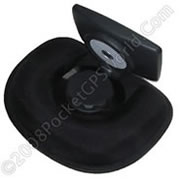 Bendable/Removable Dash Mount TTGO136
This dash/console mount is quite different in design and implementation to those I have seen before. It has a large adhesive circular base that you attach to your dash/console. This base has cut-outs which allow it to mould to any surface that is not perfectly flat.
Once the base is mounted you affix the supplied flexible steel strip, tighten the knurled wheel to secure it and then bend into the desired position. You can than attach your device using the adapter as before.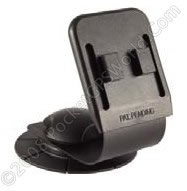 This gives you a very neat and simple solution and allows the mount itself to be quickly removed by loosening the knurled wheel. Once removed, all that is left is an unobtrusive base that should not attract unwanted attention.

The only issue with this mount design that I found was some very slight wobble/vibration when in use. Also it should be borne in mind that as this mount has no adjustment for rotation in the vertical plane it is not the solution for heavily curved dashboards or other surfaces. Our test card, a Ford Ka is a particularly extreme example of a dashboard that is not best suited to this mount type!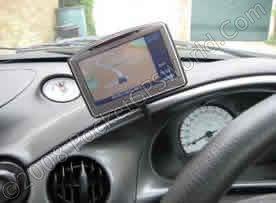 A curved dash is not the ideal location for this mount!
This is another compact self adhesive mount that can be affixed to your dash top or alternatively screwed to the side of a console etc.
The triangular shaped base comes fitted with a 3M adhesive pad which proved more than up to the job of securing both it and the attached GO720 but also has screw holes prepared should you prefer to use screws or mount the device on a vertical surface such as the side of a centre console etc (the mounting screws are supplied).
The mount base has a 360 degree swivel, a pivot allowing tilt adjustment and also a 360 degree rotate feature which allows it to function in almost every possible position.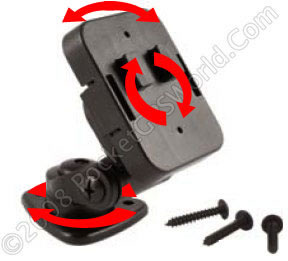 Plenty of adjustment options!
It was particularly good in our Ford Ka which has more curves than Baywatch! The mount is small enough so as to remain relatively unobtrusive when not in-use.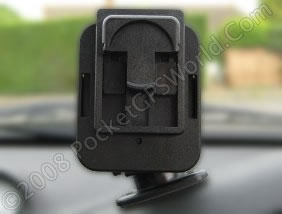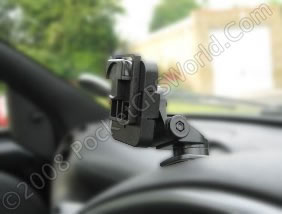 I'm not a huge fan of vent mounts but I know many users swear by them so I was keen to give this one a whirl and be proved right. To my surprise it worked quite well. The clips gripped the vent securely once installed and the support leg ensured the at the mount didn't sag when holding a device, all issues that I had last time I tested a vent mount a few years back.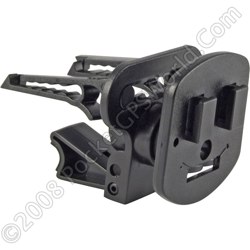 The clips are adjustable and can be slid along a track to allow lateral adjustment and similarly, the support leg tilts allowing the elevation to be adjusted to suit. The mounting plate itself sits on a ball joint which allows it to be rotated and tilted left/right as required.
I don't have a car that has non-standard vents or ones with vertical fins only so cannot say how it would perform in such a case but for the two cars I did test it in I had no issues using it and it worked much better than I expected.
Removal was simple enough if a little more fiddly than suggested. You are supposed to remove the mount from the clips whilst they are still secured to the vent and then pinch the clip end to release the jaw. On my test cars It was not possible to do it in this order as a central pillar on the vent precluded removal of the mount first.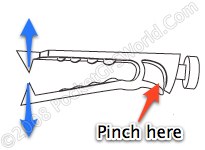 So I was forced to attempt removal of the mount as a whole unit. A little bit of knuckle scraping and jiggling was required but it was still straight forward and came off without too much fuss. Customers with more delicate fingers may have less trouble. It's not something I would want to have to do every day though.
This type of mount solution is popular in the US, perhaps because their larger cars offer more options as regards location etc but is is less common on the European side of the pond. The mount consists of a flexible steel gooseneck shaft with a mounting head at one end and a threaded bolt at the other and comes supplied with two fixing solutions. All the parts required for installation (expect tools) are supplied.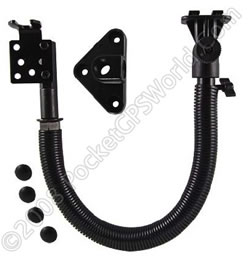 I was unable to test this mount as my test car did not allow access to the seat rail and no other suitable bolts were to be found. I also didn't fancy a permanent installation in the car but all the components are well made and very sturdy in design. The two fixing options allow you to choose installation either by using a seat rail bolt or other suitable bolt or to use the base that can be directly affixed to the floor or console.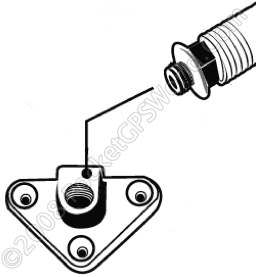 The flexible gooseneck screws onto either mount base using the threaded bolt and it can then be bent and adjusted into the desired position. The head of the gooseneck has two adjustments, a 360 degree rotation secured by a butterfly nut and forward/aft adjustment secured by a knurled wheel giving the full range of movement required for any installation.
Lighter Socket Pedestal TTGO121
This was the only mount that does not work well in my opinion. It is intended to plug into your vehicles 12v cigarette lighter or accessory socket. On the other end is the mounting plate and also attached is an additional 12v cigarette lighter socket to provide power as the socket would be occupied in-use.
The theory is sound but the implementation doesn't work because the fit in the socket isn't secure enough. As soon as any weight is applied to the mount end it rotates in the socket. I tried eight different cars and all suffered the same issue.
This is a shame as in some cars this was an ideal location but the design requires some method of securing the plug into the lighter socket, either by a circular wedge perhaps or a knurled collar that allows the plug to be tightened and secured in the socket. ARKON have another similar mount that is un powered and this does have what appears to be a method of securing it so perhaps this was simply not feasible in this model where power is also required to be drawn from the base?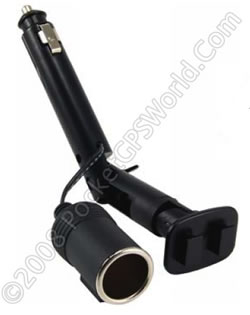 I'm sure we're all familiar with windscreen mounts. Love 'em or hate 'em they are the most popular means of securing a device in-car. Sadly the manufacturer supplied mounts can often be poor sacrificing function for better design aesthetics. Pretty as such mounts may be and simple in design, they are often poor and fail in their basic task of actually securing to the windscreen!
TomTom's mounts have attracted much flack in recent years with tales of drooping under load or heat or simply a complete failure to adhere to the screen or to remain adhered for any length of time. ARKON's TTGO115 mount below gives owners another option does what it is meant to. The lever arm suction ensures it sticks firmly and it has a full range of adjustment It may not be as attractive as the supplied mount but it does a much better job!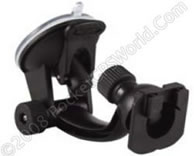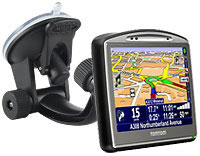 There isn't much else I can say about this mount other than it works, has limpet like suction ability and offers all the adjustment you might need. The mount has a knurled wheel to adjust the angle of the arm and a ball joint at the head end to allow the GO to be tilted up/down and left/right as required.
It comes supplied with the GOx20/x30 adapter and an adhesive mounting disc that can be stuck to the dash if you prefer that option or legislation prohibits attachment to the windscreen.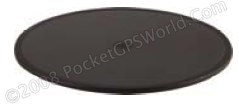 Conclusion
The ARKON mounts I have reviewed here have been a mixed bag with a range of solutions for different purposes. But they have been a very good mixed bag with only one failure, the TTTGO121 cigarette mount.
All the mounts reviewed were of good construction and quality with ABS plastic and steel components. The friction mount is excellent, ideal for those who need a fast simple and removable solution that will install in any car. My colleague MikeB was so taken by it that he nabbed it for a trip to the States where he would be using a number of different hire cars.
Both of the dedicated dash/console mounts work well and the windscreen mounts supplied with the friction base and the TTGO115 were both excellent. I was pleasantly surprised by the vent mount, still not my first choice of mount but one that I did not expect to function as well as it did.
The range reviewed here is just a small sample of ARKON's product portfolio. Many of the solutions covered here are available for other products and can be viewed in ARKON's on line product catalogue.

---