Review by Darren Griffin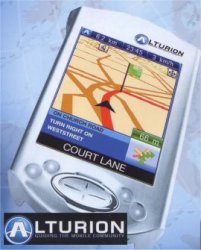 Alturion have been a major player in GPS on the continent for some time but until now they have not had an English version of their product available. Alturion have now corrected this with the release of English versions of all three of their GPS packages, Alturion GPS for PDA 6, Alturion GPS Standard 6 and Alturion GPS Professional 6. To coincide with the launch by Sole UK Distributor Easy Devices, we have prepared an detailed review of Alturion's PDA and PC software package.

For the purposes of the review we have been testing Alturion GPS Professional 6 which provides all the features available such as Traffic Message Channel (TMC), PC Client Application, Tracking etc. Not all of these features are available in the other packages but a table explaining what is included in which package can be found at the bottom of the review.

Because it is such a complex product I have separated the review into two sections. Part 1 will cover the PDA application whilst Part 2 will look at the PC client. Both packages are fully fledged GPS navigation applications in their own right.


Win a FREE copy of Alturion 6 Professional as reviewed here
Easy Devices are giving away a copy of Alturion 6 Professional each week for the next 5 weeks. All you have to do is read the review and the desktop review and then click here to visit Easy Devices competition page to enter. Good Luck.
We will start here with the Pocket PC review. If you would like to go straight to the Desktop review then click the link below:
Alturion 6 GPS - Review Part 2
Key Features of Alturion 6
3D View Option
Traffic Message Channel (TMC) over RDS Support via Internet/GPRS/TMC GPS
Vehicle Tracking
Weather Information
Add and Edit Roadblocks
Upload and Download Road Block Information
Historical Traffic Data for specified regions
Print Routes on Desktop Application
Phonetic Street Search
Navigation to Outlook Contacts
Audio Support in 17 Languages
Navteq Map Data
Custom POI Support
System Requirements
The minimum requirements for the desktop application are:
Microsoft Windows 2000/XP
500 MHz Intel Pentium processor
256 MB RAM
500 MB free disk space
CD-ROM drive
For the Pocket PC the minimum requirements are:
MS Pocket PC 2002 (ARM or XScale processor)
32 MB RAM (64 MB recommended)
NMEA compatible GPS receiver
Installation
Alturion will be offering the product with a Quickstart option which comes with a pre-loaded SD card. For this version installation requires nothing more than inserting the SD card and allowing the auto installation routine to complete. For the non Quickstart version the installation process is still relatively simple, insert the CD into your CD Rom and the installer will auto-start.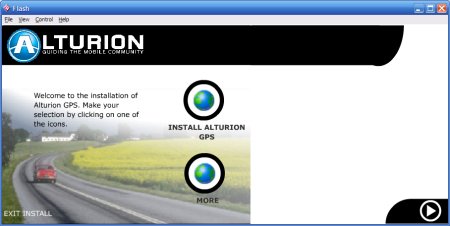 Click on 'Install Alturion GPS' to install the software, follow the on screen instructions and at the end of the installation procedure follow the prompts to register (necessary for Alturion's Auto Update service). Alturion's Auto Update is a PC application that will automatically download the latest updates from Alturion's servers. I will cover this in more detail in Part2.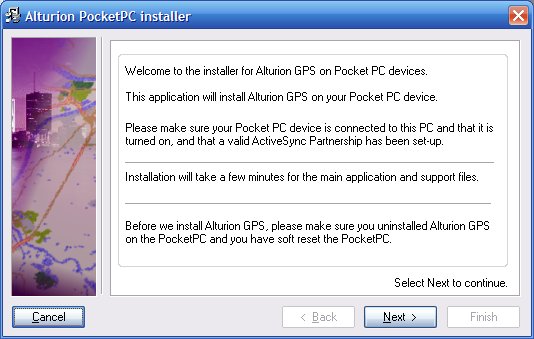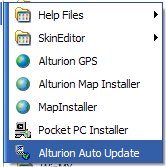 After you have installed the desktop application you will find the Pocket PC Install option in the Alturion program folder on the Start menu. Double-Clicking 'Pocket PC Installer' launches the wizard. This guides you through the installation process and allows you to select the language required as well as allowing customisation of the installation folder for the advanced user.
Once the application has been installed successfully you need to install a map, this is done from the desktop application using the 'Export Map' feature. Again this will be covered in detail in Part 2.
Launching Alturion from the Start menu brings up the standard warning disclaimer followed by the main menu screen: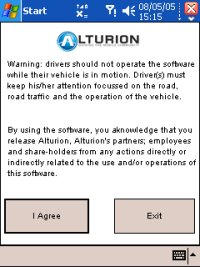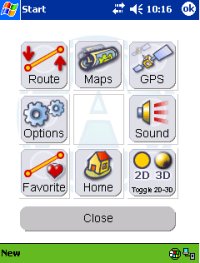 GPS Hardware
The first thing that you need to do is configure the GPS receiver. Alturion supply three different types of GPS receiver dependent on package, they are:
Socket Bluetooth GPS - Provided with all Bluetooth GPS Products
Haicom Serial GPS - Provided with Serial GPS Products
GNS TMC/RDS GPS - Provided with Serial Professional Product
Configuration is simply a matter of selecting 'GPS' from the main menu and then entering the type of receiver and COM Port. Advanced settings such as baud rates etc can if necessary be configured and there is also a Wizard that will scan all available Com Ports to discover the GPS.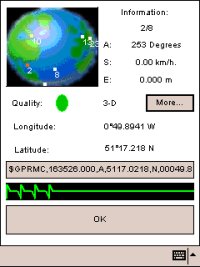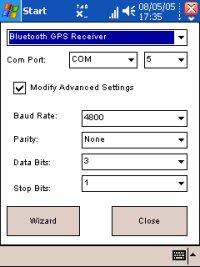 Alturion configures the application with some default settings and predefined functions, the PDA hardware buttons are configured as follows:
Open the Main Menu
Open the Satellite Window
Change between 2D/3D view
Open Map View
2D/3D Map Views
Below are examples of the same map in 2D and 3D view: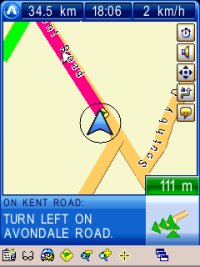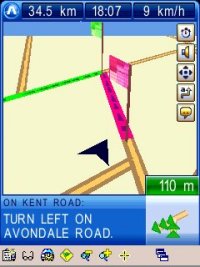 Looking at the screen shots above, the central arrow represents your vehicle or person location and the coloured line is the route. At the bottom right is a pictorial representation of the next manoeuvre and to the right is text describing the turn and the next road name. Along the top from the right is distance to destination, estimated time of arrival and current speed.
At the very bottom of the display is the Alturion Toolbar. This has a variety of functions. From left to right these are:
Save routes etc
View menus
Settings Menu
Route Planner
Zoom In
Zoom Out
Drag Map
Minimise Alturion
Landscape Support
If your PDA has WM2003SE which supports Landscape then Alturion is full compatible and you can run the application in Landscape mode without any problems.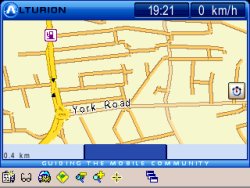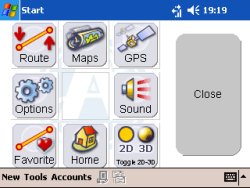 Clicking Hardware button 1 takes you to the main system menu: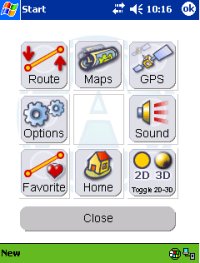 From here you can quickly access a variety of options and features of the software, open additional maps, create routes and configure options. below are just some of the many preferences and configurable options screens including the Skin's option. Alturion supports custom skins that can completely change the appearance of the application. A number are supplied but many more created by users can be downloaded and installed.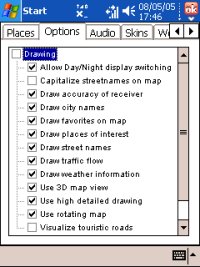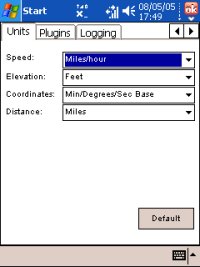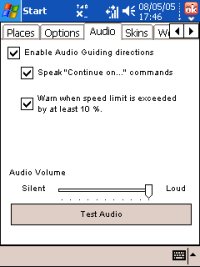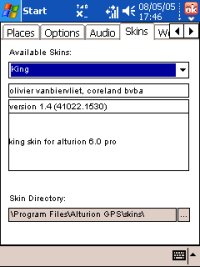 Address Entry
A feature that we have seen before on the AvMap GeoSat2 is the address lookup feature which Alturion call the 'Intelligent Keyboard'. As you begin to enter the address the available letters on the keyboard automatically reduces to indicate the letters remaining for any possible address match. This is makes address entry much simpler and it also allows you to spot a spelling error.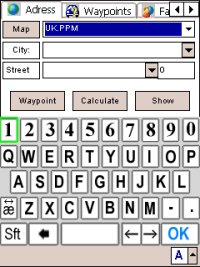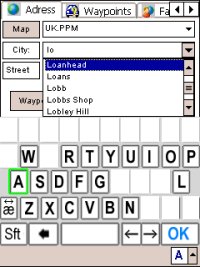 In Use
Alturion use .wav voice files for their voice prompts. These are both loud and very clear. The map displays are easy to read but I find the actual map views not as clear as some competitors with the maps appearing a little simplistic. The map data itself is from Navteq and new roads and road layouts in my vicinity that have yet to be mapped by TeleAtlas are all present and correct.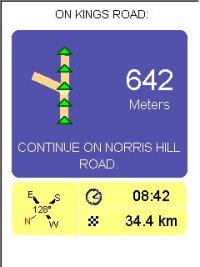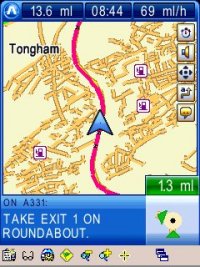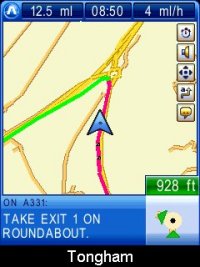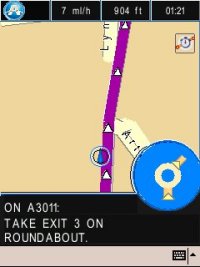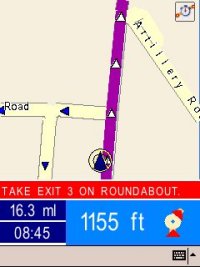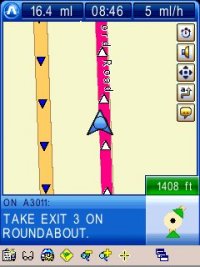 Above you can see some sample screens of the application during navigation as well as comparisons of three of the available skins which shows just how customisable the interface is when skinned. A nice features is the automatic day/night switching using data based on time and location to calculate sunrise and sunset. In the left hand image above you can also see a circle around the location cursor. This circle grows or shrinks to indicate the accuracy of the position information which is another nice touch.
Routes were accurate when comparing with the test routes I use for review purposes and re-routing was quick and effective. Unfortunately I was unable to test TMC as Alturion are still in the process of signing the licence with iTIS. I did notice one anomaly however. Whilst approaching a roundabout where the correct instruction would be to take the third exit (or in Alturion parlance, 'Exit 3') it attempted to route me off at Exit 1 and then perform a U-Turn to rejoin the roundabout, see below: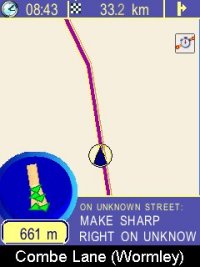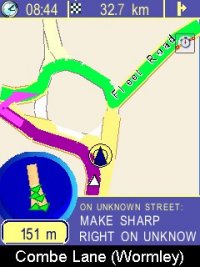 As you can see, screen 1 shows the instruction as I approached the roundabout which immediately alerted me that something was not quite right! Another issue I noticed is shown below. Often when travelling along a road the display does not point directly ahead with the active road being shown at a slight offset, it is difficult to describe but in the example below you can see that the road does not point directly ahead. This is a minor point but I found it a little distracting!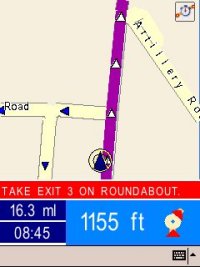 Conclusions
This is a powerful package with nearly every feature you could wish for provided. Routing options are powerful and the intelligent keyboard makes address entry simplicity itself. There are a few minor glitches in the application but Alturion seem genuinely committed to their user base and there is a large community of users sharing skins and swapping roadblock data (see PC Desktop Review).
Third party applications are available to add such as the 'Trip Companion' from www.joval.nl which provides speed camera POI detection and will allow users to make use of our Safety Camera database.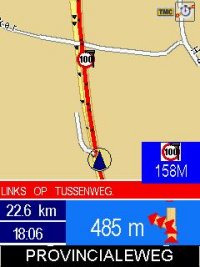 Alturion hope to have the TMC deal signed soon which will add Traffic Data to the features, using the supplied RDS/TMC GPS Receiver means there is no subscription fee required nor a connection to a cell phone.
Alturion looks set to become a big player in the UK and this gives them a great start.
Alturion 6 GPS - Review Part 2
Review Software Supplied by:

Win a FREE copy of Alturion 6 Professional as reviewed here
Easy Devices are giving away a copy of Alturion 6 Professional each week for the next 5 weeks. All you have to do is read the review and the desktop review and then click here to visit Easy Devices competition page to enter. Good Luck.