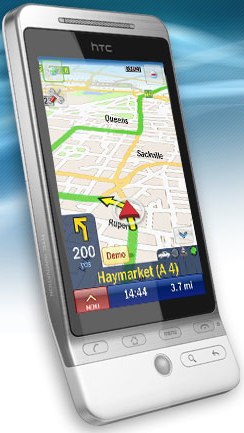 Review by Jason Gaunt
Introduction
Hot on the heels of the news that CoPilot has now been launched for iPhone comes our review of CoPilot 8 Live for Android handsets.
This review by Jason Gaunt, a PocketGPSWorld reader and avid Android user covers the installation and operation of CoPilot. With new Android handsets such as the HTC Hero aka T-Mobile G2 Touch now hitting the stores, ALK's CoPilot now brings a premium navigation solution to the platform.
We have reviewed CoPilot's various products many times in the past in the past for the smartphone platform, as well as numerous other products released by ALK Technologies (The company behind CoPilot), here follows a review of their latest offering, CoPilot Live for Android.
Muddy Water
Navigation by mobile phone has started to get some real attention by developers over the last 2 years or so, there are a varying selection of vendors willing to offer you the latest software no matter what the platform.. with exception to Android. You see, as impressive as it is, the Android Marketplace (and development for the platform as a whole) is still in its infancy. Developers are waiting for it to mature before dipping their toes in the torrent of crude applications written by someone in their spare 5 minutes between TV shows.
An expansion to this notion would be the selection of Satellite Navigation software packages available for Android devices. There's only a handful of such packages available, none of which are particularly inspiring, until now. Some of your current offerings are:
Google Maps
Free, comes with the phone, 2D only, maps downloaded on the fly so needs a data connection. Will just show you the route, it won't actually keep centered on your position nor offer turn-by-turn instruction.
AndNav2
Basic free navigation software, 2D maps only, downloads maps on the fly over whatever data connection it has access to, and relies on OpenStreetMap data that relies on user-submitted content (so it may not know about smaller, lesser known roads). This does offer turn-by-turn instruction though, and quite usefully, text-to-speech synthesis.
TeleNav GPS Navigator
Monthly subscription based software, 3D based navigation, maps and data downloaded on the fly so requires a data plan, speech recognition, POI search, traffic alerts, weather reports. Good piece of software but the monthly subscription fee of $10 (£6 or so) a month is a bit of a turnoff.
A new breed
ALK's CoPilot Live raises the bar by offering a package that has the maps stored locally so no data connection is needed (but the flip side of this is the maps aren't 100% up-to-date), and has an easy-to-digest one-off charge of £25.99 for a single European region (United Kingdom in this case), or £52.16 for the whole of Europe.
The features you get are on-par with most PND's (Portable Navigation Devices), you get Turn-by-Turn voice-assisted navigation, full postcode and address searching, points of interest, automatic route recalculation, junction / lane indicators, preview of upcoming navigation moves, and speed cameras that will automatically update.
Although it's currently in development, there will soon be (as an additional subscription fee, est. £35 for 24 months) live traffic information and live fuel prices. Both of these services will require a data connection, although if you've got an Android handset chances are you've already got a data package.
Installation
This review is based on the single-region package (i.e. UK only). Before you begin, it is imperative that you connect your phone to a wireless network or some other Internet connection other than your cellular-based Internet connection. It's recommended that you have 1GB spare on your memory card, and although the actual download size equated to around 200MB, it may be best you download that over your home Internet connection and not your data plans connection.
When you've bought, downloaded and installed CoPilot Live, open it and you'll be greeted with a series of friendly questions asking what voice pack and what map region you would like to download. It will take a little while to download the data but once it's done you can start navigating away to your hearts content.
Using the software
After setup is complete, you'll be greeted by the main screen asking where you'd like to navigate to, here are a couple of screen shots: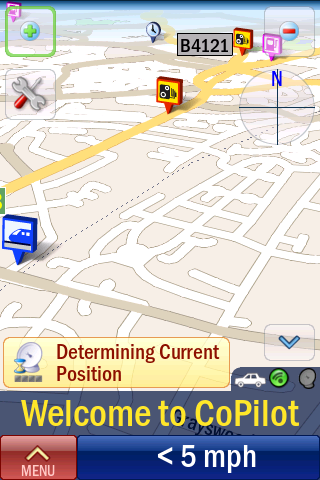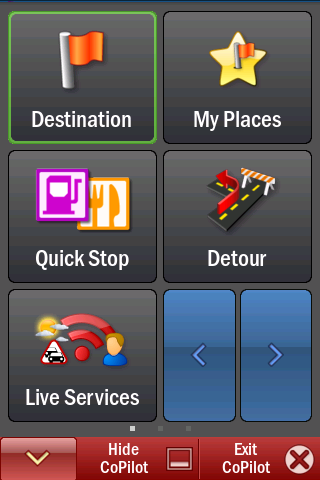 As you can see from the first screen shot, you're immediately greeted by the nearest safety cameras, this is always reassuring. A quick press of the menu button at the bottom left will result in the menu pictured above to the right. From this you can choose to navigate to a destination, a favourite / saved place, detour around road works for example, and the various live services. The whole interface is touch-screen driven, but you can slide out the keyboard (if you've got a HTC Dream / G1) and input data that way.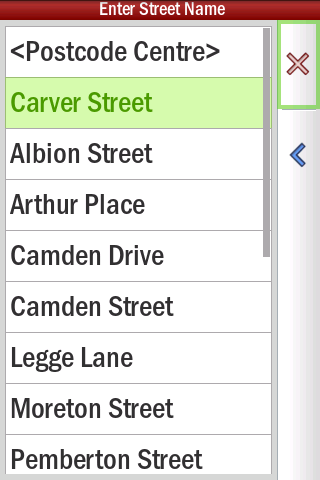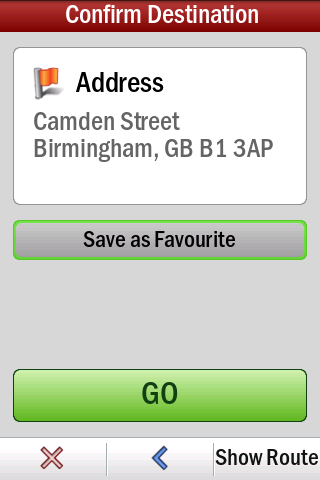 As stated, CoPilot Live supports full address and full postcode based searches, once you've entered a postcode it will give you a list of all surrounding streets, you can select one and choose to navigate to it at either a crossing onto another road, or to a particular house number. It will also offer you the opportunity to save this destination as a favourite before navigating to it.
When navigation starts, you're not only presented with a preview of your next "move", but the following move after that (left image below), and whilst navigating you are also notified of safety cameras that you're approaching and their rated speed (right image below).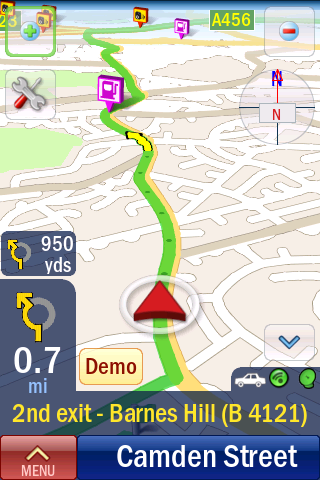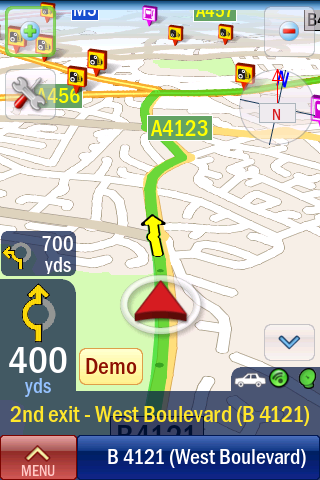 You also have the usual options of switching to a 2D based map and choosing the mode of navigation, for example, changing to Walking will show a breadcrumb trail from your location to your destination, and will ignore 1-way lane systems that you can walk up or down.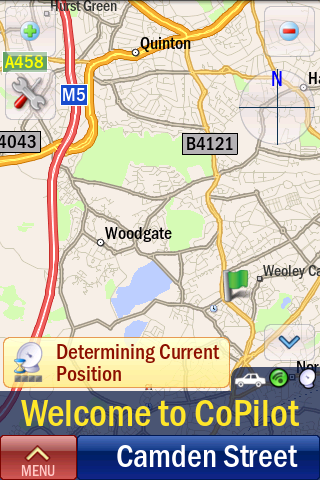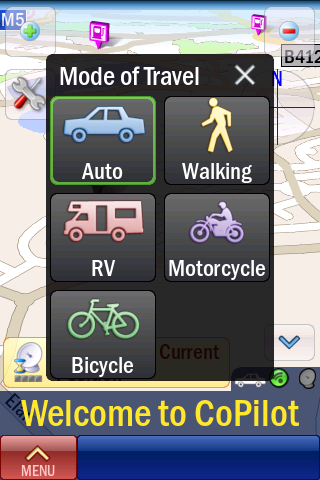 This is however not smooth sailing. Like a personal computer, if you're running other pieces of software in the background on your Android device you may find that the software slows down a little. That being said though, I was able to run stream music in the background and listen to an Internet radio station in the background whilst navigating with CoPilot Live with only a very small performance hit.
Other features offered are LiveLink, a service that allows your friends using the software on their Android devices, and the ALK web site, to track your position and exchange short messages with you (to which you shouldn't interact with whilst driving, naturally), weather reports for your location and destination, phone integration so you can make / receive calls and dial telephone numbers associated with Points-of-Interest, updates to the software and safety camera database through the software itself, and live traffic and fuel prices coming soon as an additional subscription.
Conclusion
ALK got it right with CoPilot Live for Android, all the necessary features that are standard in most standalone navigation devices are present and accounted for, and for £25.99, the price is great value for money. Also, as the Android marketplace allows refunds within 24 hours of purchase, you can try it for free so you can test-drive it yourself.
My only gripe about the software is that the software restarts from scratch after you un-minimise it after returning to the Home screen. As this can take upwards of 30 seconds it can feel like this is an eternity, especially when you're navigating.
With exception of the above it's difficult to find fault with it. It does exactly what it's supposed to, it's certainly one of the best satellite navigation packages for the Android platform, if not one of the best designed, you could consider it one of the flagship software packages that show what the Android platform is truly capable of. All I can say is, watch out iPhone ;)