Reviewed By

Darren Griffin
Review Date

10th March 2011

Manufacturer
Tom Bihn

USA RRP

$110.00

9
We have reviewed a few bags in the past and whilst they may at first seem to have a tenuous connection to the core raison d'etre of PocketGPSWorld, it's not as tenuous as it may at first appear.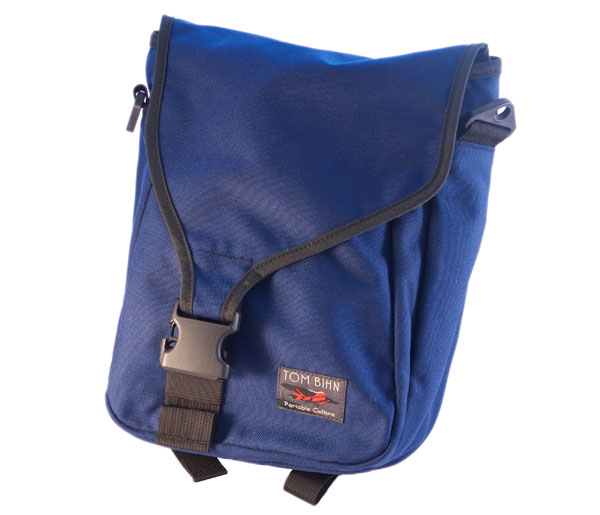 Most of you will have amassed a collection of gadgetry and therefore will likely carry more than one item of tech with you when you travel. The age old joke of the 'man bag' means that few british blokes who would dare to carry all the accoutrements they may need in anything bigger than a coat pocket.
But there is a massive market for laptop bags and they have been accepted without any of the attached derision associated with the man bag. There seems to be an unwritten rule which dictates what is, and what isn't acceptable and all of this presupposes that you, dear reader, are male. The world of tech isn't solely the domain of the male after all.
And this rambling intro brings me to the subject of today's review. A satchel style bag designed to accommodate an iPad or Netbook and anything else you may wish to carry. I have spent a long time searching high and low for the perfect bag, one that is large enough to accommodate an iPad, a camera, E-reader, assorted cables, passport, tickets etc. In so doing I have amassed a sad collection of misfits, none of which ticked all the boxes and all of which failed miserably in one key area or another.
And then the name 'Tom Bihn' was whispered into my ear. It was suggested that their Ristretto bag may be 'the one'. And after a quick perusal of their site, and a bit of Googling, it seemed that there was treasure at the end of the rainbow after all.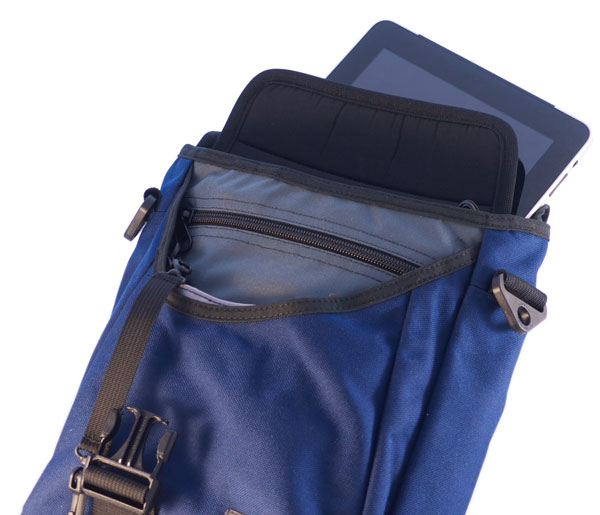 Design

Tom Bihn has built their business, and earnt a very impressive reputation amongst customers, producing a range of quality laptop bags, briefcases and backpacks. They use quality hard wearing materials and they are designed and assembled on-site at their Seattle factory and HQ in washington State, USA.

It is immediately obvious when you take a close look at their products why they attract such praise and I have little doubt that they would last a lifetime. So sure are Tom Bihn of this that they guarantee their products against defects in material or workmanship for the life of the original owner and this is on top of a 60 day return or exchange offer.

Although Tom Bihn's products are at the premium end of the price scale, if I add up all of the money that I have spent in the hunt for an iPad bag that works, it adds up to rather more than the price of a Tom Bihn Ristretto. As the saying goes, "buy cheap, pay twice" and that has been the case on enough occasions for me to recognise that some things are worth paying a little extra for.

The Ristretto is a messenger style, vertical satchel style iPad bag. It's available in a number of contrasting outer and inner shell colours. The bag we have for review here is a fetching Navy and Steel. The Ristretto has a main compartment which contains within it a well padded section for your iPad/Notebook, secured by a large padded envelope style flap, and a further compartment in front which has a zipped section and pouches for your phone, pens etc. This front section has a large curved cut-out lip which is there to provide easy access to the front storage area.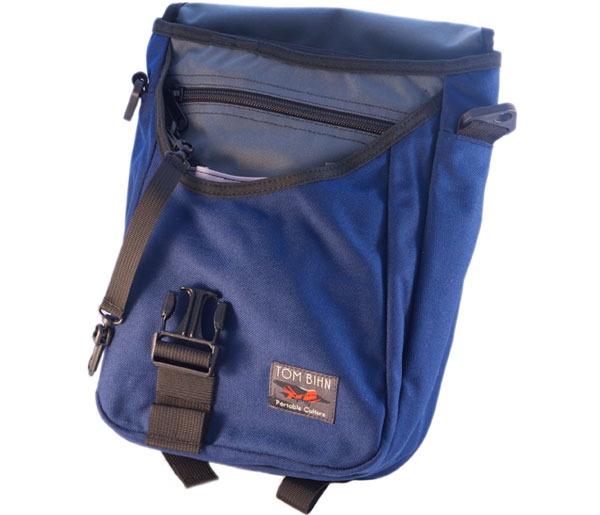 The entire bag has an asymmetrical flap and is secured with a large quick-release buckle. On the rear is an open top pocket and above that, a carry handle.
Every one of these little touches has been thought through and designed to make the bag more versatile and to fit in with what customers need. The rear pocket is ideal for a magazine, newspaper or boarding pass and the carry handle makes it even more portable.
The rear of the bag also has a removable strap arrangement (see images below) that can be attached in a number of ways.
This strap is provided so that you can secure the bag whilst riding a bicycle, motorbike etc. It has a quick release buckle and the strap clips into any two of the four webbing slots provided. When removed, the strap can be left at home or stored inside the bag and the webbing slots sit flat and do not interfere in any way.
Rear strap is removable
The standard shoulder strap is a 1 1/2" wide nylon webbing strap but Tom Bihn offer an upgrade to the 'Absolute Shoulder Strap'(+$30.00). This is the Rolls Royce of straps. Whilst the strap that is supplied will be more than sufficient for most owners, the Absolute adds a wide padded shoulder support which spreads the load and gives increased comfort. The standard strap has a large heavy duty plastic slip whilst the Absolute uses heavy duty metal clips.
Standard (included) and Absolute ($30.00) Shoulder Straps
Another feature of the Ristretto is that the main compartment is deeper at the bottom than it is at the top. This allows bulky items such as a compact camera to be stored at the bottom, a nice touch. Tom Bihn also fit a number of o-ring loops at various locations around the rim of the main and front compartments.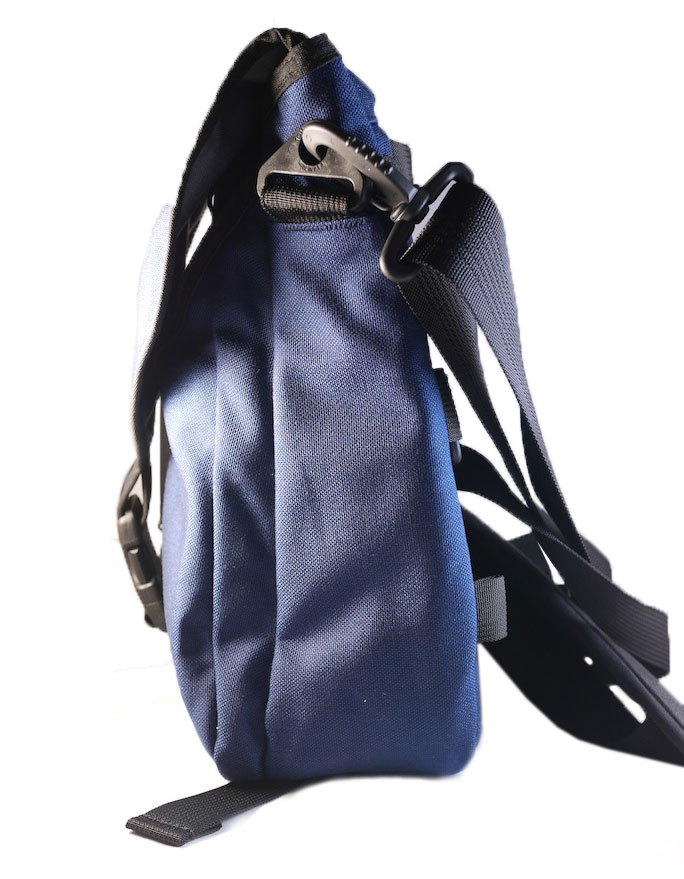 Side view showing deeper base
The bag comes with a key strap that can be attached to one of these o-rings and Tom Bihn have a long list of accessories to choose from including a wide selection of cases, padded, clear, large and small. These are a great way to organise all the loose cables, charge leads, power supplies, headphones etc.
Mini padded pouch, pen/pencil clear case and medium cordura pouch
Now let's see just how "Tardis" like this bag is. Here are the three main compartments:
Front, Main and iPad Compartments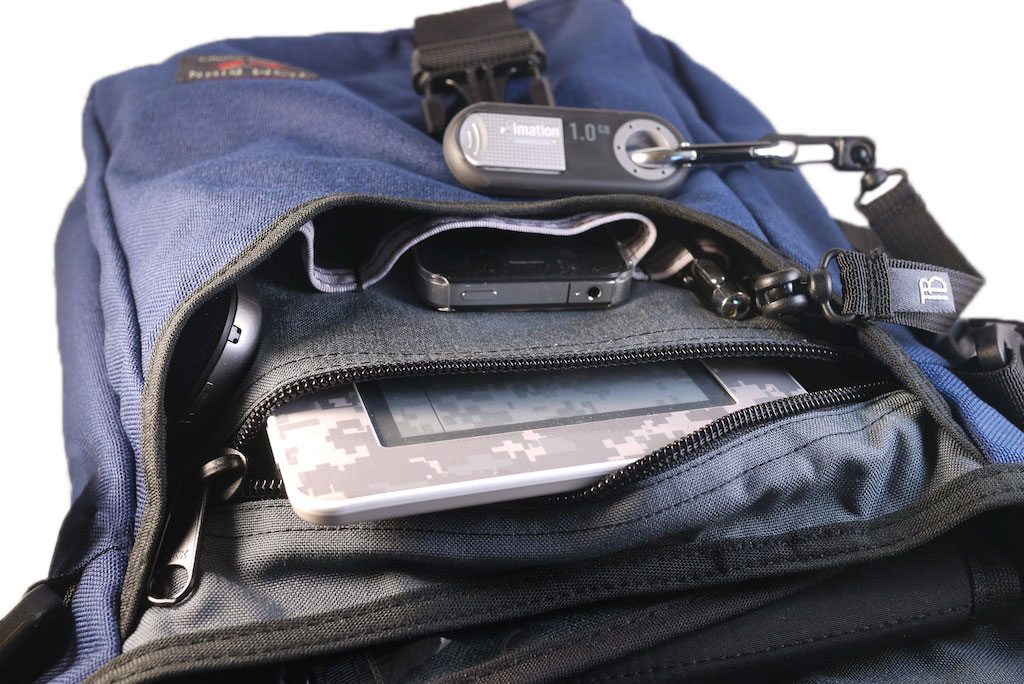 A fully stocked bag!
In Use
Supplementing the bag's storage with a mini padded pouch, and a large cordura pouch small pouch, here is a list of what I managed to fit in the Ristretto for iPad bag whilst still allowing easy access to all the contents:
iPad
Apple Bluetooth Keyboard
Micro 4/3rds Compact System Camera
SD Card USB Dongle
Kindle
Flip Mino Camera
iPhone
Mophie Juice Pack iPhone Battery Case
Small Notebook
MiFi
Pen
iPad stylus
Mini Pouch

Apple Headphones
iPad USB Dongle
iPad SD Card Dongle

Medium Pouch

iPad Charger and Camera Chargers
Apple Sync cable
USB extension cable
MicroUSB cable
MiniUSB cable
Camera USB cable
Pretty impressive! That is all the tech I normally carry when I am working away from the office and, until now, I've never been able to comfortably accommodate that in a bag that I can carry. I have in the past had to resort to a backpack
Even with all these items stowed in the bag, it's all accessible without having to turn out the contents to reach something at the bottom. And the rear pocket is free for boarding cards or a newspaper. The pouches make storing, accessing and locating cables so much easier. Flip the pouch out of the bag whilst still attached, unzip, grab your lead and drop the pouch back into the bag, it's nice and easy and so much less frustrating than having to ferret about at the bottom of your bag trying to untangle all the various cables in the hunt for the one you need!
The iPad compartment is large enough to accommodate an iPad in most cases that I have come across. It happily swallows an iPad in a bulky Otterbox Commuter case or an iPad in a ZaggMate Keyboard case somost cases should fit comfortably.
Verdict
The Ristretto is my iPad bag Xanadu. It's the bag I had almost given up on. Tom Bihn clearly love their products and it is easy to see why. They are lovingly made, the design has is well thought out and there are countless small design touches. No other bag I have used ticks as many boxes as this one and if I have to criticise anything it would be the cost.
But even that feels a little churlish. These are bags to be loved, used and probably passed on and when looked at in that way, they are an investment that will repay you with many years of use.
My search is over.
Win this bag: We will be giving away the bag we have reviewed here in a subscriber competition. So, for a chance to win the bag and a selection of pouches for all your cables, see here.

---