Article by: Mike Barrett on 27Aug2012
This is the second in a series of articles that examines the intricacies of creating and maintaining digital maps by TomTom. This article looks at the TomTom MapShare community led added value to the base map.
When most people hear the phrase "MapShare community" they think just of the changes that can be made to the TomTom map in a SatNav. Some people still remember the very early implementation of MapShare where the changes were not verified and the resulting map changes were fatally flawed. I am pleased to say that those days are long gone, and hopefully this article will help to put aside some of those old prejudices and get some of the nay sayers to take a second look at MapShare.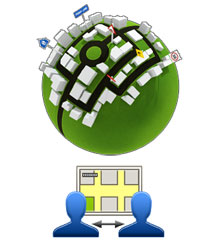 Firstly let me try to define MapShare. MapShare is the term used by TomTom to define community sourced data. This is far more than the map corrections available on some TomTom systems. It encompasses all user generated information gathered in a number of different ways.
Way back in 2005 TomTom started using their installed user base to generate community information. Most people didn't realise exactly what they were contributing they just accepted the TomTom T&Cs and started driving. What they didn't realise was that each time they docked the TomTom SatNav they sent TomTom details of their trips. This has resulted over the years in TomTom 5,000 billion (yep that is 5,000,000,000,000) items of trip data. Don't worry, the data that is sent to TomTom is made anonymous so cannot be used to trace you. This data can be regarded as historic community probe data as opposed to active probe data (which will be covered in the section on HD Traffic).
To put that into context the image below shows what these data look like when drawn together. You can clearly see the map of Europe marked out. There are some oddities here: lines between Dover and Calais and in other seas; and big expanses of white in Eastern Europe and some other areas. The reasons for this are that some people leave their devices switched on on the ferry, and they also use them in places where there were not TomTom map products. The alps are showing white because there are only a few villages and passes over the mountains.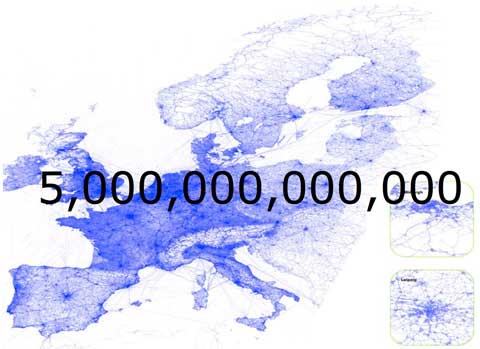 So from this you can clearly see the value of the community input. Although this is historic information it is still very valuable to the map makers. Without sending a mapping van out TomTom have a very good overall view of the road network. It does not, however, end there: the data also provides information about road speeds and the time of day so the average traffic flow can be determined. I am getting ahead of myself here though as this is covered in the next article IQ Routes.
The next weapon in TomTom's community arsenal is what they call Guided Communities. The Guided Community works in a similar manner to our Speed Camera Verification process. TomTom are able to identify areas that need information confirmed by a real person. TomTom have built a community of specialists to visit local locations and using a data input application can contribute changes to the map data. This verification process is essential when a TomTom Mapping Van has not visited the area or if changes have taken place after the visit by the van.
These changes can be identified in a number ways, for instance the historic community probe data can show that traffic stops going down a particular road, or that the traffic flow only goes in one direction. Obviously the probe data can highlight the change, but cannot identify the cause. This is where the Guided Community comes to the fore. TomTom can direct their local people to particular hotspots where they can confirm the conclusions made from the probe data and determine the reasons for the change. A person can also identify if the restriction is either permanent or temporary something that the probe data cannot.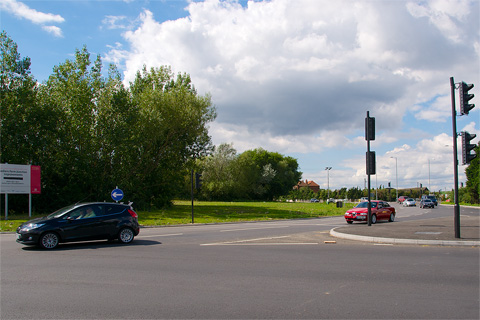 In my area we used to have a large roundabout connecting a number of busy roads. Decades ago this was converted into a series of smaller roundabouts with bi-directional traffic flow. In the last 6 months this has been changed back to a large single roundabout with junctions controlled by lights. I used the TomTom Guided Community application Field Collector to document the changes.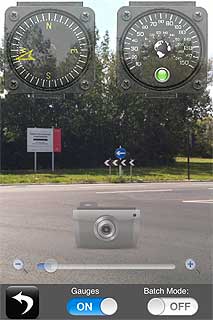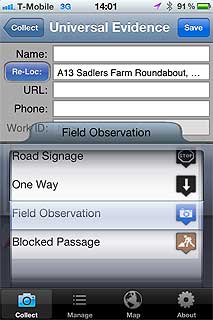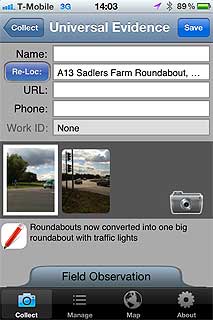 Above we also mentioned the fact that probe data can help to identify new roads and building projects. These data can be used to draw the new roads, but they will lack the attributes that are required to make the map properly navigable. This will include things like speed limits, turn restrictions, one way streets, road names etc. Some of these can of course be deduced from the probe data flow, but eyes on the ground from the Guided Communities will confirm the details.
The image below shows a heatmap of probe data clearly identifying a new road with at least 2 smaller spurs connecting to it. We can assume from this that there is a new road there, as the denser the lines the more probes have driven through. The spurs are lighter as they have less traffic. Of course this new road network could extend further where no probes have visited. This does show the usefullness of the probes giving the map editors the information to create the initial map geometry without having visited the location.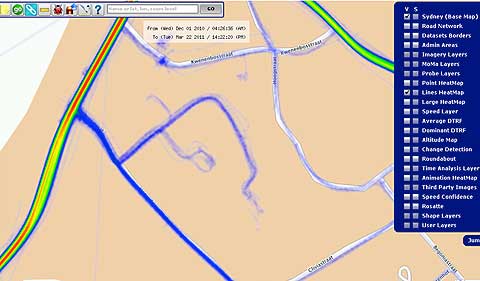 I have managed to get through most of this article without mentioning MapShare in the context that most people associate with TomTom that is the MapShare options on the TomTom SatNav devices. TomTom SatNav devices have the ability to use MapShare corrections that can incrementally update the map without a complete map download, and some devices also have the capability to generate these changes.
Making a MapShare correction is quite easy on the SatNav. All you need to do is locate the change that needs to be made then follow a sequence of options to set the correct change details. This will be made available immediately on your device, but will also be available to all users by uploading the changes to TomTom when you next dock the SatNav on your computer.
Our MapShare video shows how the MapShare changes are made both on a SatNav, and also in the field using TomTom's map editing application Cartopia.
You do not actually need a TomTom SatNav with MapShare to report the changes. TomTom have a section of their web site dedicated to reporting Map Share corrections. This can be found at http://www.tomtom.com/mapshare/tools/ and as long as you have a TomTom account you can report map changes. These will be processed in exactly the same way as reports from a SatNav, except that you do not have to upload the changes as they are added directly to the processing queue.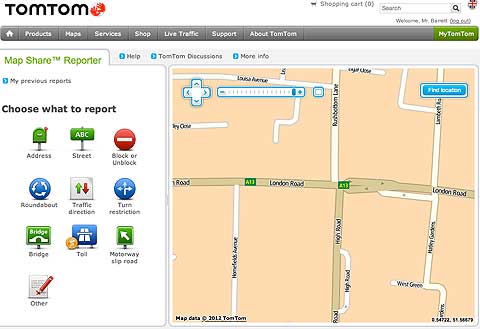 Once the changes have been sent to TomTom they are added to a 'ToDo' list in the editing application Cartopia. Again this is another source of data that can be used to assess the level of change happening in a particular area. The combination of the various data inputs create heat maps that identify how much change is happening and assisting in the decision making process of dispatching Guided Communities or sending the Mapping Van to do a more complete survey.
MapShare does have a couple of niggles though. Firstly if you do not watch your settings you will end up with unverified changes to your map. Some of these will be mistakes, some will be deliberately malicious. For instance one or more residents in a road could club together and mark the road as blocked thus stopping the SatNav from routing you down a perfectly acceptable road.
Secondly it is not possible to create new roads on the map. To do this currently requires a complete map release. I am not even sure if TomTom themselves can create a new road and distribute it along with the other MapShare updates.
Thirdly there is the time it takes for a verified change to make it through to your map. This can very dramatically from a few days up to 3 months. The later would be if there were geometry changes, which may require a complete map refresh. Having said that I submitted and had accepted a series of road blockages and turn restrictions to make a series of roundabouts at Sadlers Hall Farm work as they are supposed to over a week ago and these have yet to be sent to my MapShare devices. This is something that needs to be looked at quite urgently as simple changes to road access and direction of travel should not take a week to deliver after being accepted. To a certain extent that may not be too critical as I can repeat the changes I made on my SatNav on my Wife's and my Son's, but I should not have to keep repeating the changes they should be made available much faster. Fortunately with the latest release of TomTom iOS software I can apply these changes to my TomTom Navigator software on my iPhone and iPad.
So TomTom have made some great strides in the maintenance of their maps, with manual and automated input to help them manage change both in the physical world, and in the world of digital mapping. The mechanisms applied allow your current map to be updated without having to completely download a new map, but this is restricted to changing existing roads and attributes. New roads and signage still need to be delivered via a full map refresh. Hopefully TomTom will be able to address this in the future and provide incremental map updates that will mean that your map is always up to date.
That concludes my look at MapShare. It was interesting to see how much MapShare Community input covers, far more than the manual changes that can be made on your SatNav. It has come a long way since its humble beginnings, and hopefully this article may persuade some of the early anti-MapShare users to take a fresh look at the current incarnation of the product.
Now that we have seen haw the map is created and the navigation attributes are added and maintained it is time to examine the next level: IQ Routes. TomTom IQ Routes is the subject of our next article in the series: How TomTom makes maps Part 3 : IQ Routes.
---