Reviewed By

Darren Griffin
Review Date
9th December 2010
Manufacturer
Arkon
UK Retailer
Morpeth Mobiles
RRP

£69.95

9
iPhone owners in search of a car cradle that offers bluetooth car kit with hands free, an amplified speaker and can accommodate an iPhone in a skin or bumper need look no further.
Despite there existing solutions from TomTom and Magellan, none have so far ticked all the boxes. For iPhone 4 users, support for a phone fitted with a skin or the Apple bumper is the one most often requested. Having to remove a case each time the phone is docked quickly becomes annoying.
Arkon have approached the design of an iPhone car kit with the benefit of improving on the existing designs and adding the missing functionality.
Their solution offers the additional GPS receiver, amplified speaker, Bluetooth hands free and Line-Out in a cradle that is not only able to accommodate an iPhone 4 in its case but is also able to support all the iPhone and iPod Touch models (excluding the first generation versions of both ranges).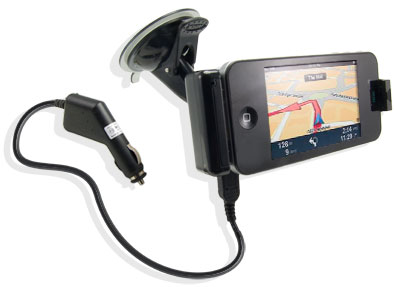 All thumbnails are clickable for full size.
The cradle has a nice deep sync connector able to reach through a fitted case and the design has an extending top clip to cater for the varying heights of the supported models both in and out of any fitted case or bumper.
A sturdy windscreen suction fitting is supplied and is fitted with a locking ball mount on the rear which allows adjustment and use in portrait or landscape modes as desired.
Power is supplied by a mini-USB connection and a small side mounted wheel enables easy control of volume from the capable built-in speaker. The supplied miniUSB charger has a 130cm long lead.
In-use it worked well, the additional volume of the 2w speaker makes turn prompts from navigation software much easier to hear. if you have an iPhone 4 then the presence of another GPS receiver is of much less importance but iPhone 3 and to a lesser extent iPhone 3GS users will notice a marked increase in GPS performance when docked in this cradle.
Locking swivel mount, rear speaker and support for skins and bumpers
Verdict
Arkon's cradle works well. It's simple design is both sturdy and adaptable. The hands free and GPS functions all improve on the built-in functionality and the ability to accommodate different models and phones encased in a bumper or skin is very welcome.
The only points lost are for price. Despite being the cheapest of all the hands free cradles available for iPhone, it will still appear quite expensive.
But, add up the bluetooth hands free, amplified speaker, cradle, charger and line-out features and it begins to make sense. If you need more than one or two of these then this is the winning choice in our opinion.
We'll be giving away our review cradle in our 24 Days of Christmas Giveaway.