Reviewed By

Darren Griffin
Review Date

25th May 2011

Manufacturer
Aquapac
Supplier
Proporta

UK RRP

£24.95 inc VAT

10
So you've splashed out on an iPad 3G and marveled at the technology that allows you to view digital Ordnance Survey maps data on a large screen. But do you really want to risk taking your iPad outdoors in the great British weather?
Or perhaps you've loaded up your iPad with some digital magazines and eBooks for the summer holidays. Perfect for lazy days by a hotel pool. Until you remember the fun'n'games as people dive (or get pushed) in and everything gets soaked.
Thankfully there is a solution, and an inexpensive one at that, courtesy of Aquapac, the experts in all weather protection for your cameras, electronics and other gear.
They have made a name for themselves with waterproof bags that can be sealed to protect your valuable kit from the vagaries of the weather. A clear bag manufactured from TPU (a clear flexible rubber like material) and available in a range of sizes, houses your kit.
Their unique Aquaclip system seals the opening against water ingress using clamps and a rubber seal. It's simple, effective and works. It's so effective that Aquapac claim their cases are waterproof to international standard IPX8. That means it could be held under 5m of water for 30 minutes and remain completely dry internally.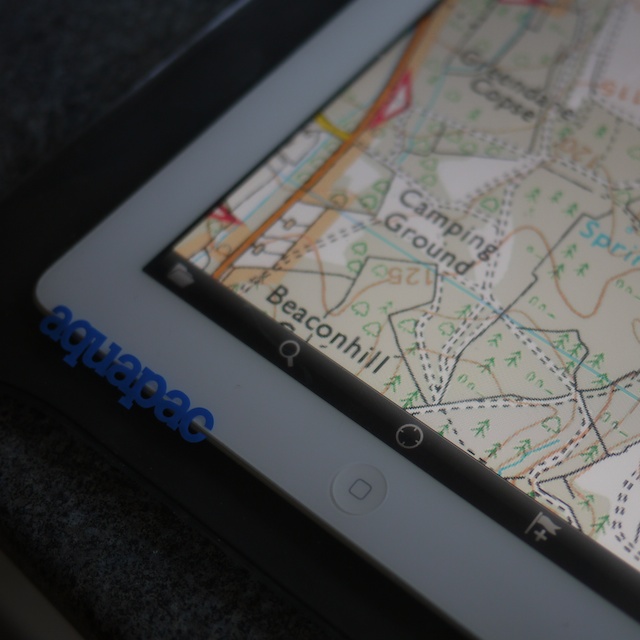 In Use
For the review I was provided with their 'Large Electronics (668)' case. This is sized to accommodate an iPad but could also be used to hold your wallet, phone, paperback books etc if visiting the beach. Aquapac also have smaller versions suitable for a Kindle, or a phone or MP3 player. All share the same basic design.
The case itself comes complete with a sturdy shoulder strap which can be attached to the case in a number of ways. There are two fixing points on the top son it can be carried bag-style and there are for more securing points around the bag should you wish to strap it around your shoulder or secure it to something else.
Inserting my iPad is as easy as turning the three latches 90 degrees to the 12 'o' clock position, and then sliding the iPad inside. Secure the three latches by turning them to the 3 'o' clock position and it's secured. The Aquaclip system clamps the top opening of the bag into a full width groove in the plastic which ensures a water and air tight seal.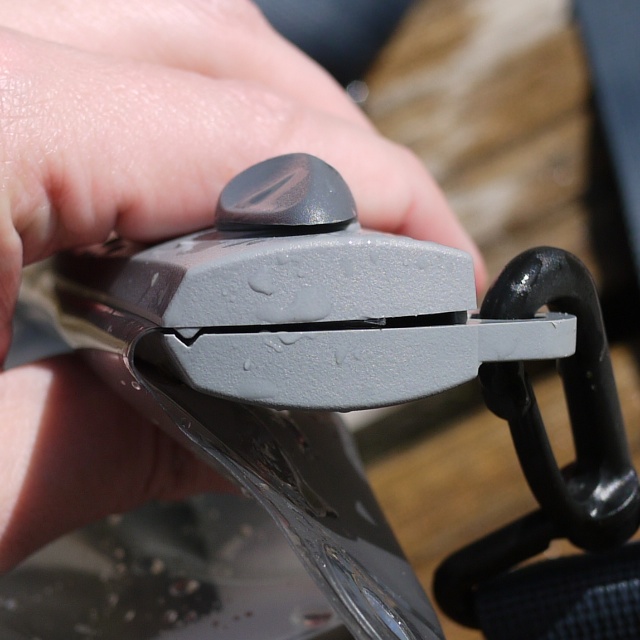 Close up of the clamp system that seals the main compartment
Once inserted you still have full access to the touch screen and though there can be some pooling where the case contacts the screen, it is minor and does not affect use or readability.
Now, whilst I'm confident in the reputation of Aquapac, I wasn't about to sacrifice my iPad to a water test just yet. So first I inserted a paper towel and tested it in a bath full of water to satisfy myself that the case was as good as it claimed. After a good dunking and a shower test the paper towel emerged bone dry.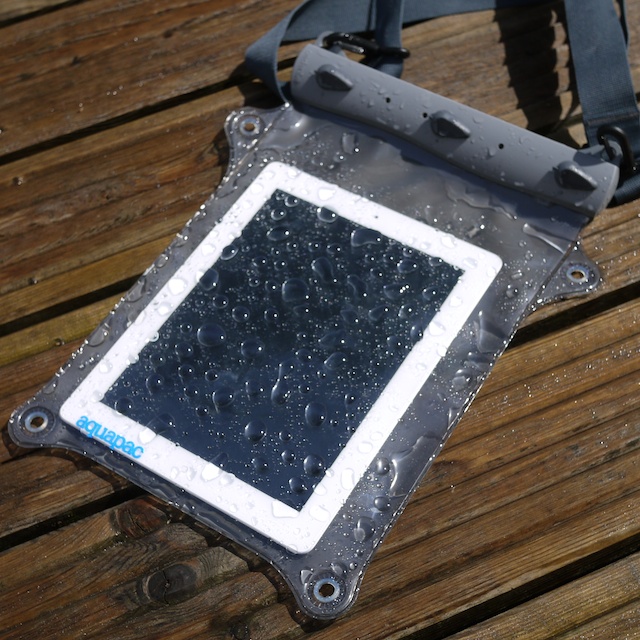 Not just shower proof
So there was little else left but to test my iPad. As you can see, it survived without any damage. Sadly I don't have any holidays planned in the near future so there is no opportunity for a poolside photograph, but it has been pressed into service for reading duties whilst enjoying a lesiurely bath and I would have no concerns in using this outdoors regardless of the weather (if I could see the iPad screen in direct sunlight that is!).
Inserting and locking
The case is superb, it will keep your kit safe and dry and is perfect for the beach, poolside or even your bath. Installation is a breeze and most importantly, it keeps everything dry as a bone. At a shade under £25 it's both a superb product and excellent value.
---