Darren has been in Amsterdam for the last two days at a TomTom event where TomTom have unveiled a number of SatNavs, software and other devices. Interestingly the software hints at being able to upload Third Party POIs to their compatible devices. I am not holding my hopes too high until we get a chance to evaluate and test this functionality, but it could be a way for the PocketGPSWorld.com Speed Camera database to be added to the SatNavs.
TomTom also announced a digression from their normal SatNav markets by introducing the TomTom Bandit, an Action Camera. This has some interesting new features built in to differentiate it from the likes of GoPro, Contour et al. In a highly competitive market it will be interesting to see how the Bandit fares.
Mike Barrett
TomTom enters the ActionCam market with the TomTom Bandit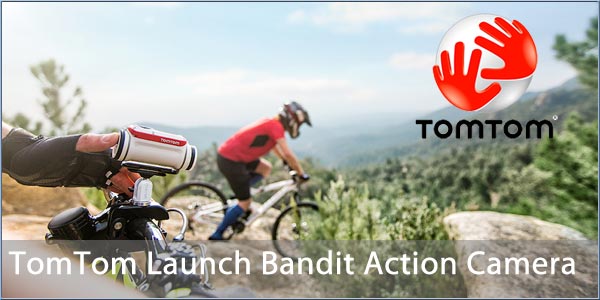 TomTom has diversified into the Action Camera market introducing the TomTom Bandit. Rivalling the likes of GoPro, Movius, and Contour TomTom have joined a wealth of competitors in a lively market. The main use we have had for these type of devices is to capture video of SatNavs in action, but they can be used in all sorts of scenarios from time-lapse photography to recording rocket launches from the launch pad (one of my other interests).
The TomTom Bandit is entering an established market and needs a unique selling point. This is provided by the camera acting as a media server allowing the user to review footage and mark clips for download without having to download them onto a computer first. That way you only need to download what you really want from the camera leaving the rest of the footage on the device.
TomTom launch four new GO SatNavs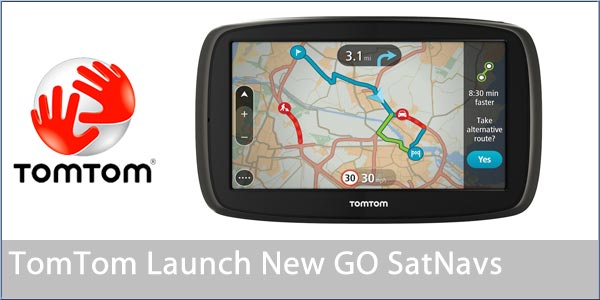 TomTom announced a range of four new GO SatNav devices at an event in Amsterdam on 29th April. These new devices are called the TomTom GO 510, 610, 5100, and 6100 with either a 5 inch or 6 inch display screen.
All these new SatNavs feature Lifetime World Map updates and Lifetime Speed Camera updates. This allows these devices to be used worldwide without having to purchase any additional mapping.
TomTom launches MyDrive to link to SatNavs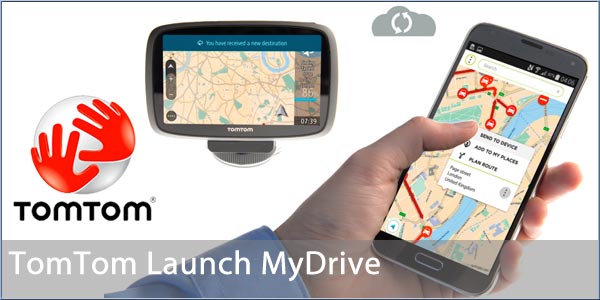 TomTom introduced TomTom MyDrive at their Amsterdam Event on 29th April to complement the new range of GO SatNavs providing planning and review operations from the desktop or mobile application. MyDrive allows a user to plan routes, set destinations and review traffic information before getting in the car.
Anyone who has ever tried to input an address while stretched over the car steering wheel and listening to the passengers urging them to get going will appreciate this new innovation. Even being to enter the destination from a smartphone in your hand will be a vast improvement.
Speed Camera Data Updated - v13.045 - 29 Apr 2015 & This Week's Subscriber Award Winners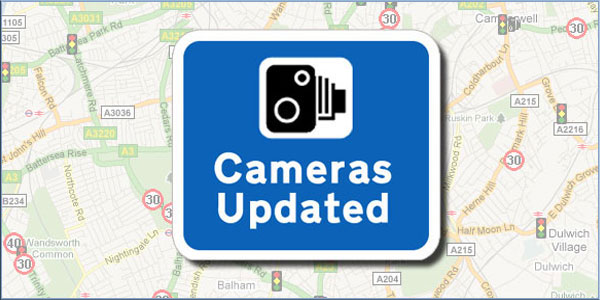 This week we have 86 static and mobile speed cameras added, removed or modified in the live database. Of the 40 unique submitters that were the first to submit qualifying reports this week, the following 12 members have won a 12 month subscription extension:
Atilla1962, Babylonian, darren_r1, EssexBuoy, Etrek, garlach, golfmaddad, jeff4066, learnerdriver, Lionley, m0nbr, nhallidayy.

The congratulatory emails should be with you by now.
Subscription Winners: please act on the email, you MUST cancel any PayPal recurring subscriptions to avoid auto renewal and benefit from the free 12 month subscription extension.
Four users missed out because they did not hold a valid subscription. The remaining 24 qualifying submissions came from lifetime members, they are:
absolutereality, atlaz, bammbamm, Bobrover, dartmoorwanderer, DavidIr, DennisN, dr_sherman, G1LIW, Harrow, heinihayrinen, inthe128, JaTe, johalareewi, JWR88, jyears, M8TJT, mars.1, mattstachurski, rossh51, spetrie, spoon246, stehanson, TuppyTrucker.
The rewards for successful camera submissions have changed, see here for full details.
If your subscription is due to expire, please note that PayPal subscriptions auto-renew and if you do not wish to continue you must cancel it via your PayPal account. A post in the forums explains how to check (see here).