I was alerted to an interesting BBC Podcast earlier this week on the subject of GPS. Part of the 'Hidden Histories of the Information Age' series, episode 5 explored the early stages of GPS. It covered how it transformed of navigation in the first Gulf War and the massive changes that came about when Selective Availability, which purposely degraded consumer GPS signals, was turned off in 2000.
My first encounter with one was the AN/PSN-11 PLGR (plugger), a 3-pound, just about hand-held GPS receiver that the US had loaned to British Units operating in the Gulf. It was bulky, had only 5 channels and took anywhere from 5 to 30 minutes to get a fix.
It's well worth a listen, more information on this Podcast series, and links to the downloads, can be found here.
Darren Griffin
Join in The Big Poppy Run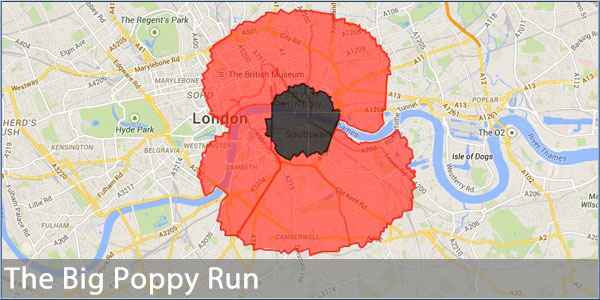 Royal Marine Veteran Ben McBean was badly injured in a landmine blast whilst serving in Afghanistan and wasn't expected to survive.
Now he's on a mission to raise funds for the Royal British Legion who supported him throughout his long recovery.
To that end he has completed a 31-mile run through London following the streets to create an outline of the poppy.
GPS IIF-8 Thunders into orbit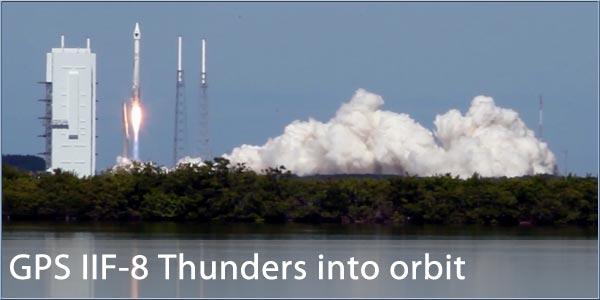 Yesterday saw the successful launch of the eight GPS-IIF satellite from Launch Complex 41 at Cape Canaveral Air Force station in Florida.
Installed on top of the United Launch Alliance Atlas V 401 rocket the GPS IIF-8 satellite was lofted into orbit at 1:21pm local time. With a faultless flight plan the new GPS satellite will now be positioned in the GPS constellation.
After a period of on-orbit testing the latest component of the USAF NAVSTAR navigation system will be transitioned to operational status replacing one of the ageing GPS Block IIA satellites.
TomTom adds weather data in route calculations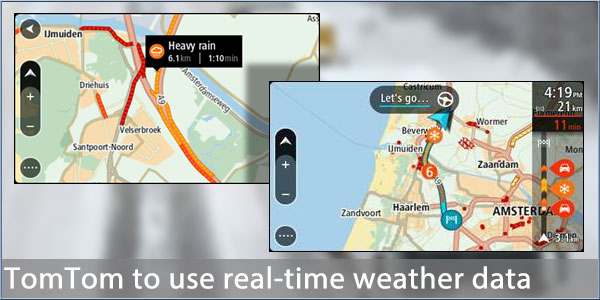 TomTom announced on Wednesday that they will be adding weather data to the route information provided via Tom-tom Traffic.
Now, not only will you get warnings of traffic jams on your route but also information about traffic issues caused by adverse weather.
TomTom claim they are the first company to use real-time weather data when calculating routes and ETAs
Speed Camera Data Updated - v12.105 - 29 Oct & This Week's Subscriber Award Winners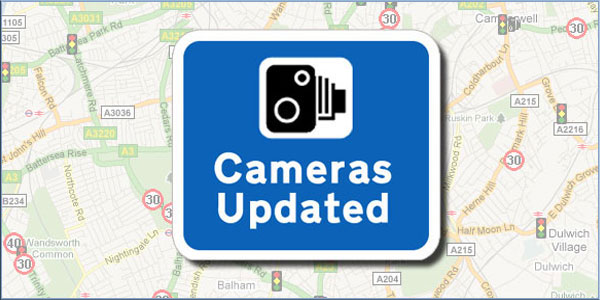 This week we have 71 static and mobile speed cameras added, removed or modified in the live database.
Of the 35 unique submitters that were first to submit qualifying reports this week, congratulations are due to the following 16 members, who have won a one year subscription extension:
3dBell, adrianmparry, alfoudam2, alositha, CAA_1004045216, can40swuk, chriskeens, dafflad, elipsue, James503, khawkey, madhatter, PGA_UK, redsquirrel, speninem, willyone.

Subscription Winners: Please act on the email NOW. You MUST cancel any PayPal recurring subscriptions to benefit from the free 12 month subscription extension. If you do not cancel we will not issue refunds.
Four users missed out because they did not hold a valid subscription. The remaining 15 qualifying submissions came from lifetime members. Please join us in sending our thanks to them for taking the time and trouble to report speed cameras for the benefit of us all. They are:
Alz, bmuskett, chrisdhall, dorsetwurzel, gilessmith, Harrow, INPS_Mike, jezbod, mikek7, Rick-uk, Sammy2710, spetrie, spoon246, tigger955, Triman220.
The rewards for successful camera submissions have changed, see here for full details.
If your subscription is due to expire, please note that PayPal subscriptions auto-renew and if you do not wish to continue you must cancel it via your PayPal account. A post in the forums explains how to check (see here).