It's a 'No News' week again so today's issue is short and sweet. Many moons back we decided that, where there was insufficient news to justify a Newsletter we wouldn't publish one. But it seems that a great many of you rely on it as your reminder to update the database, so we reconsidered. For those of you who open this to read GPS news, firstly thanks, my meandering musings won't be everyones cup of tea, and secondly, apologies for the non-event this week.
The one item that was of interest was the 'Other News' item in the side column. Whenever I review a Dash cam, someone is guaranteed to chip in and say that, if it has GPS, you risk the data it records being used against you. Well it's clear that the Police have the ability to access data from others sources too, your satnav and your GPS enabled smartphone can be used similarly. Drive within the law and you'll have nothing to fear.
On the topic of Dash Cameras, we have a BlackVue DR750 inbound from South Korea for review. This one is unusual in that it has a 4" monitor built-in. Not ideal for cars but could be perfect for motor-home owners. It has 2 channels and comes with a rear view camera so can serve dual roles as a reversing aid too.
The Galileo Satellite orbit anomaly investigations continue but it looks likely that the issue as caused by a fault of software in the Soyuz launch vehicle. And guess what? ESA and Arianespace had not insured the two satellites. So that's €500m+ loss that we've all funded.
Darren Griffin
Speed Camera Data Updated - v12.094 - 18 Sep & This Week's Subscriber Award Winners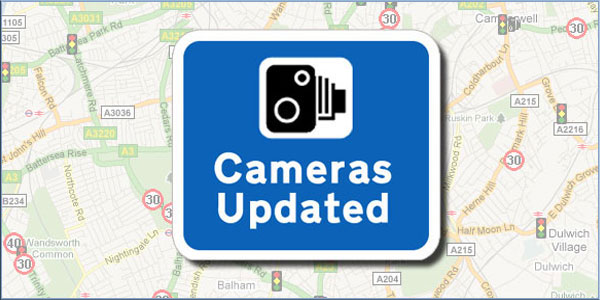 This week we have 70 static and mobile speed cameras added, removed or modified in the live database.
Of the 27 unique submitters that were first to submit qualifying reports this week, congratulations are due to the following six members, who have won a one year subscription extension:
bazzaNW, CA_0209225915, gohector, Lexington, slay100, tonypeee.

Subscription Winners: Please act on the email NOW. You MUST cancel any PayPal recurring subscriptions to benefit from the free 12 month subscription extension. If you do not cancel we will not issue refunds.
Two users missed out because they did not hold a valid subscription. The remaining 19 qualifying submissions came from lifetime members. Please join us in sending our thanks to them for taking the time and trouble to report speed cameras for the benefit of us all. They are:
Alz, Arf-RS, CA_0420175736, CAA_0528205956, daveed03, drummer, ewt, filipadams, hilarie, hudsonl, INPS_Mike, johnny_g, legalspeed, MikeB, network1, PMauchel, RPB, shires999, TuppyTrucker.
The rewards for successful camera submissions have changed, see here for full details.
If your subscription is due to expire, please note that PayPal subscriptions auto-renew and if you do not wish to continue you must cancel it via your PayPal account. A post in the forums explains how to check (see here).