My rant last week may not have made Apple change their minds but it has made me feel a lot better. Thanks to all of you who posted in the forum with suggestions and messages of support. We're not giving up and will continue the battle, some of the suggestions were great and have got us thinking how bets to attack this from a different angle.
It's also worth stating that the release version of CamerAlert works perfectly fine under the newly released iOS 8 so you do not need to worry about updating, normal service continues for now at least.
Don't forget to leave reviews, the higher our apps are rated, the more ammunition we have in the fight to secure our place.
Darren Griffin
CDSlotMount - A use for that legacy CD Drive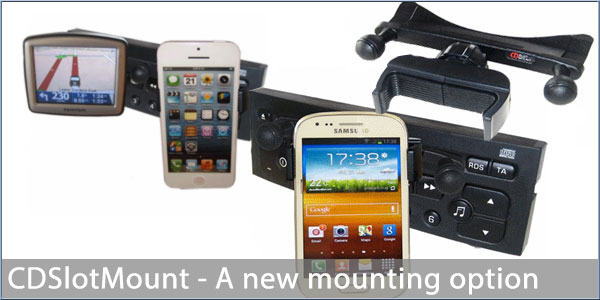 I was introduced to this novel mounting solution recently. Many of you will have a CD slot in your dash mounted stereo and this mount aims to make use of it as a device holder.
The cleverly designed mount doesn't interfere with use of the CD drive so you can still play your CD's whilst having sturdy and stable mounting platform.
New iPhone 6 Mounts Coming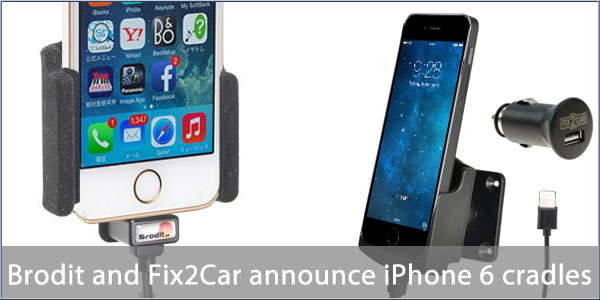 For those of you eagerly awaiting delivery of your new phones today there is some good news from the mount manufacturers.
Both Brodit and Fix2Car have confirmed that iPhone 6 cradles are being manufactured and will be available very soon.
My current favourite cradle, Fix2Car have promised availability within a few weeks with tooling being prepared and new designs ready to go, Brodit have stated deliveries will commence in October.
Speed Camera Data Updated - v12.093 - 18 Sep & This Week's Subscriber Award Winners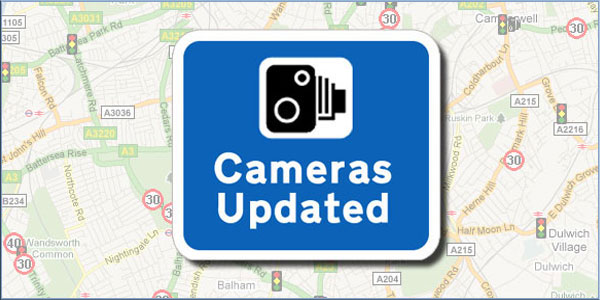 A little late this week but we have 76 static and mobile speed cameras added, removed or modified in the live database.
Of the 39 unique submitters that were first to submit qualifying reports this week, congratulations are due to the following eleven members, who have won a one year subscription extension:
3dBell, CA_0209225915, CAA_0910140400, dafflad, Gimbo, gpmf, Lonnie, madhatter, Oscargrouch, ranger_6, Wildoat.

Subscription Winners: Please act on the email NOW. You MUST cancel any PayPal recurring subscriptions to benefit from the free 12 month subscription extension. If you do not cancel we will not issue refunds.
Three users missed out because they did not hold a valid subscription. The remaining 25 qualifying submissions came from lifetime members. Please join us in sending our thanks to them for taking the time and trouble to report speed cameras for the benefit of us all. They are:
Arf-RS, BoJo, bond007, CA_0420175736, Cerberusthedog, Daggers, DaveUK, Dcogle, drummer, falkirk81, Funks, gcranston, hackett, hilarie, hudsonl, marmitebcfc, maxdot, Milesey, ppenman, Privateer, prv, robbooth, rogermartin, spoon246, tonyhgv.
The rewards for successful camera submissions have changed, see here for full details.
If your subscription is due to expire, please note that PayPal subscriptions auto-renew and if you do not wish to continue you must cancel it via your PayPal account. A post in the forums explains how to check (see here).