Review by Dave Burrows
Price £94.99

Introduction
Rikaline is a company producing GPS Products and PDA Accessories out of Taipei, Taiwan and now has a UK presence at www.rikaline.co.uk. Rikaline currently have several offerings including their GPS-6012 Mouse,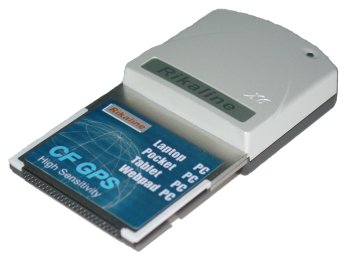 GPS-6010 Mouse, and a GPS-6020 GPS CF Card. However Rikaline have a new product on the market, and it's dubbed the X6! You'll see from the photo on the right, it carries a nice compact design, no bulk to the card whatsoever, and comes in a two-tone silver finish. The card has a power on LED on the front of the card, and on the left hand side an MMCX external antenna socket just in case the need arises to use an external antenna.
The GPS-6021 (X6) is a high sensitivity Compact Flash Type I GPS Receiver using the SiRF Star II chipset with embedded ARM7TDMI CPU. The X6 supports 12 satellites all-in-view, re-acquisition time of 100ms and updates your position every second.

 
The X6 also sports a low power chipset which allows you to use trickle-power where the receiver operates a fraction of the time and Push-to-Fix permits you to have a quick fix even though the receiver usually stays off in this power mode. Another good thing about this compact GPS Receiver is that it doesn't cut back on any features, it also supports SBAS (WAAS/EGNOS)

What's in the box
You'll find the GPS-6021-X6 Compact Flash GPS Receiver, a PCMCIA Driver CD, Setup CD with detailed instructions and colour pictures, Quick installation reference guide and a warranty card.

On the CD
The X6 comes with a CD with the SiRF Demo application for the PC, and various Postscript Data Files (PDF's) that can be read in Adobe Reader varying from install guides and manuals, to other products and GPS engine boards that Rikaline have in their product range.

GPS-6021-X6 Specifications
Physical Dimensions
83.0mm (H) x 47.5mm (W) x 14.5mm (D)
Environmental
Operating Temperature:
-40C to +85C with external power (internal temperature)
Storage Temperature:
-55C to +100C
Performance
Update Rate:
1 second
Channels:
12 Channels all-in-view tracking
DGPS Source:
SBAS (WAAS/EGNOS)
System Back Up:
Built-in Lithium-ion rechargeable battery
Acquisition Time:
Open Sky, Stationary
Reacquisition:
0.1 seconds
Cold Start:
45 seconds
Warm Start:
38 seconds
Hot Start:
8 seconds
Snap Start:
2 seconds
Dynamic Conditions:
Altitude:
<18,000 meter
Velocity:
<515 meter/second
Acceleration:
<4g
DGPS/SBAS:
Non DGPS
Position Accuracy:
Position 15 meters 2D RMS 7 meters 2D RMS with WAAS corrected
Velocity:
0.1 meters/second with SA off
Time:
1 microsecond synchronised GPS time
DGPS
Position Accuracy:
Position 1-5 meters, typical
Velocity 0.05 meters/second, typical

Dynamic Conditions:
Altitude 18,000 meters (60,000 feet) max
Velocity 515 meters/second (1000 knots) max
Acceleration 4G max
Jerk 20 meters/second max
Parameters:
The default communication parameters for DGPS Input are 9600 baud, 8 data bits, stop bit, and no parity. Position accuracy of less than 5 meters can be achieved with the GPS-6021-X6 by using Differential GPS (DGPS) real-time pseudo-range correction data in RTCM SC-104 format, with message types 1, 5, or 9. As using DGPS receiver with different communication parameters, GPS-6021-X6 may decode the data correctly to generate accurate messages and save them in battery-back SRAM for later computing.
Interfaces
Baud Rates Supported:
4800 (Default), 9600, 19200, 38400
NMEA:
NMEA 0183 v2.2 (GPGGA, GPGLL, GPGSA, GPGSV, GPRMC, GPVTG
Differential Correction:
Real-time Differential Correction input (RTCM SC-104 message types 1, 5, and 9)
SiRF:
SiRF Protocol
 


Optional Accessories


Rikaline have created the following accessories for the X6 including
External Active Antenna

A-10302-M - Active Antenna with 2 meter 180 degree MMCX connector
A-10305-M - Active Antenna with 5 meter 180 degree MMCX connector

PCMCIA Adapter
PDA Holder
GPS Performance - Time To First Fix (TTFF)
The X6 came in pretty well when compared to most Compact Flash GPS Receivers. Slowest TTFF from cold we experienced in our tests was 60 seconds with the fastest at 34 seconds, so it had no problem performing on a cold startup. Warm fixes were around the 38 second mark. Re-acquisition times were also extremely fast at under a second to re-acquire when coming out of heavy foliage. For TTFF Comparisons, please check out our TTFF Comparisons page. I did experience problems under Windows Mobile 2003 on an HP iPAQ 2210, where intermittently the card when inserted although it would be mapped to COM7 and this could be verified by running WinFast Navigator and inserting the card, you couldn't always talk to the card on COM7. I found a workaround when it failed by connecting on COM1 which it didn't object to, neither was any data received (obviously), but then re-connecting to COM7 and this time it would connect. This problem I could only duplicate on WM2003, and was intermittent at best. I have spoken to Rikaline about this, and they have fixed this problem and given WM2003 compatibility in their latest firmware version which they have said will be shipping in all production models.
High Sensitivity and SiRFXTrac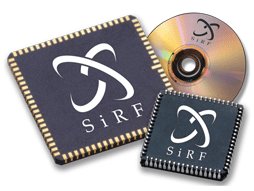 One thing that needs to be understood with high sensitivity GPS Receivers, or GPS Receivers running the SiRF XTrac firmware is that these receivers do something special. With regular GPS Receivers, most will only examine the strongest 7 or 8 satellite signals and focus their attention on bringing a signal in from these satellites alone, discarding the rest. High Sensitivity GPS Receivers and those using the SiRF XTrac software will not discard the remaining signals, in-fact they will utilise these to give you a stronger fix, so if you are in a difficult position, under heavy foliage, or even indoors you should be able to get a satellite fix (albeit reduced). However to do this, they are receiving weaker signals from other satellites that may not be fully in-view, which means that the data they are receiving may not be as accurate as the data from stronger satellites. This in-turn can sometimes create what appears to be lag when used in-car driving at speeds, or can depending on the software you use snap you to a road that is close by because the positional data isn't quite as accurate as it should be due to the weaker satellite signals. Please note there is nothing wrong with the GPS. Compact Flash GPS Receivers really come out best when used out walking and hiking, and this is where High Sensitive and SiRF XTrac GPS Receivers come out the best, when walking through heavy foliage like trees or forests. Most people won't experience lag, but it depends on the environment you are in, the speed you are traveling, how fast you are accelerating or decelerating, and the mapping software you are using.

If you would like to read more about SiRF XTrac and see the benefits and pitfalls, please read the XTrac Or No XTrac article.

Summary
The Rikaline X6 is a small and attractive looking Compact Flash GPS Receiver and sporting the newest SiRF based technology. Some people have had undesirable experiences with SiRF XTrac, but most haven't seen an problems and have experienced greater signal especially under heavy foliage. We did experience problems under Windows Mobile 2003 on the HP iPAQ 2210's, but this has now been resolved in production models, if you're looking for a small and compact GPS Card, then you won't get much smaller than this for a Compact Flash GPS Receiver!