PocketGPSWorld.com to Attend CTIA Wireless 2007
Date: Saturday, October 20 @ 13:08:28 UTC
Topic: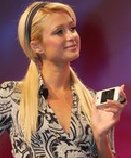 The worlds of wireless, communications and entertainment are preparing to converge on San Francisco next week.

CTIA Wireless I.T and Entertainment 2007, the best attended mobile data convention in the wireless industry, attracts over 15,000 attendees, 300 exhibitors and over 600 media representatives and analysts. It takes place October 23-25.

Billed as one of the most important global technology events ever, past speakers include US Presidents George H.W. Bush, Bill Clinton and Jimmy Carter and luminaries such as Mikhail Gorbachev, Arnold Schwarzenegger and Bill Gates.

And of course the most important one of them all, Paris Hilton, (no really, she told me) even showed up at last year's event (pictured above) to promote a mobile video of one of her songs... and probably managed to grab the most attention!

Steve Ballmer, the CEO of Microsoft and Dustin Moskovitz, the co-founder of Facebook are among those giving the keynote speeches this year.

PocketGPSWorld.com will join other attendees from the satnav industry which include Garmin, Magellan, Becker, Navteq and Teleatlas.

GPS industry showcasers this year include:

Click here to read more and discuss...