iGuidance 4 NA with TTS
Date: Thursday, October 18 @ 04:46:52 UTC
Topic: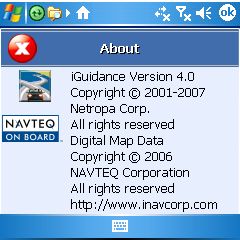 Semsons have asked us to review the new version of iGuidance. Since we have done an extensive review of the previous versions 2.1.3 and 3.0 the review will focus on the main differences from those versions - especially the new Text-to-Speech function.

iGuidance 4 is a solid and easy to learn entry level program with the ability to be used both on your Pocket PC device and your laptop computer or UMPC.

Click here to read the review...

Click here to discuss...