Otterbox Blackberry 8800 Case Reviewed
Date: Thursday, October 04 @ 11:44:28 UTC
Topic: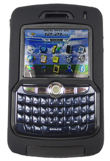 I'm a Blackberry 8800 user (which is a GPS enabled phone before you ask what this has to do with PocketGPSWorld!). I have also sent a good few phones to the graveyard because I drop them with annoying regularity so I need a good case. I had a leather holster which I thought would be ideal but broke it within five minutes of using it and so I began looking for a better solution. As this was going to be used both as my phone and a test bed for all the GPS applications appearing for Blackberry I needed to look after it.

We have reviewed Otterbox products many times in the past, they have a range of PDA cases that offer military levels of protection and they have a well earned reputation for being the best. So it was with with great delight that i heard of their Otterbox 1933 case for the Blackberry 8800 and 8830 phones. Could this be the solution I needed? It seemed ideal, perhaps my phone might survive my best efforts to break it after all?

Click here to read the review and Click here to discuss...