HTC Advantage - fit for navigation?
Date: Saturday, August 25 @ 04:55:22 UTC
Topic: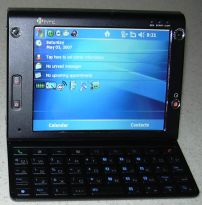 A few years back HTC released an extremely intriguing device - the HTC Universal. That was the first VGA device with a usable keyboard and even with UMTS support. The Universal was near ideal. The screen was a bit small, the device had no external display, and no built-in GPS. But other than that it was a true beauty.

I thought that a whole range of products would follow the Universal, but I was wrong. We had to wait a good two years before anything remotely resembling the Universal came onto the market.

This year HTC presented the Advantage (also known as Athena, X7500, T-Mobile Ameo etc), and I was very curious to see if the device can live up to the heritage of the Universal. Having put the Advantage through some rigorous tests over the last few months I am now ready to share my impressions.

Click here to read more...

Click here to discuss...