Computex June 2007 Taipei, Taiwan: Show report
Date: Saturday, June 16 @ 18:14:02 UTC
Topic: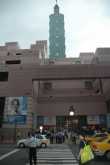 The Computex Expo is not about the "mainstream" SatNav systems (TomTom, Garmin, Navman etc), but is more associated with a lot of the smaller manufacturers who often come up with some innovative ideas, rather than just the me-too copys of proven products. Not that there wasn't a lot of me-toos, it was unbelievable the numbers of Apple iPod copies that were on show, and not just concept copies these were indistinguishable from the real iPods (externally at least).

This Computex show had a number of new GPS PNDs, the most interesting one was the C720T from Mio which features an internal camera (the first benefit of Mitac's purchace of Navman?). The main theme of the show though seemed to be trackers, and dataloggers. We were spoilt for choice, and just about every GPS manufacturer had them on show. Most of the dataloggers also had the capability to geotag photos from a digital camera. These can then be used in Flickr, Google Earth or any application that can display georeferrenced images.

Click here to watch a short movie of the event on YouTube...

Click here to read the full Computex report...

Click here to discuss...