London 16:00 29th April :: The Gumball 3000 Rally 2007
Date: Thursday, April 26 @ 09:46:06 UTC
Topic: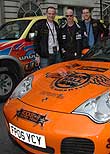 The date: 29th April 2007
The time: 16:00
The place: Pall Mall London

Yes folks it is that time again when the Gumball Rally comes to town. Last year the rally started in Pall Mall and ended at Hugh Hefner's Mansion in California. This year the rally will start and finish in London with a dash around Europe and Asia

The theme of this year's rally is James Bond something to do with the year 2-007 with 120 super (and some not so super) cars taking part in the event it covers 3000 miles through 16 countries over 2 continents. As usual there will be a host of Superstars taking part from Rockstars, Filmstars, the event will see some of your favourite personalities like Bam Margera, and Tony Hank, with DJ Yoda, Johnny Knoxville, Jodie Kidd, Caprice, Daryl Hannah to name but a few.

I nearly forgot... There will also be an Orange Porsche 911 taking part with Michael and Dan from Alk in it.

Each of the entrants will be provided with CoPilot live 7 (this makes an interesting beta test group) running on an HTC T-Mobile MDA Compact III smart phone. As these are smartphones there is of course feedback to the control center, which uses the Alk FleetCenter technology to keep track of all the vehicles. Everyone has the opportunity to keep an eye on their favourite driver using the online tracking features of Alk's FleetCenter. This will be live from Sunday 29th. Click here to track the Gumballers live.

If the start line is in the same place as last year then the spot to get to is the far end of Pall Mall at the corner of St James's Street, but of course they may have changed that this year. Your best bet is to get there early as the cars and their drivers will be on the grid from 1pm with the official start of the rally taking place at 4pm. Darren and I will be on the grid taking pictures and chatting to the drivers so give us a shout if you see us...

Click here to read more...

Click here to discuss...