Satmap Launch Sports GPS with Digital OS Mapping
Date: Tuesday, March 20 @ 10:20:39 UTC
Topic: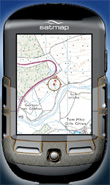 UK Company Satmap chose last weeks Ordnance survey Outdoors Show at the NEC to launch their new Satmap Active 10 device.

PocketGPSWorld was at the show to get a first look at this device which judging by the interest shown at the show is sure to be a winner.

This unique device combines the form factor of a PocketPC with a rugged shock and weatherproof casing and a 50hour battery life. Satmap have chosen the ubiquitous SiRFStarIII chipset and use Ordnance Survey mapping which is supplied ready to go on SD cards.

Initial impressions are excellent with the unit being well designed, light but sturdy and the buttons being easily operated by a gloved hand. Available early June with a recommended retail price of £299. We will of course be reviewing this unit in detail once we can get hold of one but for now more details can be read in our brief show preview.

Click here to read more and discuss...