''Eierlegende Wollmilchsau'' sighted
Date: Tuesday, February 20 @ 15:00:48 UTC
Topic: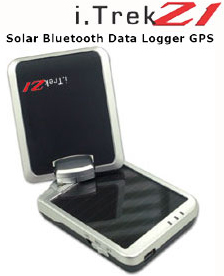 You have heard the term "swiss army knife" - the phrase above is the german equivalent. You may also remember our review of the Transystem 757 Solar BT GPS receiver. Semsons have alerted us that a new version of that impressive receiver is about to become available.

This new version is dubbed "i.Trek Z1" and has the following features (make sure you sit down before you read this):

- 8MB on-board memory for 50.000 data points (not sure if altitude is included)
- Google Earth compatible
- 100 hours runtime, solar cell recharges receiver when away from power supply
- 32 channel high sensitivity MTK chipset with SBAS support (WAAS/EGNOS)
- Bluetooth auto-sleep function
- USB connection (yes, finally!) for use as USB GPS and for data download

Click here to read more and to discuss...