The winner of the January 2006 competition is...
Date: Thursday, February 08 @ 12:32:59 UTC
Topic:



A big thank you to last month's sponsor Navman for donating the prizes for the November PocketGPSWorld.com Members Competition.

The answer to the January 2006 competition sponsored by Navman was 3: Speed Cameras cost £40,000 to install. We had 420 entries and have selected 4 winners from the 374 correct entries. Are you the winner? To claim your prize please pm robbrady with your address details so that he can arrange for your prize to be sent to you.

Click here to see if you are the lucky winner. If not you can enter this month's Members Competition and, who knows, you may be luckier this time.

This month's sponsor is ViaMichelin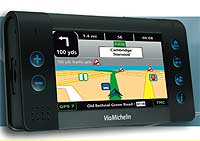 Thanks to this month's competition sponsors ViaMichelin we have 3 ViaMichelin X-980T SatNav systems to be won.

The ViaMichelin Navigation X-980T Europe guides you with exceptional visual comfort thanks to its large 4.3 inch screen, providing the ideal format for 100% panoramic navigation: 5 route types offered including the famous routes recommended by ViaMichelin, double display with zoom on the next junction, improved sound quality, long journey mode...

Click here to enter this month's competition.

Not a member? Click here

Sign up to our occasional newsletter for competition answers and news of winning entries. The newsletter signup box is located on the top left of all site pages. Your privacy is important to us, we do not sell on your email details.

Click here to read more...