Earthmate launch a new Handheld GPS the Earthmate GPS PN-20
Date: Wednesday, January 31 @ 12:51:00 UTC
Topic: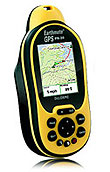 Earthmate launch a new breed of handheld GPS. The new Earthmate GPS PN-20. This is a hybrid GPS device capable of both street routing and topographical mapping.

Integrated with the DeLorme mapping software you can plan and analyse data on your PC and then download to the GPS PN-20. On completion of your journey the tracklogs can be uploaded and saved to the PC.

Priced at $370 the PN-20 comes with street and trail mapping for the entire USA.

Click here to read more...

Click here to discuss...