WorldTracker GPRS Review
Date: Sunday, December 03 @ 23:35:28 UTC
Topic: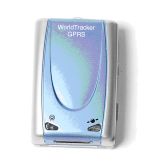 After our review of the WorldTracker Data Logger and the WorldTracker SMS we are now looking at the next generation device - the WorldTracker GPRS. Special thanks to Gilbert Walz of Security Concepts for again providing the review unit.

As I said in the first reviews those devices are slightly outside of our "Mobile Navigation" comfort zone, and are not something you come across every day. But GPS tracking is en vogue, and you may want to know how the high end devices perform.

Click here to read more...

Click here to discuss...