CoPilot Inside :: CoPilot systems bundled with hardware
Date: Monday, November 27 @ 22:56:22 UTC
Topic: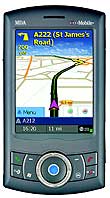 We have not heard a lot from the guys at ALK since the Gumball Rally earlier this year. So it was nice to receive a call from the CoPilot Marketing Director to see if we could have a meeting... In eager anticipation of new exciting software I made my way to the ALK London office on a cold and wet wednesday morning. Unfortunately the meeting was not to discuss CoPilot Live 7 (honest, nothing was mentioned about any new software).

What I was shown though was a plethora of new bundles of CoPilot 6 and CoPilot Live 6 on a variety of hardware platforms. These ranged from mobile phones through connected PDAs to PNDs. In a move similar to that started by Intel, and copied by a number of others since, we are starting to see a number of boxes with "CoPilot Inside" appearing in a number of outlets.

Possibly the most significant of these are the bundles released by mobile phone operators. These offer subsidised hardware, pre-installed navigation software in a totally connected environment. T-Mobile are starting to offer a fixed price tariff for "all you can eat" GPRS called "Web 'n' Walk" capped at £1.00 a day for pay as you go tariffs for £7.50 on top of your selected talk plan. Unfortunately this does not extend to European roaming, but at least it is a start at freeing up one of the inhibitors to a connected lifestyle.

Click here to find out who CoPilot is partnering with for their new bundled solutions...

Click here to discuss...