HTC team up with TomTom and launch an integrated GPS PDA
Date: Thursday, September 07 @ 14:02:58 UTC
Topic: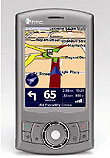 HTC are one of the biggest PDA and SmartPhone manufacturers in the world, but despite this fact they are relatively unknown. This is because they produce PDAs and phones for Telephone Operators such as the O2 Exec range and the Orange C500/M500 etc. They are also branded as Qtec and I-Mate.

Well this is all about to change as HTC has started to launch it's own HTC brand and today has announced 4 new devices all available in September and October 2006. I already saw some of them last week at the IFA show in Berlin. In particular the O2 Cosmos caught my attention, this is the HTC S620 smartphone.

Of more interest to the GPS community is the HTC P3300. This is HTCs first PDA which incorporates an internal GPS receiver. The P3300 has a 2.8 inch display and will come pre-installed with TomTom Navigator 6.

Click here to read the HTC and TomTom press releases...

Click here to discuss...