Memory-Map release Memory-Map Mobile
Date: Saturday, April 29 @ 11:04:47 UTC
Topic: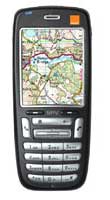 The concept of using topographical mapping on mobile phones was first introduced by Maptech in the USA, but map data was never available for the UK. Well finally this has now changed. Both Memory-Map and Anquet have products that place GB Ordnance survey maps on a mobile phone and allow you to see your exact location based on GPS position data.

When we were at the Ordnance Survey Outdoors show last month Memory-Map were showing amongst other things a version of Memory-Map Navigator running on a WM based Smartphone. This software is now available as a FREE download to anyone who has a Memory-Map Version 5 license.

Click here for the Memory-Map version 5 upgrade page. The latest version of MM5 includes support for both the WM Smartphone and also the Garmin Edge 305.

Click here to read more...

Click here to discuss...