Globalsat iPod iWAG Wireless Bluetooth Pack review
Date: Monday, April 03 @ 21:50:42 UTC
Topic: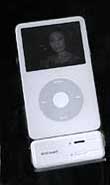 I love my iPOD (I was a late convert) but sometimes it is too big and heavy to be used comfortably. This means that I either have to revert to my old MP3 player, something I find a little frustrating as it means I have to plan my musical listening. If my mood changes I am then stuck with the tunes I have pre-selected.

Globalsat have cured my problems with the BTA-809 and the BTH-820. These two neat devices combine to provide a Bluetooth wireless link between your iPOD and the headphones. Not only do they work with the iPOD but the BTH-820 is also a Bluetooth Headset for your mobile phone.

With simple plug and play functionality is the GlobalSat iPod Wireless Bluetooth Entertainment Pack going to tick all my boxes?

Click here to read the full review and find out...

Click here to discuss...