Deluo announces Routis 2004 Edition
Date: Thursday, October 02 @ 00:38:08 UTC
Topic: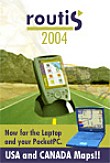 Deluo have just announced the availability of their flagship product Deluo Routis 2004 for North America. Deluo say "Not only does Routis work on Pocket PC 2002/2003 and Windows 98SE, 2000, ME and XP, but it now also provides 3 unique 3-D modes and dynamic map loading.", and "Its easy-to-use user interface makes sure that you can control Routis just with your fingertips. There is no need to use the stylus to type addresses since it has its own finger-sized-keys keyboard."

Shipping from 30th September, the complete software version is currently selling for $94.50 whilst the upgrade is selling for a staggering $9.95!

For more information check out the Deluo Routis website

Comments ?