GlobalSat announce a Personal Tracking Device the TR-101
Date: Sunday, December 18 @ 20:40:48 UTC
Topic: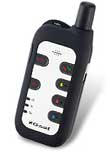 GlobalSat Taiwan recently announced the GlobalSat TR-101, a personal tracking device. This combines both GPS and GSM technologies to produce a hand held device that not only knows where it is, but can inform a nominated mobile phone using SMS messaging.

It can also send the co-ordinates of your position over the internet to your computer and with appropriate mapping software display the position of the Tracker on a digital map.

Click here to read details on the GlobalSat Taiwan site.

Click here for more details on PocketGPSWorld.com and to discuss...