Globalsat GH-101 Amplified GPS holder review
Date: Wednesday, September 21 @ 19:35:58 UTC
Topic: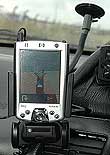 The GlobalSat GH-101 is a powered PDA Mount with a built in amplifier and a GPS receiver. In fact all you need to do is plug your PDA into the holder, connect the audio cable and navigate to your destination.

The GPS is activated as soon as the unit is powered and starts looking for satellites to confirm your location.

The amplifier though not powerful makes the use of a PDA such as 2210 which has a very low output feasible.

At the same time the PDA is held firmly in place and powered through the connector at the bottom of the device.

All in all this sounds like a potentially ideal mounting solution and priced at only £89.00. So lets see if this really is the case. After using it for a few weeks we have given it a thorough trial. Click here to read on and find out what we thought about it...

Click here to discuss...