GlobalSat develop Bluetooth Audio devices
Date: Saturday, September 03 @ 11:37:57 UTC
Topic: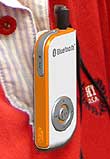 Well it wasn't going to be long before someone started to create some useful audio devices for Bluetooth. HP have a set of BT Headphones, and a lot of PDAs and other devices support the A2DP BT profile. This should allow them to broadcast the audio wirelessly to a receiver.

GlobalSat have provided us early details of two devices: The BTH-820 Bluetooth Headset, and the BTA-830 a BT Audio Gateway.

For me the BTH-820 Bluetooth Headset is the more exciting product of the two, as it provides a stereo headphone function together with a microphone. In theory this should also be capable of being plugged into a normal hi-fi system to play digital music over BT. This, of course, would include navigation instructions from your PDA. A much more interesting application for me would be to connect to my 4700 and give me wireless capabilities for Pocket Skype.

The BTA-830 plugs into a PDA, iPod, mobile phone or other device that does not offer Bluetooth connectivity to turn it into a Bluetooth audio transmitter.

Click here for more details and to discuss...